The scene outside UPMC's Downtown headquarters on March 3, 2014, resembled something out of medieval times. The US Steel Tower was like a castle rising out of the pavement, with sentinels guarding the entrance. At the base of the structure, thousands of villagers had assembled because they'd had enough of the king's tyranny. They wanted better treatment.
The villagers on this day were thousands of protesters and the king was UPMC CEO Jeffrey Romoff. Often around here, Romoff, is envisioned as an evil monarch in his throne room, sitting upon bags and bags of silver and gold, blissfully unaware of or intentionally apathetic toward the problems of the peasants below.
But this was no 16th-century uprising. It happened on Grant Street, and was one of the largest labor protests this city had seen in years.
The protest began March 3 with about 2,000 people marching to and then piling in front of UPMC headquarters, snarling traffic and closing streets. Hundreds more returned the next day and refused to leave until there was progress toward things like higher wages and better benefits. At the time, these two days felt like a huge momentum shift in the ongoing battle to unionize service workers at UPMC.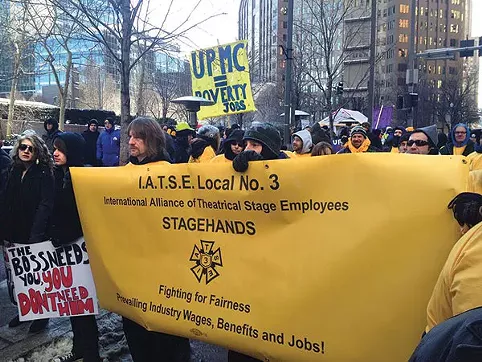 By then, UPMC employees and members of the Service Employees International Union had been staging protests and sit-ins for at least two years. At their largest, these protests would get a couple hundred people and would mainly make life miserable for the building's security staff. Additionally, community groups joined the protests in an effort to make UPMC "pay their fair share" for the billions in tax-exempt property they own around the county.
The massive protest followed the arrests of 10 clergy at a protest a month earlier. Protesters stayed all day, into rush hour, pissing off drivers. They vowed to return the next morning and they did — a crowd of a few hundred that was growing by the minute.
After nearly two years of speeches and complaints to the National Labor Relations Board, this was the tipping point. I had no doubt that this action was going to swing the momentum of this class war from the haves to the have-nots.
But as the March 4 protest began, Kevin Acklin, chief of staff for Mayor Bill Peduto, read the crowd a message from the mayor, who was at a conference in Washington, D.C. Peduto stated: "Our entire city has heard your concerns, and I believe it is time to disband this assembly and return home to your families."
Shortly after the protest, Peduto met with UPMC CEO Jeffrey Romoff. The city and UPMC had begun negotiating. Then, in August, UPMC and the city agreed to drop lawsuits against each other over UPMC's tax-exempt status. Some argued that the lawsuit was the city's best leverage against UPMC, but Peduto wanted to negotiate without "guns pointed at each others' heads."
But what exactly has Peduto been negotiating? Is he in there fighting for a union? Is he in there fighting to lift UPMC workers out of poverty by negotiating higher wages? While I don't know for sure, I don't think so. It's become obvious that Peduto's main concern is to ink a long-term agreement to force all nonprofits, not just UPMC, to make payments in lieu of taxes. Last August, the Pittsburgh Post-Gazette reported that negotiations were still ongoing, and that Peduto said he had demanded "a [payment-in-lieu-of-taxes] plan in place by the end of this year."
But here we sit in March 2016 without an agreement for payments in lieu of taxes (PILOT). Last week, the mayor's office told me those negotiations remain ongoing. But does that really matter to the 3,500 UPMC service workers still sitting without a union and without a significant increase in wages?
SEIU officials and workers tell us they're still fighting. But it's hard to see much proof. Last August, a couple of hundred folks came to a rally at the City-County Building. City Paper was the only media outlet to show.
We came because workers have a right to vote on whether they want a union. But as I sit here now, two years removed from that potentially game-changing protest, I'm not sure they'll ever get that chance. The workers at that protest in March 2014 thought they'd won a major battle toward unionization. But looking back on it, they unwittingly conceded the war. They agreed to let someone else take up their fight and that was a mistake.
I don't think that Peduto intended things to happen this way. At that time, just a few months into his first term, I believe that he thought he could make a difference in this fight. But the realities of what you want to do as mayor and what you can to do as mayor are two very different things. He might have gone into this thinking he could get everything for everybody, but it's obvious now that that's not going to happen.
Where does that leave the workers? If this fight is going to pick up steam again, the workers will have to duplicate their all-or-nothing mindset from two years ago. It won't be easy to convince union and community officials to step on Peduto's toes and reignite this fight. But he's had two years to make something happen. It's time for the workers to get involved again. It's time for this city to get involved again.
Back when this unionization effort started, we were told that this wasn't just about workers at UPMC. Establishing living wages at the state's largest employer would have a ripple effect on wages across the region, we were told. Hospitals were going to be the steel mills of the new Pittsburgh, helping to establish the new middle class. If that's the case, this two-year cease-fire must end. The situation hasn't gotten better for the working class in the past two years; it's gotten worse.
It might be time to storm the castle again.