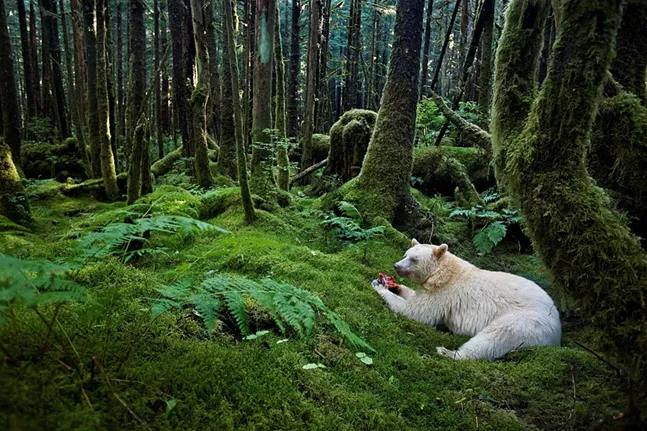 ---
A Delight for the Senses: The Still Life at Carnegie Museum of Art. Continues through Sun., March 15. National Geographic: 50 Greatest Wildlife Photographs at Carnegie Museum of Natural History. Continues through Mon., May 25. 4400 Forbes Ave., Oakland. cmoa.org or carnegiemnh.org
---
One massive building contains both the Carnegie Museum of Art and the Carnegie Museum of Natural History. Though the layout allows patrons to easily travel between worlds on their visit, the two museums operate as separate entities, one housing art ranging from abstract sculpture to early American portraits, and the other memorializing dinosaur bones and rare gemstones. But two exhibits —
A Delight for the Senses: The Still Life
at CMOA and
National Geographic: 50 Greatest Wildlife Photographs
at CMNH — unexpectedly run in parallel. They both offer a glimpse of life and decay, and how the two can be interpreted in art.
Still life paintings — familiar objects carefully arranged into a composition — are often thought of as a simplistic form of art. Students in beginning level art classes draw still lifes of fruit and cups of water.
"Although the paintings may be centuries old, their subjects remain familiar," reads a plaque introducing A Delight for the Senses, on display through March 15, 2020, which includes paintings from the 1600s onwards. Even if the subjects of the paintings' —fruit, flowers, seafood, and hunted game — are not particularly modern, they are still understandable to us now in a way that many paintings from the era are not. A bouquet of flowers is timeless, unlike, say, a painting of an 18th-century dignitary in velvet knickers.
But there is a sense of luxury in the still lifes. They feature extravagant amounts of fruit or flowers, many of which would have been hard to come by when they were painted. The Jacob Fopsen van Es painting Still Life with Lemons, Oranges, and Pomegranates, from 1660, features the titular fruit, intricately peeled and piled high in a bowl. I could easily go buy a bag of lemons at Aldi for $3, but in 17th-century Belgium, the fruit was not so easily attainable. Even now, fresh fruit is more easily accessible to those with money. In this light, looking at an abundance of juicy lemons and fleshy pomegranate feels like looking at gold. Many of the still lifes are obvious fantasies, like Rachel Ruysch's 1704 painting Flowers in a Glass Vase, which features a cornucopia of a dozen different flower varieties which, as its plaque explains, would not have been in bloom at the same time.
The images captured by National Geographic photographers, on display at CMNH through May 25, 2020, feel like fantasy. But they're not, because the photographers go to extensive lengths to capture shots of rare and isolated nature. For a head-on shot of a panda, posing like it knows how, photographer Ami Vitale went a nature reserve in China and stood behind an electric fence while wearing a panda suit soaked in panda urine. Other shots involve eight years of travel to an island in the north of Canada or plunging into freezing waters just to get one perfect shot.
Sometimes the shots feel as luxurious and bountiful as the still life paintings, like Paul Nicklen's photo of a spirit bear — a white bear that is neither albino nor a polar bear —surrounded by the lush green rainforests of British Columbia (the bear also became an important symbol in a First Nations fight against a pipeline). Others are reminiscent of the decaying fruit or animal carcasses in the still life paintings, like a Mitsuaki Iwago photo of a lion mid-kill on a wildebeest.
Many of the still life subjects feel like a reflection of wealth. Maybe the painter was already wealthy enough to have an abundance of fruit and flowers, or maybe they just wanted to imagine being so rich as to have every flower they love in bloom at the same time, like Ruysch's bouquet.
This feat is mimicked in a National Geographic photo of the Serengeti; photographer Stephen Wilkes took photos in the same spot for 30 continuous hours. He eventually pieced together several shots, going from night to day at the same waterhole, allowing him to create a scene of hippos, elephants, zebras, and wildebeest all in the same frame, even though it's clearly more animals than are ever in the same place. The shot is a fantasy, made possible by funding and fancy equipment.
For his shot of tortoises in the Galapagos Islands, photographer Thomas Peschak says he was looking for "a scene that would have looked almost the same 100,000 years ago." On a smaller scale, this is what still life paintings capture. They freeze a point in time on something living, or close to it. Of course, nothing on earth will look the same 100,000 years from now.