Stickler's Ice Pop Company is no longer a pop-up stand — the popsicle-maker has found a new home.
The formerly roving "Pop Stop" has settled into a cleanly furnished brick-and-mortar space in Millvale, located next to a tiny park complete with a gazebo.
"We started on a bike, then moved up to car, and now we finally have a store," says co-owner Todd Saulle, who runs Stickler's with his wife, Laura.
The new location on Evergreen Avenue has already granted Saulle a number of benefits. There is now space to install his special popsicle freezer, imported from New Zealand. Lots of windows provide a sunny environment to cultivate the fresh herbs used in recipes. An old-fashioned shaved-ice machine sits on a counter, and there is a big wall to hang community art.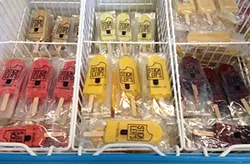 Saulle says the store plans to be open Wednesday through Friday from noon to around 8 or 9 p.m., and 4-9 p.m. on Saturday.
Fans of the ice-pop cart can expect more of the same from Stickler's. The popsicles are still made completely from scratch. Besides traditional favorites like strawberry and tropical fruit, the Saulles are experimenting with new flavors such as coffee with little donut chunks, raspberry with fresh mint, and even a red-white-and-blue bomb pop for the Fourth of July.
For that one, Saulle says, they might have to break away from their all-natural credo.
"We can never get anything in nature to be that blue."