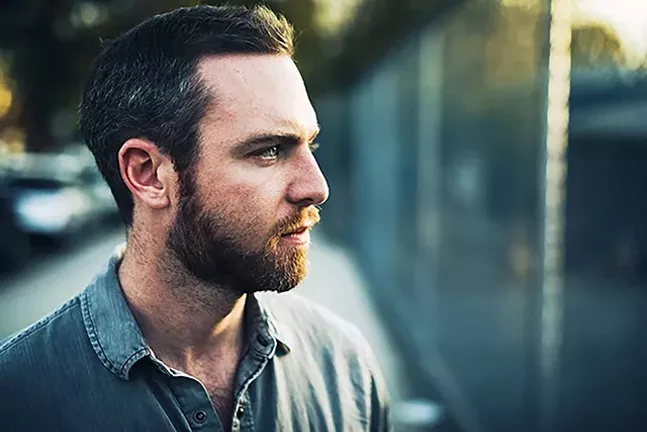 Stephen Markley was in a high school social studies class in Mount Vernon, Ohio as the attacks of 9/11 unfolded. Someone came into the classroom and insisted the television be put on; the social studies teacher initially resisted.
"The TV goes on just in time to see the second plane crashing into the second tower," says Markley, author of the novel Ohio (Simon & Schuster). "It was an absolutely breathtaking thing to watch in any regards. I know people who were in New York City on that day, and I can't even imagine trying to process that."
Ohio explores the aftershocks of one of the darkest days in American history through four characters who, like Markley, were still in high school on that date. Set in the fictional Ohio town of New Canaan in the middle of the state, Markley has crafted a tale that is the literary descendant of novels such as Jonathan Safran Foer's Extremely Loud & Incredibly Close, Claire Messud's The Emperor's Children, and Netherland by Joseph O'Neill.
While those books capture elements of 9/11's impact, Markley's story has the added benefit of distance and time. "It's hard to process these social-political upheavals in the moment they are going on," he says. "We're going through some of that right now. In terms of 9/11, my book is not about that event specifically; it's about the ramifications of it. I think after that, not only was it this awful, horrifying tragedy, an act of violence, but powerful people took that to further their agendas in various ways. So the novel is not just exploring that as an event, but all the ripple effects across the years."
Mount Vernon is about 45 miles northeast of Columbus, Ohio, and its fictional counterpart is a typical Rust Belt town. There's a certain timelessness that Markley evokes in his descriptions of Central Ohio.
After driving through the state recently, Markley says he was struck by "how beautiful the place is … Something that's quiet and rolls a little bit, and it sort of settles in with you.
"When I got my driver's license, me and my friends would drive everywhere, just exploring. We told our parents we were going to play basketball and we ended up three hours away in some unknown pocket buying ice cream in some random place in the middle of nowhere. Those experiences helped me create this fictional town, this fictional setting."
But the realities of the four characters — an anti-war athlete, a graduate student visiting her hometown, a soldier, and a once popular young woman who becomes dangerously desperate — echo the fortunes of many who saw their futures upended after 9/11, when vocal patriotism for many became a de facto response to any kind of discourse.
"We always have to be asking ourselves, no matter who is president, no matter which political party is in charge, is what's going on right and justified?" Markley says. "Are we being led into something we won't be able to control?"
Between the Lines
As summer reaches its peak, a night of baseball at PNC Park becomes more appealing even as the Pirates' fortunes crest and wane.
For true diehards, Ballpark: Baseball in the American City (Knopf) by Paul Goldberger is the perfect prescription for that inevitable losing streak. Goldberger, an architect and winner of the 1984 Pulitzer Prize for Distinguished Criticism, writes of the majestic cathedrals, past and present, that are homes to the national pastime. He's a fan of Forbes Field and, especially, PNC Park and its "modesty of scale that ties it, more closely than any other 21st-century ballpark, to the baseball parks of an earlier era." Three Rivers Stadium, on the other hand, was merely "a heavy-handed concrete monolith."