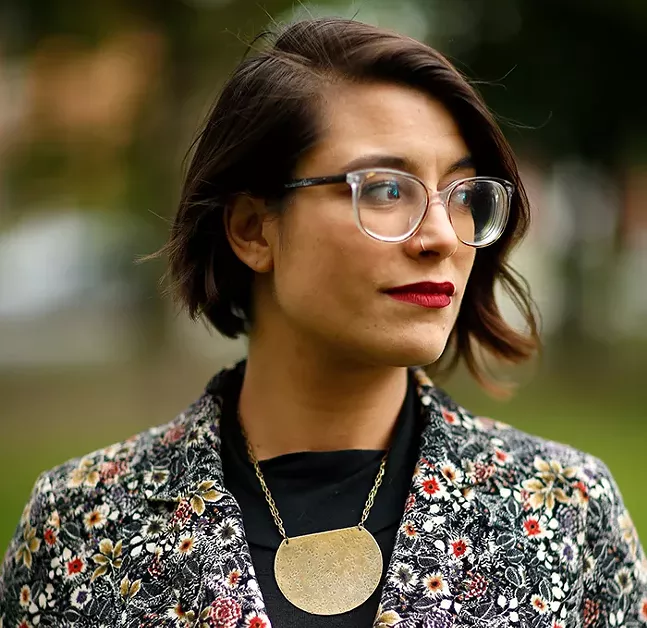 According to the
United States Election Project
, 51 percent of eligible Pennsylvania voters went to the polls in the 2018 midterm general elections. That's pretty good compared to other states, but when half of the state population isn't voting, there is some serious room for improvement.
One of Pittsburgh's newest state representatives,
Sara Innamorato
(D-Lawrenceville), has a plan to raise those numbers. She recently introduced the You're Registered act, a bill that would automatically register to vote every qualified citizen who interacts with Pennsylvania's government in some form.
If passed, this would register everyone who renews a driver's license, fills out a benefit application, or completes any other interaction with the government.
Your vote is your voice. My bill enables automatic voter registration when qualified citizens interact with state services. First steps in the fight for a fair, secure democracy in Pennsylvania. #yourvotecounts #peoplefirst https://t.co/Ta05VLtTGO

— Rep. Sara Innamorato (@RepInnamorato) January 15, 2019
Innamorato's bill is part of
more than 20 bills sponsored by state House Democrats
to promote voting rights and transparency in the state, making it easier and safer for eligible citizens to exercise their democratic power.
Fifteen states have instituted automatic-voter registration since 2015. One of those states, Oregon, saw a 4.1 percent increase in turnout in 2016 compared to 2012, an election without automatic-voter registration. This was the highest increase in the nation over that time period.
New York state is considering passing automatic voter registration, and according to progressive think tank
Data for Progress
, 64 percent of likely voters in New York support it.
Other Pennsylvania bills in the plan sponsored by area representatives include state Rep. Brandon Markosek's (D-Monroeville) Future Voters bill, which would preregister voters at 16 or 17 and remind them about voting when they turn 18. Pennsylvania does not currently specify an age for preregistration, so long as an individual will be 18 by the next general election.
State Rep. Rob Matzie (D-Ambridge) introduced a bill to help police officers, firefighters, and other voters who can't find time to cast a ballot on Election Day submit their ballot by mail.
A slew of four early-voting bills was introduced by state Reps. Pam Snyder (D-Greene County) and Tony DeLuca (D-Penn Hills) and House Minority Leader Frank Dermody (D-Oakmont) introduced two campaign-finance bills, including one to limit the amount special interests can spend in state elections.
Other notable bills call for same-day registration, automatically moving a person's registration with them if they change addresses, and a requirement that all candidates for president of the United States and governor of Pennsylvania release their tax returns. The final bill in the plan, Fix Our Elections, sponsored by state Rep. Chris Rabb (D-Philadelphia), brings all the ideas together.
But, it's unlikely the state Democrats' plan will go over well with Pennsylvania Republicans, who control the state House. State Republicans have different thoughts concerning voting rights.
With backing from House Speaker
Mike Turzai
(R-Marshall), Pennsylvania passed a law in 2012 requiring all Pennsylvania voters to produce identification, instead of just first-time voters. After it passed, Turzai said in a speech to the Republican State Committee in June 2012 that the
voter ID law
would help Republican Presidential nominee Mitt Romney win Pennsylvania.
Romney still lost, but Turzai apparently admitted the purpose of the voter ID law was to help Republicans win. Typically, when voter turnout is lower, Republicans gain an edge in elections.
The law was overturned in 2014 by state's Commonwealth Court on constitutional grounds.