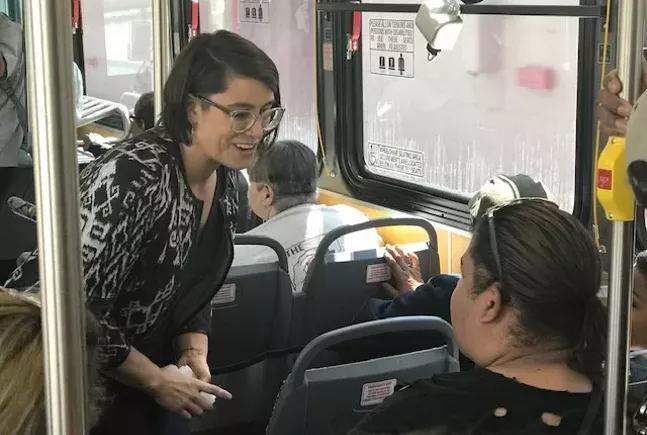 Usually when elected officials want to meet with constituents to discuss their needs and desires, they hold town halls. They pick a large venue and anywhere from dozens to hundreds of constituents congregate to listen their representative and asks questions.
But state Rep.
Sara Innamorato
(D-Lawrenceville) is trying a different approach. On April 24, she went directly to her constituents and joined them on the 91 bus, traveling from Aspinwall to Downtown and back again. She called it a Transit Town Hall, and she spoke with bus riders about why public transit is important to them, what improvements they are looking for, and other general questions about public transit in the state of Pennsylvania.
"[It's] definitely experimental, as far as we know no one has done this before," said Innamorato. "We talked to people who ride everyday. We talked about homelessness and
gentrification
. I wasn't expecting to talk about all these different issues, but it shows how deeply intersectional it all is and what transit means to people's lives."
Innamorato walked up and down the aisle of the
bus
during the event and she says she spoke to about 20 people directly during the hour long event. Her district occupies most the 91 route, including Lawrenceville,
Sharpsburg
and Aspinwall. People asked her about autonomous vehicles, state public transit funding, and requests for additional service.
She said this was a good way to meet her constituents directly where they were, and noted that "people riding the bus at 11 morning, probably don't have time to go to a traditional town hall."
When asked about the potential of reintroducing a route to the North Hills traveling up
Perry Highway
through part of her district, Innamorato said she supports that initiative.
"We need a bus to Perry Highway, the people are hungry for it," she said. "I have a whole room of seniors that I want to bring to Harrisburg that want that bus."
.@RepInnamorato is holding a town hall meeting about transit on the 91 bus! pic.twitter.com/YAsLKHsJZa

— Ryan Deto (@RyanDeto) April 24, 2019
Innamorato said the bus town hall only strengthened her resolve that the region needs more state dollars in public transit funding. She says talking to all the riders that rely on transit, even those taking the bus in the middle of the day—seniors, service industry workers, etc.—shows how necessary public transit is to some people.
The 91 bus that Innamorato held her town hall in was open the public and operated the same as other buses. It was an additional bus that Port Authority added to the route, just for the town hall. Most seats were full when
Pittsburgh City Paper
rode from Downtown to Aspinwall.
A large amount of state funding to the Port Authority currently comes from the
Turnpike Commission
, which pays $450 million a year to state public transit agencies (Though the state has continued to fund Port Authority has the Turnpike Commission has missed the last few payments). A lawsuit is currently being appealed that could jeopardize that payment, and regardless that payment will be reduced by $400 million in 2022. That means replacement funding will need to be allocated by the state government, or the state government will need to allow counties like Allegheny to raise their own funding, says Innamorato.
"Most people don't have a pulse on transit funding at the state level, they just ride the bus and need it," says Innamorato. "And that is why financing public transit is important."