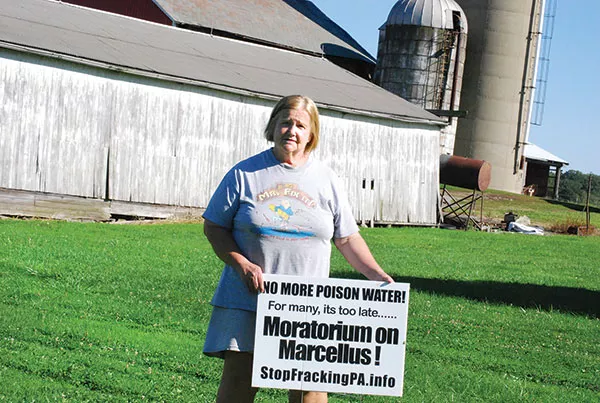 Anti-fracking activists protesting a natural-gas conference in Philadelphia last fall were being monitored by a private security company that sent a photo of a demonstrator to the Pennsylvania State Police, according to an email obtained by Pittsburgh City Paper.
A few months earlier, at another industry-led conference, state trooper Michael Hutson delivered a presentation on environmental extremism and acts of vandalism across Pennsylvania's booming Marcellus Shale natural-gas reserves. He showed photographs of several anti-fracking groups in Pennsylvania, including Shadbush Environmental Justice Collective protesters demonstrating at an active well site in Lawrence County, in Western Pennsylvania.
That same Pennsylvania state trooper visited the home of anti-fracking activist Wendy Lee, a Bloomsburg University philosophy professor, to question her about photos she took of a natural-gas compressor station in Lycoming County. Remarkably, the trooper earlier had crossed state lines and traveled to New York to visit Jeremy Alderson, publisher of the No Frack Almanac, at his home outside Ithaca, N.Y., to accuse him of trespassing to obtain photos of the same compressor station.
The photo, presentation and house visits are part of a little-known intelligence-sharing network that brings together law enforcement, including the FBI, Pennsylvania Office of Homeland Security, the oil and gas industry, and private security firms. Established in late 2011 or early 2012, the Marcellus Shale Operators' Crime Committee (MSOCC) is a group of "professionals with a law-enforcement background who are interested in developing working relationships and networking on intelligence issues," according to an email sent to group members by James Hansel, regional security manager for Anadarko Petroleum.
The MSOCC has taken a keen interest in environmental activists and anti-fracking groups, according to documents obtained through a state Right to Know request. The collaboration raises questions about the increasingly close ties between law enforcement and the natural-gas industry in Pennsylvania, and whether law enforcement has violated the civil liberties of protesters and environmental groups in its effort to protect the state's most controversial industry.
The production of natural gas in the Marcellus Shale, a formation that underlies several states, is a multi-billion-dollar industry that has grown dramatically over the past four years. In Pennsylvania alone, there are now more than 7,000 active wells.
The "Shale Insight" conference, held at the Philadelphia Convention Center in September 2013, brought together industry leaders, politicians and media figures for two days of networking and panel discussions. Opponents of fracking — or hydraulic fracturing, the controversial technique of injecting water, chemicals and sand deep underground to break apart the shale and release gas — staged their own teach-in just down the street. But the activists intent on watchdogging the industry were themselves being spied on.
According to documents obtained by City Paper, the Pennsylvania State Police Criminal Intelligence Center received an update from a private security firm, Global Security Corp., about protest activity near the convention center.
On Sept. 25, Don Peters, a former state trooper who now works for the Oklahoma-based security firm, sent the Criminal Intelligence Center "a photo of the only citizen I can see at the moment exercising their right of protest (located at the main/Broad St. entrance of the convention center.)"
The email was sent to Douglas Jackson, an intelligence analyst with the Pennsylvania State Police, and Trooper Hutson, a member of the FBI's Joint Terrorism Task Force in Williamsport.
The Pennsylvania State Police declined to comment on the email or to confirm even an informal relationship with Global Security Corp.
"We do not have a policy regarding contracts with security firms — as we do not contract with such firms," Maria Finn, a State Police spokesperson, wrote in an email.
Global Security CEO Bill McClure confirmed that Peters works for his company, which has clients in the energy sector. He also added that the company occasionally seeks assistance from law enforcement — most of its employees have law-enforcement backgrounds — but only when needed. "We have not been hired by the Pennsylvania state police," he said. "They're self-sufficient."
The state police may not contract with private security firms, as Finn says. But state police do appear to have received intelligence, in this case of a citizen exercising his First Amendment rights, from one such firm.