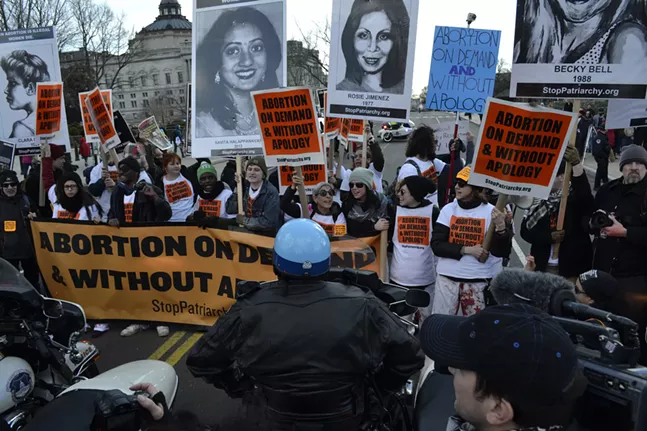 On Oct. 18, two state representatives introduced a restrictive abortion bill at the Capitol in Harrisburg.
House Bill No. 1977
, nicknamed the "heartbeat bill," is being spearheaded by state Rep. Stephanie Borowicz (R-Clinton/Centre) and Sen. Doug Mastriano (R-Adams/Franklin), and would effectively ban abortions after a heartbeat can be detected.
"When you hear a baby's heartbeat, everything changes," said Borowicz at the Capitol on Monday. "If we are declared dead when our heart stops, why are we not declared alive when it begins?"
The language in the bill specifies that "no abortion shall be performed after a fetal heartbeat is detected," in which the keyword is "detected."
According to the Cleveland Clinic
, a heartbeat can be "detected" around six weeks into pregnancy. However, the Clinic also states that before eight weeks, the pregnancy is still considered to be an embryo, not a fetus, and only at around four months can a fetal heartbeat be heard through a Doppler fetal monitor.
Six weeks is still early enough in the pregnancy that many don't realize it because the symptoms haven't shown up yet or they have an irregular menstrual cycle.
It is unlikely that Pennsylvania would pass the Heartbeat Bill, since Gov. Tom Wolf
has promised
to veto any abortion bill that comes to his desk. "The latest bill, a six-week abortion ban, defies all practical understanding of modern women's health care," Wolf said in a statement. "These policies run counter to the notion of individual freedom and lack a sound scientific basis."
Correction: Pennsylvania will NOT be the next state to ban abortion because I will VETO this bill. #StopTheBans https://t.co/xhXcGUSHV2

— Governor Tom Wolf (@GovernorTomWolf) October 22, 2019
Several other states, including Iowa, Kentucky, Georgia, and Louisiana, passed similar bills, although most have been blocked by federal court and none have taken effect (though Alabama's could go into effect in November).
In a statement, Planned Parenthood of Western Pennsylvania condemned the bill, asserting confidence that it will not pass.
"As an organization that provides this critical service, we know that putting these options further out of reach will only put public health in danger," reads the statement. "Reckless legislation like this does not help anyone and hurts the most vulnerable people in our state. Bans like these are widely opposed and do not represent Pennsylvanians or America. This bill will be vetoed by Governor Wolf and we will still be here for our patients."
In March, Borowicz
generated controversy
when, on the day the House swore in its first female Muslim member, Movita Johnson-Harrell (D-Philadelphia), Borowicz conducted an inappropriately long Christian prayer in front of the house, in which she said "Jesus" six times in under two minutes. When introducing the Heartbeat Bill, she again invoked her religion, saying, "God is the author of life, and from the moment of conception, he says he knew us before we were in our mother's womb. What a great God I serve."
Technically, though, her job is to serve the people of Pennsylvania. According to a 2019
poll of Pennsylvania voters
by Franklin & Marshall College, 32 percent of voters believe abortion should be legal under any circumstance and 50 percent believe it should be legal under certain circumstances. It's unclear whether the ability to detect a heartbeat counts as a "circumstance."