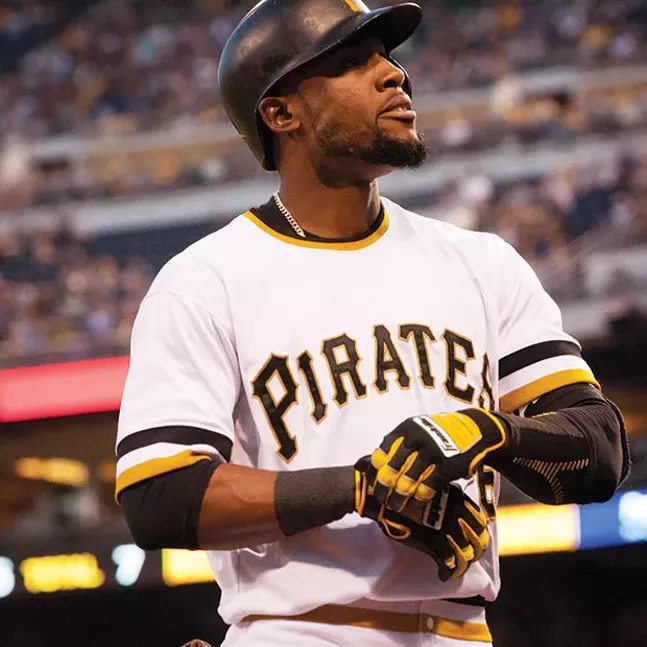 Last week we started the countdown of the Pittsburgh Pirates' 30 best outfielders after Roberto Clemente. I have to admit, there were surprising names on that list — names that on a lot of teams wouldn't be ranked that high. But this week we get to Nos. 20-11. These are the solid, reliable outfielders who fall just short of elite status. When Chuck Tanner was making out his lineup card in 1979, he had six outfielders to choose from: Dave Parker, Omar Moreno, Bill Robinson, Mike Easler, Lee Lacy and John Milner. That Pirate depth has never been matched. Last week, for example, after Clint Hurdle penciled in Andrew McCutchen, his choices were Gregory Polanco, John Jaso and Jose Osuna. This is a much more solid list.
20. You might remember Gary Redus from the list of best first basemen. Redus (1988-92) snuck in at No. 10 on that list and is No. 20 on this one. He is a stat creeper who quietly sneaks up the ranks. Redus hit .255 with 25 home runs, drove in 96 and stole 69 bases as a part-time Bucco.
19. Craig Wilson played only one full season with the Pirates, when he played 155 games. Lots of injuries contributed to his lack of playing time, but when he played, he produced. In that one healthy year, Wilson hit 24 jacks and drove in 84. Even more impressive was that it happened in 2004, when he had Ty Wigginton, Daryle Ward and Jose Castillo batting around him. During his stay, Wilson hit .268 with 94 homers, drove in 282 and had an impressive .828 OPS (on-base plus slugging percentage).
18. Garrett Jones was apparently better than we thought. G.I. Jones had a WAR (wins above replacement) of 16.2 while hitting 100 home runs, knocking in 325, stealing 28 bases and hitting .256. Jones played in the dark ages of Pirates baseball, as he joined the team in its 17th consecutive losing season. But it was a semi-happy ending as he played on the 2013 team and got two postseason at-bats. He went hitless in those attempts and then left the next year to take his talents to South Beach with the Marlins.
17. Omar Moreno stole 96 bases one season and still didn't lead the majors. It's an all-time Pirates record, but Moreno was bested by Detroit's Ron LeFlore, who stole 97. Plus, LeFlore had a better story. He was discovered in prison, redeemed himself, became a star and stole Moreno's thunder. The Panamanian Flash (not his nickname) did lead the National League in stolen bases twice, with more than 70 in both of those years. Also, 412 was not just his area code here, but his steals total as a Pirate. Moreno hit .276 with 37 homers and 386 RBI.
16. While Omar Moreno came all the way from Panama to be at Three Rivers Stadium, Bill Robinson could just take a cab from McKeesport. It's tough to get the proper recognition when Willie Stargell, Dave Parker and Bill Madlock are in the lineup with you. But the McKeesport Masher could hit. Mr. Robinson belted 109 homers, the most of anyone on the 11-20 list. He also drove in 412 runs (there's that number again).
15. To describe Mike Easler to the younger generation, you would have to say that his bat was lit. The Hit Man had a .302 average, hit 56 homers and drove in 244 runs with the Pirates. He later went on to fight ham as part of the Nippon Ham Fighters of the Japanese League. In a list of best guys named "Hit Man," Easler is in the top three, with boxer Tommy Hearns and wrestler Bret Hart.
14. We like Orlando Merced because he hit .283 with 63 home runs, drove in 394 runs and had a 16.2 WAR. We don't love Orlando because in the playoffs he was a member of the origami-folding committee. In 19 playoff at-bats, Merced managed just three hits, although one was a homer. But statistically speaking, of all the outfielder/first basemen on this top-30 list, he's second best to Willie Stargell. A distant second, but still second.
13. In 1979, Lee Lacy did something that would make current Pirates owner Bob Nutting salivate. He signed as a free agent for $140,000 and hit .335. He spent six years with the Pirates, hitting .304, but was somehow never good enough to get a starting job. Lacy stole 140 bases, hit 35 homers and drove in 172 runs. In 16 major-league seasons, he never played in more than 140 games.
12. Al Martin's home runs were as long as the tales he spun. Martin's so crazy he's the only guy on the list to be involved in a bigamy case. While he didn't really play college football at USC (which he claimed he did, for some reason), he did play some pretty good baseball in Pittsburgh. Martin hit 107 dingers, drove in 381 runs, and stole 152 bases while maintaining a .280 batting average. The numbers are crazy-good too.
11. The fact that Starling Marte is already so high on this list makes his half-season suspension for performance-enhancing drugs all the more frustrating. In his career, Marte is hitting .288 with 60 home runs and 242 RBI. His 162 stolen bases are second only to Moreno on this portion of the list. Plus, he has the highest WAR and won two Gold Gloves. Look at the numbers; the "Partay" is just beginning.
Next week: The final installment brings this 172-part series to a peaceful conclusion.