One Day in Town
Squirrel Hill is one of the city's largest neighborhoods, and though it's primarily residential, it also boasts one of the largest retail areas in town. Start at the intersection of Forbes and Murray avenues; you'll find most of the shops, restaurants and bars along these two thoroughfares.
Near that intersection sits the Manor Theater (1729 Murray Ave., 412-422-9851), a longtime moviehouse. It has four screens, playing tonier Hollywood fare and arthouse flicks, and a recently renovated lobby with a bar. Take your post-movie discussion to the 61C Café (1839 Murray Ave., 412-521-6161), one block away. Named for a bus line that passes by, the low-key coffeehouse offers beverages and house-made pastries.
If you have a sweet tooth, you can't go wrong here: The Murray/Forbes corridors have an astonishing number of bakeries and ice-cream spots; try Wafflalonia (1707 Murray Ave., 412-521-4902), a nook that makes fresh Belgian liege waffles. For savory eats, pop into Nu Modern Jewish Bistro (1711 Murray Ave., 412-422-0220), which offers traditional Jewish deli fare, updated but still comforting.
Squirrel Hill is the cultural center for Pittsburgh's Jewish population. Besides the kosher grocery stores and shops that trade in Judaica, you'll find the Jewish Community Center (5738 Forbes Ave., www.jccpgh.org), which offers everything from a gym and dance classes to a small gallery/exhibit space.
There's lots more knowledge across the street at the Carnegie Library branch, which functions as much as a community gathering spot as a repository of books. Nice weather? Take a book outside into the library's rooftop sculpture garden.
Then there's the magnificent Frick Park, which borders the eastern edge of Squirrel Hill. In its 644 acres, you'll find bike trails, hiking paths, playgrounds, a dog park and an astonishing amount of wilderness for a mid-city escape into nature.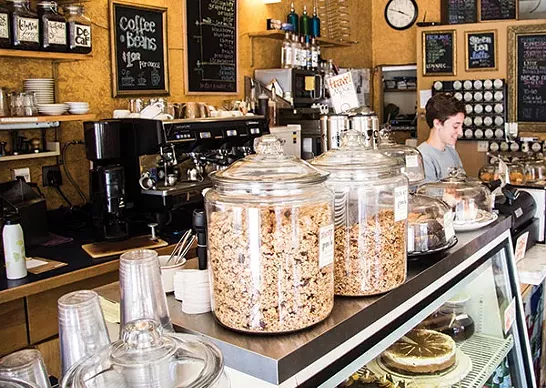 Food
Aiello's and Mineo's. It's a perennial Pittsburgh argument which spot has the best pizza. Located on the same block, try them both. Aiello's: 2112 Murray Ave., 412-521-9973. Mineo's: 2128 Murray Ave., 412-521-9864
Allegro Hearth. Come early for the best selection — these varieties of freshly baked bread (plus cookies and small sweets) go fast. 2034 Murray Ave., 412-422-5623
Chaya. It's not just sushi — though there is a lengthy menu of it — at this Japanese restaurant. Try teriyaki, noodle bowls, hot pots and even a full traditional dinner. 2032 Murray Ave., 412-422-2082
Chengdhu Gourmet. The hot spot — literally — for spicy Sichuan cuisine. Its extensive menu includes many less-common Chinese dishes. 5840 Forward Ave., 412-521-2088
Eat'n Park. When it's after midnight and you need French fries and a milkshake, this stalwart outpost of Pittsburgh's own diner chain has got you covered. 1816 Murray Ave., 412-422-7203
Gaby y Jules. Stock up on this French patisserie's colorful macarons — so light and airy — and also classic desserts (like éclairs and mousse cakes), croissants and breads. 5837 Forbes Ave., 412-682-1966
Gluuteny. For those with food sensitivities, this bakery that specializes in gluten-free and dairy-free indulgences like cupcakes and cookies is an extra-sweet treat. 1923 Murray Ave., 412-521-4890
Green Pepper. A family-run restaurant that's your spot for spicy kimchi pancakes, bibimbop, bulgogi and other Korean specialties. 2020 Murray Ave., 412-422-2277
Naya. This unassuming restaurant lets diners explore the depths of Syrian cuisine, along with more familiar Middle Eastern fare. 2018 Murray Ave., 412-421-1920
Bars & Clubs
Hidden Harbor. This new sister bar to Independent Brewing offers a relaxed tiki-ish vibe, and fruit-infused based cocktails to match. The poko-lulu bowl serves four. 1708 Shady Ave., 412- 422-5040
Independent Brewing Company. Regional beer is paramount here, and the casual, open-to-the-street atmosphere encourages hanging out with friends. 1704 Shady Ave., 412-422-5040
Silky's Sports Bar & Grill. It's a rare sports bar where non-fans won't feel out of place. Sure, the game is on, but ignoring it is OK, too. 1731 Murray Ave., 412-421-9222
Squirrel Hill Café. Locals call it "the Cage," and this smoky bar keeps the old-school vibe: beer, greasy bar fare, jukebox tunes and close conversations in narrow wooden booths. 5802 Forbes Ave., 412-521-3327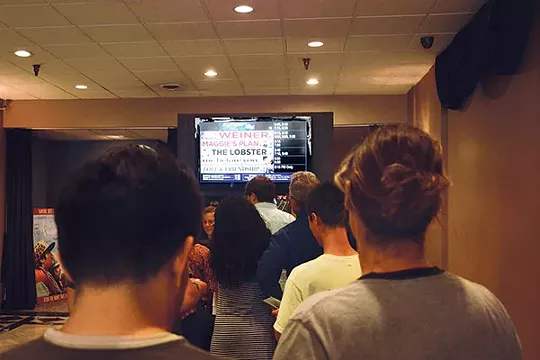 Shopping

Acoustic Music Works. Attention string-pluckers: That guitar, mandolin, banjo or ukulele you need is at this music shop. 2142 Murray Ave., 412-422-0710
Avalon. Smart — and fashionable — shoppers know to check this store first. It specializes in quality used garments, most of it recent, but there are kicky vintage pieces too. 5858 Forbes Ave., 412-421-2911
Games Unlimited. Not everybody wants to play games on a tiny phone screen. Stop in for classic board and card games, role-playing games and even jigsaw puzzles. 2115 Murray Ave., 412-421-8807
Jerry's Records. The impressive collection of affordable vinyl — from rock to classical, some stashed in warrens like hidden treasure — draws music enthusiasts from around the world. 2136 Murray Ave., 412-421-4533
Littles Shoes. This Forbes Avenue landmark has been around for decades and helped generations of Pittsburghers — men, women and children — find the right fit. 5850 Forbes Ave., 412-521-3530
Other Spots of Interest
Forward Lanes. The perfect place to strike out. Unwind with bowling, buddies and beer at this neighborhood institution. 5844 Forward Ave., 412-422-5844
Homewood Cemetery. Such Pittsburgh notables as Henry Clay Frick and Henry J. Heinz are buried here. A fine place to walk and enjoy statuary, monuments and history. 1599 S. Dallas Ave., www.thehomewoodcemetery.com