"Squirrel Hill is really the most habitable neighborhood in Pittsburgh," an acquaintance once declared, after a few pints at that neighborhood's landmark bar, the Squirrel Hill Café. Although I was living down the street in what resembled a bohemian squat, I found it hard to argue. If you're coming to Pittsburgh from a more cosmopolitan area, and find the rest of the city just too damn
Pittsburgh
(and Shadyside just too damn
Shadyside
), Squirrel Hill is arguably as vibrant a melting pot as you'll find.
Bordered by the lush expanses of Frick Park and Schenley Park -- and the neighborhoods of Oakland, Shadyside, Point Breeze and Greenfield -- Pittsburgh's largest neighborhood centers on its main business district, situated along Forbes and Murray. Venture off these perpendicular main drags and you'll stumble across large, beautiful homes on quiet streets (with large, beautiful price tags to match); you'll also find warrens jammed with college students, starving artists and trustifarians.
Indeed, much of Squirrel Hill's unique vibe comes from its people -- most notably, its large Jewish population. Since the 1920s, the neighborhood has borne the indelible stamp of that people, today boasting several Jewish day schools and over 20 synagogues and congregations. Many businesses cater to this clientele, including Pinsker's Books & Judaica (2028 Murray Ave., 412-421-3033) and the to-die-for kosher bakery, Simple Treat (2119 Murray Ave., 412-521-6323). Just off the intersection of Forbes and Murray avenues, the neighborhood's focal point, you'll find the Jewish Community Center (5738 Forbes Ave., 412-521-8010) offering fitness facilities and community-based classes.
One of the main attractions of Squirrel Hill is its array of dining options. With a little exploring, you'll find good eats from all over the world, including Russian and Ukrainian (Restaurant Alexander, 5840 Forward Ave., 412-421-3370), Mexican (Cuzamil, 2019 Murray Ave., 412-521-3250), French bistro fare (Ma Provence, 2032 Murray Ave., 412-521-2925), Italian (La Cucina Flegrea, 2114 Murray Ave., 412-521-2082), Thai tapas (Silk Elephant, 1712 Murray Ave., 412-421-8801) and cheap-as-dirt Indian food (Sree's, 2103 Murray Ave., 412-860-9181). The area also boasts a large number of Asian and pan-Asian restaurants and mom-and-pop pizza joints -- far too many to list.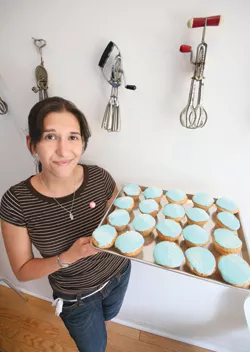 You can also sample an "Asteroids" cupcake, topped with cocoa puffs, at miniscule cupcake shop Dozens (1707 Murray Ave., 412-421-5135); give that hangover something to cry about at heavy-duty breakfast joint Pamela's (3703 Forbes Ave., 412-683-4066); or dive into an Argentine treat at the Tango Café coffeehouse (5806 Forward Ave., 412-421-1390).
While corporate franchises seem to be encroaching on the small-business charm of Squirrel Hill's shopping area, there are still plenty of unique destinations. Cyclists can prepare for the punishing inclines of Squirrel Hill's dominant topographic feature at either Biketek (5839 Forbes Ave., 412-521-6448) or Pittsburgh Pro Bikes (5876 Forbes Ave., 412-521-2453). Or, suit up for a similarly demanding social life at Little's Shoes (5850 Forbes Ave., 412-521-3530), easily recognized by its fanciful vintage sign; Charles Spiegel (5841 Forbes Ave., 412-421-9311); or -- for the price-conscious -- the hip but gently worn Avalon Exchange (5858 Forbes Ave., 412-421-2911).
Prepare to surrender all for your sweet tooth at the nearly erotic candy counters of The Chocolate Moose (5830 Forbes Ave., 412-422-2208). (Those things that look like polished pebbles? Buttercrunch. And yes, those are licorice Scotty dogs.) Next door, and equally heart-stopping, is the Pussycat lingerie boutique (5824 Forbes Ave., 412-521-5977); the sidewalk's a bit worn from passersby tripping over their own feet. Squirrel Hill's shopping also includes fair-trade-friendly (Ten Thousand Villages, 5824 Forbes Ave., 412-421-2160) and GLBT-friendly gifts (A Pleasant Present, 2301 Murray Ave., 412-421-7104).
Down at the bottom of the Hill sits Jerry's Records (2136 Murray Ave., 412-421-4533), a mecca for vinyl fanatics of all grooves -- and even from other countries. Here 45s sit in pristine white boxes on 12-foot-high shelves, and the atmosphere is cut with just enough mildew to be authentic. Now that Jerry's is sharing its cavernous space with the CD-based Dave's Music Mine and the ultra-funky cult/foreign/GLBT/adult video-rental shop Heads Together, the complex is worth at least an entire afternoon, if not the rest of your freaking life.
Speaking of life, what Squirrel Hill woefully lacks is nightlife. Apart from Gullifty's Restaurant (1922 Murray Ave., 412-521-8222), which lately has been booking some big names in jazz, and the occasional underground-rock house party, you can forget finding live music. What you will find are two homey movie theaters: The Manor Theater (1729 Murray Ave., 412-422-7729) and The Squirrel Hill Theater (5824 Forward Ave., 412-421-7900), showing first-run and occasional indie and foreign films.
You'll also find a small number of respectable neighborhood watering holes, the main stop being the aforementioned Squirrel Hill Café, a.k.a. "The Cage" (5802 Forbes Ave., 412-521-3327): Hook up with a hipster on "Game Night," or grab a booth to discuss current events or some new holy man in England. (Other venues can be found in our club listings elsewhere in this guide.)
But if the nightlife is uneven, Squirrel Hill's evening life is just fine. In warmer months, conversation drifts from cafés with outdoor seating, such as the Coffee Tree (5840 Forbes Ave., 412-422-4427) and The 61C Café (1839 Murray Ave., 412-521-6161). Groups of youngsters, oldsters and in-betweensters form long lines for frozen treats at Rita's Italian Ice (5880 Forbes Ave., 412-421-1941).
If you're after a certain funky, nearly Old-World charm combined with a liberal, live-and-let-live attitude, Squirrel Hill may be your best bet. Located right off the I-376, and with virtually everything you need in walking distance, you can almost forget the rest of the city even exists.