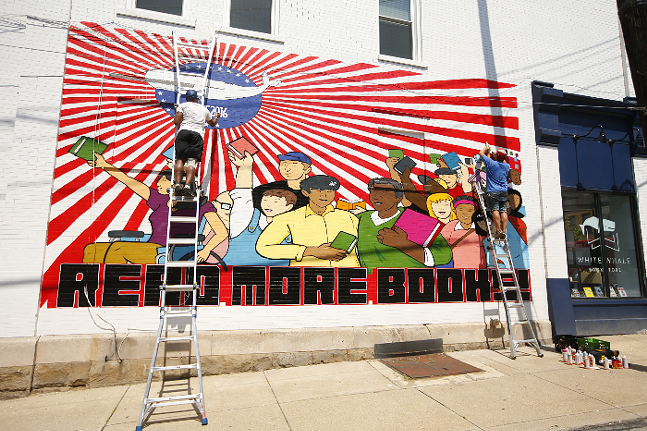 White Whale Bookstore
recently transformed the side of their white brick building in Bloomfield into a colorful mural that was inspired by socialist realism imagery. Originally, the artwork included a group of people raising books on a red and white striped background with elements of communist symbolism, like symbols that appear to be golden wheat and nods to
The Communist Manifesto
by Karl Marx.
Initially, the
bookstore indicated that it approved of the mural
, but a few days later, some minor details were changed, leading to a slight mix-up between the artist and the store's owners. Everything was resolved in the end, but some lingering differences remained.
According to White Whale ownership, these changes — which involved some color alterations to the books, removing the golden wheat and a golden star, and adding some small white stars — were made to better fit the bookstore's vision of what the owners say they wanted the mural to be: an image of socialist realism reimagined with an Americana flair.
When Brian Gonnella, the artist commissioned for the mural, was first contacted by
Pittsburgh City Paper
on Thu., June 24 for information about his work on the outside of White Whale, he explained the inspiration and design process of what was an almost-completed mural. However, a day later, Gonnella said changes were requested, and he believed others deemed the mural as "too communist."
"They're literally making us change the mural right now because it's too communist," Gonnella said when
City Paper
reached out on June 25. He agreed to make the changes, and later that day, he told
CP
that he understood where White Whale was coming from.
"I totally understand why White Whale wanted to change the mural as they need to protect their business and livelihood. I don't blame them at all," said Gonnella in a follow-up text. "I blame the US government and the capitalist media for creating these tensions in US/Chinese relations and pushing the US back into a Cold War mentality."
Gonnella explained that the aesthetic of the
mural
is inspired by "socialist realism," which is artwork found in existing and former socialist countries, like China and the U.S.S.R. His work is to emphasize "the ideas of community, solidarity, and diversity." When
CP
reached out to White Whale after changes were being made, co-founder Jill Yeomans said the changes made to the mural were not about it being overly communist, but about wanting to incorporate more Americana elements and diverse books and people into the mural.
Before changes to detail were requested, the mural contained the color palette and hints of the communist flag — designed with a starburst of white and red stripes, connected at the center with White Whale Bookstore's staple whale logo encircled by what appears to be gold wheat symbols. The mural also featured a group of diverse individuals smiling and raising books which resemble the cover of
The Communist Manifesto
. The text at the bottom of the art reads, "Read more books!" with the exclamation point painted as a gold star commonly found in communist and socialist flags.
Gonnella then made subtle adjustments to the mural, such as repainting the red and green books different colors, making the exclamation point black which now matches the rest of the text, and replacing the gold wheat symbol with a navy circle of small white stars.
Yeomans said the changes made to the mural were not being made in response to any criticism, but were to incorporate elements of Americana and add diversity to the types of books and people depicted.
"We felt like these final touches, with elements of Americana and many different types of books and people, really emphasized the focus on 'conversation, community, and culture' in our store motto, and promoted all different types of literary engagement," Yeomans said. "We love where it ended up and feel like the art and message are beautiful."
However, on June 24, White Whale posted photos of the original mural on its social media accounts and wrote, "We love it, and we hope you all do, too" and thanked Gonnella.
Artist Brian Gonnella with his newest Bloomfield beauty: a READ MORE BOOKS mural gracing the side of our building. We love it, and we hope you all do, too. Thank you @comrade_chad_ and Jerome Charles for being a dream to work with! 📚🐋 pic.twitter.com/UWIWnsN0wL

— White Whale Bookstore (@whitewhalebks) June 23, 2021
This is Gonnella's second mural in Bloomfield that holds similar themes. His first Bloomfield mural was completed in October 2020, and is located on the side of 4121 Main, a coffee bar, florist shop, and art gallery. That piece centers and emphasizes the importance of essential workers with accents and details pulled from communist symbolism.
"It's meant to be seen, appreciated by workers, and also sort of empower them for the very crucial role that they played. Not only during the pandemic, but every day," said Gonnella.
The mural isn't the only new addition at White Whale Bookstore. As of June 1, the lease of the building where the bookstore is located expanded to the building next door. White Whale Bookstore's expansion will include more books, more seating areas, and a larger staff. Their website says they plan to finish remodeling and opening the new building by early fall in time to celebrate their five year anniversary.
White Whale Bookstore opened in October 2016, after Adlai and Jill Yeomans purchased East End Book Exchange, a used bookstore that formerly stood in the White Whale location. White Whale made headlines earlier this year after a
controversy involving McCaffery Interests
, the owners of the Terminal development in the Strip District.
---
This story has been updated at 6:15 p.m. on July 26, 2021 with an additional quote from Gonnella.