Clean out your closets and make room for a whole new spring wardrobe at various spring markets and fairs popping up all over town.

On Sat., March 23, the Vintage Pittsburgh Retro Fair returns to the Heinz History Center (heinzhistorycenter.org) with dozens of local vendors. Presented in partnership with The Neighborhood Flea, the event features a wide array of items, including vintage clothing, accessories, and home decor, plus handmade goods like jewelry, candles, and artwork. In addition to shopping, enjoy delicious food and drinks from local hot spots, including tasty treats and beverages both alcoholic and non-alcoholic.
On Sun., March 24, hit up the Pittsburgh Pickers: Vintage Market at the Ace Hotel (acehotel.com/pittsburgh). Presented by Retro Gems and Zeds, the event features 20 different local resellers and collectors, dealing primarily in vintage clothing and nostalgia from the 1970s through the 1990s. There will also be food and drink from the Whitfield.
On Sat., April 6, head to the ground floor of the Blumcraft Building for the Babyland Spring Cleaning Sale (search Facebook for "Babyland Pittsburgh"). Presented by Babyland, a collection of studios and shop spaces used by members for work, art, and activism, the afternoon includes handmade, vintage, and secondhand goods, including wood and metal work, clothing, prints, and more. Beverages and treats like bagels, tamales, and pupusas will also be for sale.
Looking for cool glassware, kitchen gadgets, or furniture? On Sat., April 6, the PGH Vintage Mixer Home Show presents two floors of antique and vintage home goods at the Teamsters Local Union 249 (pghvintagemixer.com). Over 30 local and regional vendors will have items to suit a variety of tastes, from kitschy décor to fun, yet functional pieces. There will also be pizza, coffee, and adult beverages from Pittsburgh businesses.
On Sat., April 27, Handmade Arcade celebrates its 15th anniversary by spotlighting new crafters at the first-ever Shop and Sell spring pop-up market at Construction Junction (cjreuse.org). Meet and shop from a new crop of craft hobbyists, enthusiasts, and rookies joining the local craft and maker scene. The event includes 30 vendors, free maker activities by the Pittsburgh Center for Creative Reuse and Pittsburgh Zine Fair, and on-site food and coffee trucks. You can also sample and purchase Crafted Apple, a special, limited edition collaborative release from Handmade Arcade and Threadbare Cider.
There are plenty of chances to find unique items when the PGH Flea returns to Spirit (spiritpgh.com) in Lawrenceville. The expansive, indoor monthly market features tons of local vendors selling everything from clothing and accessories to vinyl. Whether you like the offbeat, the cute, or the crafty, you're sure to find something to fit your taste. Plus, Spirit offers a pizza-based brunch to keep you shopping all day long.
— Amanda Waltz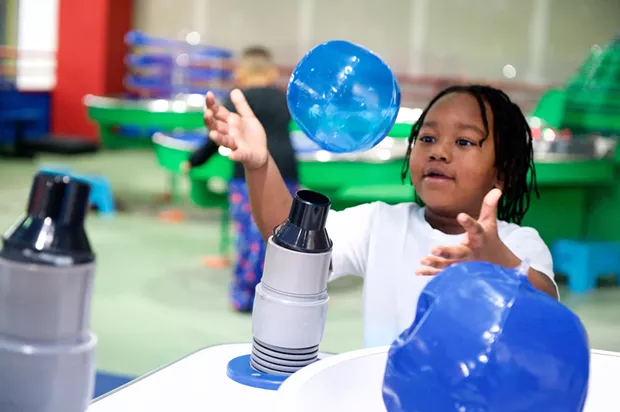 Get the Kids Out of the House

You stink. Your kids stink. Your house stinks. It's probably been about five months since you've been able to open your windows or spend any time outside that wasn't sprinting to a car or bus before you're overwhelmed by an arctic blast. Clean up your children with a fresh breeze offered at any of the great local parks. My kids really like the Highland Park Super Playground (Reservoir Drive), which features sprawling, castle-like wooden structures for climbing. There are a lot of nooks and crannies, though, so keep an eye on your little flight risks. If you are in the South Hills a very aesthetically similar park to Highland exists at the Dormont Community Center (1444 Hillsdale Ave.).

"I love the Science Center" is the only quote I could get out of my son about a place he will bisit any day of the week. If I had to wager a guess, I feel confident saying his favorite exhibit is the H2Oh! exhibit based on the hours we've logged there making it rain, building dams, and floating boats. But he loves all the great things to see and do at the Carnegie Science Center (carnegiesciencecenter.org), including the Miniature Railroad & Village, SpacePlace, and the great selection of rotating exhibits, like Da Vinci The Exhibition. I take personal joy in trying to beat that stubborn air hockey robot that I know laughs at me after I walk away. I'm also pretty excited when the basketball robot misses. You won't replace us, Johnny 5!
The Pittsburgh Children's Museum (pittsburghkids.org) also has so many fun things to do that it can take several trips to soak it all in. A great rotating selection of exhibits keeps each visit fresh. But the staples remain strong as the backbone of any visit. Check out the garage where you can drop parachutes from a second story platform, race wooden cars on side-by-side tracks, wheesh and whoosh on a giant wooden railroad, and watch a ball roll the length of the ceiling on a fascinating wire track. The Makeshop is another must see and features "a space for children and families to make, play, and design using 'real stuff'— the same materials, tools, and processes used by professional artists, builders, programmers, and creators of all kinds."

— Josh Oswald

Suns out, headphones out
While you wait for summer's official outdoor concert season to begin, capitalize on getting outside and listening to music any chance you can this spring. It will be impossible to not feel good listening to Benji. belt out the tropical sounding "Tamale" at Wilkins Block Party (wilkinsblockparty.com) in Schenley Park on Sat., April 27. Also set to perform is Chet Vincent and Biirdwatcher, along with a one-time jazz and fusion jam set hosted by Beni Rossman and Steve Ippolito of Starship Mantis and The Clock Reads, with more acts to be announced.

The outdoor camaraderie continues with two free outdoor music festivals on Sat., May 11. In Millvale, it's the third annual Millvale Music Festival (millvalemusic.org). The daylong event showcases local musicians and bands, while also giving attendees a chance to explore the charming borough right across the river from Lawrenceville. In Oakland, fans of brass music will gather in Schenley Park for Pittonkatonk (pittonkatonk.org), a daylong festival in celebration of May Day with a potlock and an opportunity to engage with local social and environmental justice organizations.

— Jordan Snowden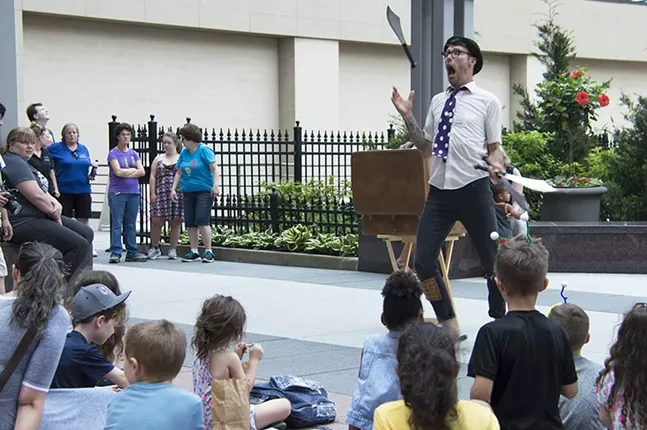 Staging Spring

If you love theater, you're living in the right city. Pittsburgh is blessed with a large number of amazing venues with productions throughout the entire year. A few of our favorites this spring are Pittsburgh Public Theater (ppt.org), City Theatre (citytheatrecompany.org), Pittsburgh CLO (pghclo.org), and Prime Stage Theatre (primestage.com). You can find info on these and other productions in our paper each week. But spring also brings two unique festivals to the city.

The Pittsburgh Fringe Festival (pittsburghfringe.org) is a four-day performing arts festival bringing edgy works of theater, comedy, spoken word, dance, and even puppetry to multiple venues in Pittsburgh's East End starting on Thu., April 4.
For the younger folks in your family, head to Downtown's Cultural District for the EQT Children's Theater Festival (pghkids.trustarts.org) on May 16-19. The popular festival is always a big hit with kids of all ages, with family-friendly performances and free hands-on activities all weekend long.

— Lisa Cunningham


Throwing The Distance

Winter hibernating can be fun for a while, but it tends to lose its luster around Pitchers and Catchers. By the time spring officially kicks off on March 21, most Pittsburghers have a healthy stow of pent-up energy dying to get out. The solution? Throw something.

In order to avoid pulled muscles, start slow with some frisbee golf (frolf) at the Schenley Park Disc Golf course (1 Overlook Drive, Oakland). It's has all of the pleasant exertion of an Ultimate game mixed with the strategy of golf, with no running or country clubs involved.
If you find that lacking for violent undertones, head over to one of Pittsburgh's burgeoning axe-throwing companies, such as Lumberjaxes (axethrowingpgh.com) or New Generation Axe Throwing (throwaxes.com). It's deeply satisfying and good practice if you should ever run into a zombie holding a wooden bullseye.
Lastly, some equally fun but less novel options: play darts at dive bars (Dee's in South Side or Take A Break in Lawrencville), join a cornhole league through Steel City Cornhole (steelcitycornhole.com), or get down with skeeball or puck bowling at Games N'at. Or, you know, just buy a football or something.
— Alex Gordon
Spectator Sports