Binge Break

It's nice that we've come up with "binge-watching" as a euphemism for the unglamorous act of watching a whole series in one sitting. But as spring approaches, it might be time to give the binges a break and get out of the house — to watch movies in a theater. Hey, it's better than nothing. If actually being outdoors isn't your forte, check out the Banff Centre Mountain Film Festival April 5-7 at the Byham Theater (trustarts.org), which features three days of films focused on outdoor activities like climbing, skiing, beaver trapping, and more. You get to explore the outdoors without actually braving the elements!
If virtually exploring the outdoors isn't appealing, try learning about organ transplantation on the biggest screen in Pittsburgh. Burden of Genius follows the work of Dr. Thomas E. Starzl, who performed the world's first liver transplant and perfected the procedure in Pittsburgh. The documentary runs April 12-18 at the North Side's Rangos Giant Cinema (carnegiesciencecenter.org). Other upcoming shows at Rangos include Rocky Horror Picture Show (April 27), The Dark Crystal (April 26-28), and Jimi Hendrix concert doc Electric Church (May 3-4).
— Hannah Lynn
Finders Keepers

Spring is, well, springing up, and fresh shoots mean one thing: fresh finds. Instead of trudging through produce aisles in the grocery store, get outside and explore what Pittsburgh has to offer.

Foraging in the city is surprisingly simple. Pittsburgh is filled with green spaces that are home to unknown, delicious treasures, all mapped out on an interactive map. Falling Fruit (fallingfruit.org), created by two avid foragers, shows hotspots for fallen goods across the 'Burgh. It's kept up by foresters, fregans, and foragers in the area, pinpointing hundreds of spots to pick out spring's edible offerings, like chickweed and purslane.
If do-it-yourself harvesting isn't all that appealing, the Allegheny Land Trust (alleghenylandtrust.org) is here to help. Join the organization, along with the Western PA Mushroom Club, in search of native fungi on Sat., April 13. You can also explore the season's first signs of plant life in a Plant Pursuit hike with Jen Dalke of Blue Heron Nature Skills on Wed., April 17.
Or leave the forest behind and forage for new skills at one of the city's many cooking classes. Explore international cuisines at Gaynor's School of Cooking (gaynorsschoolofcooking.com) — highlights include Spain, Thailand, and Japan; master the challenging art of French baking at East Liberty's Macaron Bar (macaron-bar.com/Pittsburgh); or hand-paint artisan truffles at A519 (a519chocolate.com) in Millevale.

— Maggie Weaver

Make cool stuff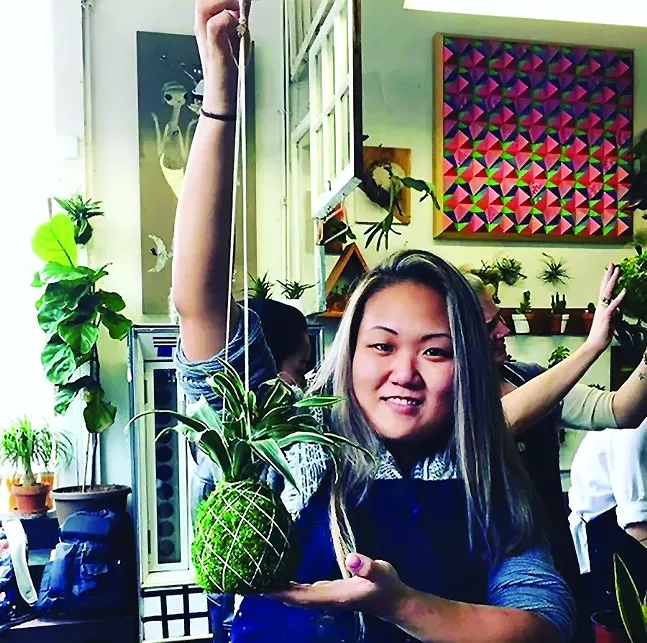 Being productive in the winter is tough because all you want to do is be wrapped under a blanket. But now that the ground is thawing, flowers are blooming, and the sun is shining (once a month), it's a great time to celebrate the earth in creative ways. Workshop PGH will host Spring Plant Party on Mon., April 22, in collaboration with Shadyside Nursery, at the Ace Hotel (acehotel.com/pittsburgh). The event benefits environmental organization Tree Pittsburgh and features several gardening and craft workshops including making an indoor herb garden, decorating a reusable tote, and creating a hanging moss ball.

If you want to learn skills that are less artful and more technical (and free), check out the useful car workshops hosted by Prototype PGH (prototypepgh.com). It can induce a confused panic when a car breaks down or a dashboard light starts flashing. Instead of paying someone else to fix your car, do it yourself, with help from the Jump Your Battery, Change Your Tire workshop on Sat., April 27 and the Change Your Oil, Check Your Fluids workshop on Sat., May 18, both in the parking lot of the Blumcraft building.

— Hannah Lynn

Take a hike
At 42 percent, Pittsburgh has the most urban tree cover of any city in the country. Enjoy the springtime return of green by hiking through the trees. Pittsburgh has great trails through the region and even in the city.

Frick Park in Point Breeze offers a plethora of forested trails snaking their way past ravines and views of the Monongahela River. Most trails start at the Frick Environmental Center. Outside of the city, Settlers Cabin Park in Robinson has several quiet trails away, including a relatively easy hike down to a small but scenic waterfall. That trail starts at the end of Te Pee Drive in the park, just follow it down the hill.
For a more manicured hiking experience, consider a trek through Allegheny Cemetery in Lawrenceville. The paths are paved, but the terrain is hilly and meandering. In spring, the several different types of trees bloom with yellows, purples, and bright greens.
— Ryan Deto
Record Deals

A new record shop called The Government Center (519 E. Ohio St. North Side) opens its doors on March 23 with a party and a handful of great local bands (including Meeting of Important People acoustic and some ex-Delicious Pastries). They're boasting a selection of thousands of new and used 45s and LPS.

From there on out, treat this spring as a time to ramp up your vinyl collection since surely you're sick of the albums you wore out during winter. Sadly, this year saw the closure of Juke Records in Bloomfield, but many of Pittsburgh's mainstays remain waiting for your visit. A few of our favorites: Amazing Books & Records (amazingbooksandrecords.com), Attic Record Store (atticrecordstoreinc.com), Get Hip Records (gethip.com), Vinyl Remains (vinylremainspg13.com), and of course, the legendary Jerry's Records (jerrsrecords.com). It's always a good day to shop for records, but be on the lookout for deals and new releases on Sat., April 13 for Record Store Day (recordstoreday.com), when stores all over the country celebrate vinyl with new releases, discounts, and events.
— Alex Gordon
Spring Cleaning (and Claiming)