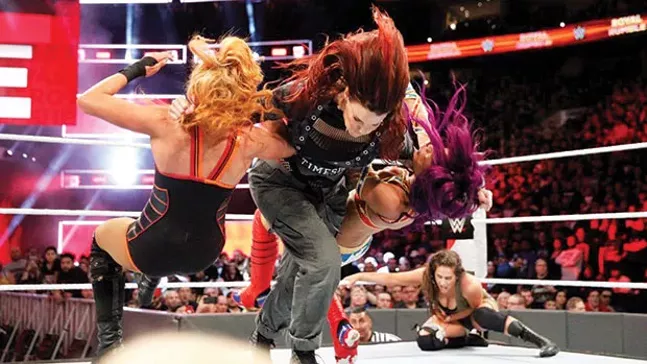 There's no pay-per-view in the WWE Universe that's more fun than the Royal Rumble.
The main match is a kicked-up Battle Royale, built around the 30-person rumble-style match. It starts with two wrestlers, and every 90 seconds another entrant appears. In order to be eliminated, you must go over the top rope, and both of your feet have to touch the ground.
It's the over-the-top spirit of such a match that makes it so joyous. It's perfect for betting pools and easy for casual fans to jump in on without knowing the context of all the feuds. It's also a great opportunity for the WWE to plant a bunch of storyline seeds in one fell swoop — if they can get it together.
But this year's Royal Rumble was especially exciting because it made history. It featured the first-ever Women's Royal Rumble on WWE TV. It's very rare that WWE has its women superstars' main event as pay-per-view, but the women's rumble was indeed the main event.
If you haven't yet watched the rumble, turn the page; there are spoilers ahead.
The show started with a two-on-one handicap match for the United States Championship, featuring Kevin Owens and Sami Zayn against defending champion A.J. Styles. If Owens and Zayn won, they'd become co-champions. This match ended in controversy as A.J. Styles retained his title by pinning Kevin Owens, even though it appeared that Zayn had not actually made a tag, a ruling that would have overturned Owens' win.
This is a great step in the Zayn-and-Owens storyline, because the establishment has once again screwed them over, thus fostering their rebellion and frustration.
Philadelphia is not necessarily known as the friendliest sports city, but the crowd was incredibly hot all night with very few exceptions. It helps that the Rumble draws a national and international crowd to even out the rough-around-the-edges Philly mob.
The crowd cooled off most for both tag-team title matches (Smackdown's Usos defending against Gable and Benjamin before the men's rumble, and RAW's The Bar trying to snag the titles from Seth Rollins and Jason Jordan before the women's rumble).
The men's rumble was way more fun than last year's, in which Roman Reigns entered at 30, frustrating everyone with its lazy story writing. Randy Orton ended up winning, which also was no fun, because he's a particularly flat character. In an artful redemption, this men's rumble featured some highlights:
Heath Slater eliminating Sheamus in under a minute (comedy gold)
Andrade Cien Almas and Adam Cole of NXT holding their own in the Rumble
Rey Mysterio's surprise return
Shinsuke Nakamura eliminating Dolph Ziggler
Shinsuke Nakamura winning the whole thing, as is right, just and good
As a women's wrestling fan in the WWE, the way to survive a big event with your heart intact is to set the bar low and be pleasantly surprised when they don't entirely mess it up. But the women's rumble was spectacular, and exceeded my expectations.

Stephanie McMahon on commentary was great, and her color commentary made the women much fuller characters and provided context to each woman's presence in the rumble.
Here are some of the highlights from the match:
Hall-of-Famer Lita returning to in-ring action wearing a Time's Up belt on her gear, kicking mad ass and taking names
Stephanie McMahon shouting out the importance of Chyna, a rarity in the WWE
The return of the Bella Twins and Nikki's ultimate betrayal of Brie
Molly Holly, Lita, Trish Stratus and Beth Phoenix showing no signs of ring-rust
Sasha eliminating Bayley — setting up their inevitable, emotionally charged feud
Naomi saving herself from elimination by climbing over eliminated women and walking across the barricade to an office chair that she used to scoot to the ring steps
Asuka winning as is right, just and good
My only major gripe of the night was WWE's decision to have Ronda Rousey debut to interrupt Asuka's celebration. This debut would have been equally as powerful on Monday Night Raw, so to interrupt Asuka's historic moment seems incredibly unfair and also short-sighted.

It's important to contextualize this moment in WWE's existence, though. Vince McMahon, chairman and CEO of WWE, has recently sold off his stock to reboot the XFL, an alternative football league. Monday Night Raw and Smackdown Live currently air on the USA network, but networks are in talks to bargain for who next will get to air those shows.
By bringing in Rousey, WWE will bring a new set of eyes to its product. Rousey draws the UFC and MMA crowd, and she's a more widely known figure. It's a bargaining chip to get more money and attention.
But unfortunately, this conclusion to an otherwise thrilling night is a reminder that no matter how much fun these events can be, ultimately WWE cares far more about business than meaningful storylines, feminist progress or rewarding fans for their loyalty.