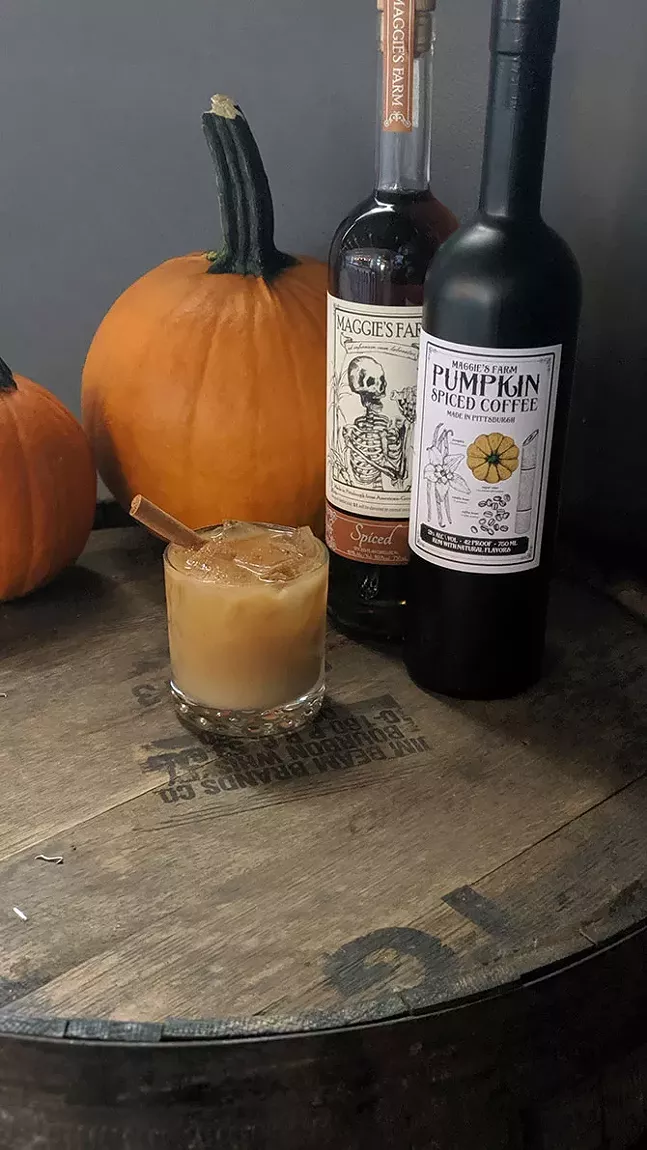 In the 16 years since Starbucks debuted the pumpkin spice latte, brands in seemingly every corner of the food industry (and beyond) have been trying to imitate its success with pumpkin-spiced inventions of their own.
Local rum distillery Maggie's Farm Rum is not exempt from the pumpkin fever, with its pumpkin spiced coffee liqueur debuting last year. Distillery founder Tim Russell admits that though pumpkin spice is "its own regular meme," he doesn't believe the flavor is overdone or that the demand for pumpkin spice is slowing down just yet. Maggie's Farm is reaching an area of pumpkin spice that surprisingly, isn't already saturated with options.
Similar to many pumpkin beers, there's no actual pumpkin in the distillery's seasonal spirit. Russell notes that raw pumpkin is quite difficult to work with; the subtle flavors don't transfer well. Instead, the distillery imitates the taste using spices that pair well with pumpkin.
To make the "pumpkin" spirit, the distillery adds cinnamon, nutmeg, ginger, and cloves to its cold brew liquor and perform the same distilling process. The simple addition of a few spices changes the flavor of the cordial while still allowing the coffee to act as a dominant flavor.
Maggie's Farm pumpkin spiced spirit is best consumed over ice or in a cocktail. One of Russell's favorites, featured last year at the distillery bar, is a White Haitian. It's a spin on a White Russian, substituting vodka for spiced rum and the pumpkin spirit. Throw both spirits in a 10-oz. glass, top with half-and-half, and finish with grated cinnamon.
Maggie's Farm pumpkin spice spirit will be available through Thanksgiving and can also be found at most Fine Wine and Good Spirits and Pennsylvania Libations in the Strip District.
But if the coffee-pumpkin combo isn't quite your style, check out one of these other local offerings:
Wigle Whiskey: Pittsburgh Harvest

Distilled in collaboration with Rivertowne Brewing, an imperial pumpkin ale makes up the base of Wigle's fall spirit. The seasonal whiskey has hints of pumpkin and cinnamon.
Southern Tier Brewing Company: Pumking Imperial Ale

Southern Tier's infamous fall ale is "the king of pumpkin beers," according to the brewery. Drink your way through the entire Pumking family: imperial, nitro, and cold brew coffee.
Arsenal Cider House: Grant's Flying Pumpkin Cider

Forget apples! Arsenal uses pumpkin flavor — from actual pumpkins — in this fall cider. The light cider balances a mild pumpkin flavor with warm spices.