Descend into the cozy embrace of Spirit Lodge on the first Wednesday of every month and you'll discover a treasure trove of synthesizers, effects pedals and drum machines — all there for playing and exploring. A welcoming team of knowledgeable synth enthusiasts and Pittsburgh Modular employees hang around, happy to answer questions. People in headphones study equipment, while others play around with strangers or friends to create sounds using the studio-quality monitors on hand.
This live-action experiment in sound is the work of Pittsburgh Modular, a local business that makes modern analog synthesizers. It has set up a free monthly playground that provides an accessible space for folks of all skill levels to play with and learn about synthesizers.
Pittsburgh Modular wants the playground to be a space where folks can comfortably learn the basics of synthesis and synthesizers in order to apply it to their own creative processes. "There's only so much you can gain from online demos," writes Perry Willig, an employee of Pittsburgh Modular and a coordinator of the event, via email. "Many of these instruments can be hard to find in person. It provides an outlet for curious musicians to gain valuable hands-on experience in a welcoming environment."
The event begins with two hours of exploration. The sometimes-elusive gear at these events has diverse qualities and functions. It's the kind of equipment that invites a deep dive on individual machines.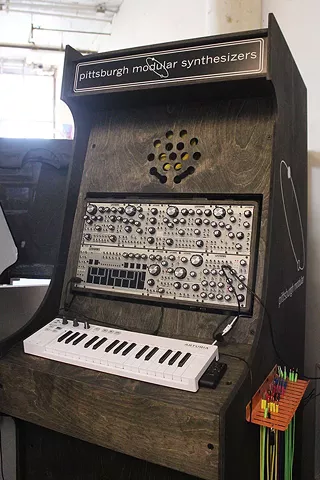 "Each instrument has its own feel and workflow, so it helps to try them all," explains Willig.
The playground then pauses for part of the night to showcase local artists using similar equipment to create music, ambience and sound. Sometimes it's pure modular synthesis, but four-piece bands have also performed. The format is intentionally open, but Willig welcomes the opportunity to show off the electronic scene.
"There's a small but extremely talented electronic-music scene here in Pittsburgh. We hope to help support and grow the community," he writes.
Given the range of genres, not all the performers use synthesizers, but when they do, it encourages attendees to experiment after the set.
"There's often this moment in between sets where people will try to recreate the sounds they just heard," explains Willig. "Having the instruments set up and ready to play really narrows the gap between inspiration and creation."
August marks the first anniversary of the program, and the potential for growth is encouraging. The group is working on a video compilation of artists who've performed at the events; it will be released at a later date. Pittsburgh Modular plans on partnering with other makers and collectors to showcase an even broader variety of instruments.
"Seeing people discover new sonic textures and improvise with each other is pretty cool," writes Willig. "We love seeing that first spark of understanding when a newcomer realizes the musical potential synths have to offer."