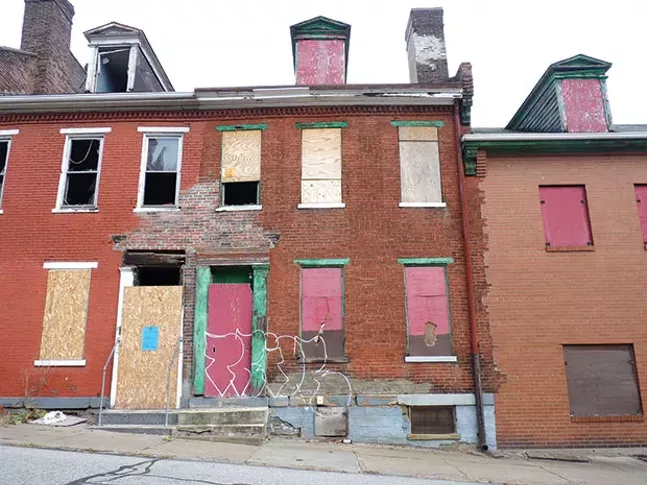 Uptown, a Pittsburgh neighborhood of fewer than 1,000 residents, is ready to explode. For decades, the neighborhood that abuts the Monongahela River between Downtown and Oakland, has been dominated by vacant buildings and parking lots.
But with large development plans recently announced, Uptown is due for a huge transformation. UPMC is expanding its Mercy Hospital with a 300,000-square-foot vision-care center, and the Pittsburgh Penguins finally released plans for a massive, 28-acre mixed-use development in the adjoining Lower Hill District, right next to PPG Paints Arena. Additionally, regional leaders are promising that a modernized bus line will run through Uptown, which could drastically improve the landscape of the neighborhood's two thoroughfares, Fifth and Forbes avenues.
UPMC Mercy president Mike Grace told the Pittsburgh Post-Gazette in November that the hospital's expansion will be "transformative for Uptown."
However, many Pittsburghers have likely heard this before. Starting around 2009, city leaders, developers and prominent thinkers dubbed Uptown the "next hot neighborhood." The one-third-square-mile neighborhood checks all the boxes for a development tinder box: close proximity to the region's two biggest job centers, Oakland and Downtown; affordability; great public transportation; and plenty of undeveloped land. But in the time since Uptown started receiving attention, neighborhoods like Lawrenceville and East Liberty have taken off and become hot housing and retail markets, while Uptown has remained mostly stagnant.
Why didn't Uptown take off too? Some nonprofits and public officials say that land speculators are to blame. A handful of people own hundreds of properties in Uptown. Critics say these property-owners are waiting for the market to catch fire to maximize their profits, but in doing so they are holding back the neighborhood by refusing to sell or renovate their properties. Real-estate developers, meanwhile, defend property-owners and say they are merely capitalizing on the current system.
City leaders and nonprofits want to see Uptown become a neighborhood for all income levels and backgrounds, while property-owners are likely to cater to those who will cough up the most cash. And these differences have set up a battle to determine what Uptown will look like moving forward.
"The future is bright for Uptown," says Pittsburgh City Councilor Daniel Lavelle (D-Hill District), who represents Uptown. "Unfortunately, you still have bad landlords that still own large swaths of the neighborhood. They still hold most of the community back."
In 2014, Uptown was chosen by Portland, Ore.-based city-planning nonprofit EcoDistricts to participate in an "Eco-Innovation District" plan, which aims to develop the neighborhood into an inclusive place with great public transit, homes powered by green energy, and a commercial district filled with small businesses. Pittsburgh city planners, Uptown nonprofits and architects were provided training and resources on building an equitable neighborhood.
Jeanne McNutt, of nonprofit developer Uptown Partners, says her group has worked hard to bring more than 200 housing units to Uptown over the past several years. McNutt notes that Uptown has a large number of affordable-housing projects and, currently, one of the highest percentages of subsidized units of any neighborhood in Pittsburgh.
However, McNutt worries that all of Uptown's plans for equity could be jeopardized by the actions of land speculators, and of one in particular: Bob Eckenrode. The Mount Lebanon real-estate agent and landlord owns more than 40 properties scattered throughout Uptown. They are listed under his or his wife's name, or those of his two limited-liability companies, BRGS and JCWS.
Eckenrode has been buying property in Uptown since the early 2000s, according to property records. An analysis of Eckenrode's Uptown properties conducted by Pittsburgh City Paper suggests a pattern. When Eckenrode purchases an Uptown property for more than $100,000, he usually rents out units in that building. When he buys buildings or parcels of land cheaply (typically for less than $50,000), he sits on them.
Eckenrode currently owns at least 17 vacant properties in Uptown, which he purchased for a combined total of about $500,000; most of them have sat vacant for more than five years. Some properties have their windows and doors boarded up. Eckenrode has never sold a property in Uptown.
And he's not alone. Allegheny County property records show a dozen additional properties sitting vacant in Uptown that are owned by people who live outside the neighborhood. Eight of those were purchased more than 10 years ago.