"The dead are alive," the opening title of Sam Mendes' Spectre tells us.
We'll see it again and again in this new James Bond actioner. First, there are the hordes of skeleton revelers in the film's opening scene, set during Day of the Dead celebrations in Mexico City. Among the dead-but-alive is British spy James Bond (Daniel Craig), presumed dead (in both corporeal and functional forms) in 2012's Skyfall. This Bond is so unafraid of death that he gets in a fist-fight while flying a helicopter upside down!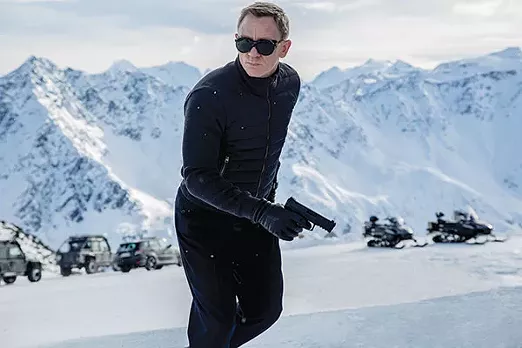 Alas, the film's kickiest action sequence comes early, before the credits (which get a weird boost from tentacle porn). Spectre is very long and, even by loose Bond-movie standards, doesn't offer a compelling story. Bond discovers the existence of a shadowy group of bad guys via a communication from the dead; he finds the group's leader (Christoph Walz), formerly thought to be dead; escapes certain death a couple of times; meets a new lady love (Lea Seydoux); and, while barely ruffling his Tom Ford bespokes, sorts out everything and saves the 00-agent program from certain death.
Yes, there's a subplot about bureaucrats wanting to bench human spies in favor of drones and meta-data analysis, but Bond proves them wrong. No robot has the bedroom skills to ferret information from a gangster's widow (Monica Bellucci), and no number-cruncher ever looked as icy-smooth in alpine wear as Bond does here.
But outside of the narrative, there's an argument that the Bond franchise may have run its course. Skyfall hit that sweet spot of celebrating Bond's 50-year legacy and burnishing Bond's legitimacy after resurrecting him. It wouldn't have been a bad place to set down the martini and let 007 retire (at least from the big screen). This is supposedly Craig's final outing as Bond, and perhaps a new actor can liven up the proceedings. (I am in Camp Idris Elba.) Until then, fans can watch the not-quite-dead move around the board in a familiar fashion.