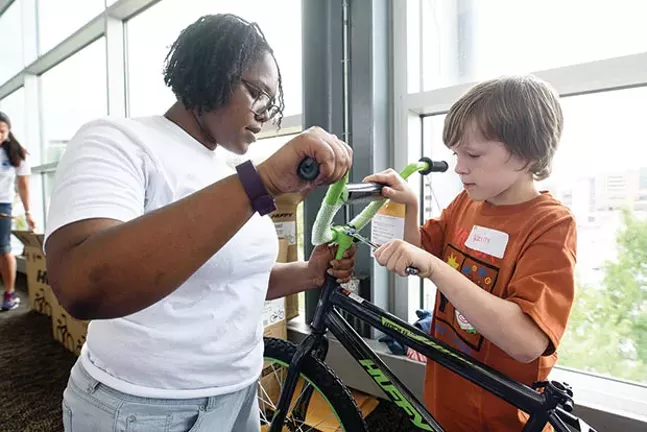 Riding and owning a bike is a rite of passage for most people. But just because everyone should be able to ride their own bike, doesn't mean that everyone gets to.
United Way of Southwestern Pennsylvania is intent on giving hundreds of kids that chance. For the fifth consecutive year, the organization is staging a Build-A-Bike event in which volunteers team up with disadvantaged youth to construct a bicycle together.
"We are passionate about and dedicated to helping local youth succeed and have a healthy lifestyle," says Linda Jones of the United Way of Southwestern Pennsylvania. "Riding a bike is certainly part of that."
This year's event is being held June 21 at Heinz Field and will feature 400 volunteers and 150 kids. Hearing kids say "Wow this is mine. I have never had a bike before," is one of the most fulfilling parts of the event, Jones says.
"Even a bigger joy is watching them get on the bike for the first time and seeing the joy on their face when riding," says Jones.
Overall, it's about more than giving bikes away. It's also about volunteers working with kids to build the bikes and showcasing teamwork. Jones says some of the kids don't have a positive role model in their home life, and having thoughtful volunteers work with them has a powerful impact.
"We have the kids to work together with the volunteers," says Jones. "They are working alongside a positive role model. Showcasing a relationship with a caring adult is important."
A bike can also encourage living healthy. In low-income communities, it's not always easy to maintain a healthy lifestyle, since fresh-food options are scarce.
"Many kids in our community are in need of guidance and part of that means encouraging healthy habits," says Jones. "[T]his bike might be one of the first times they are exposed to a healthy habit."
The event is also a reminder for volunteers and other privileged people that owning your first bike is not a guarantee. Jones hopes the event reminds Pittsburghers to give back and help the less fortunate.
"Many of us take for granted what we have," says Jones. "We want as many children as possible to have those same types of opportunities."
Volunteer registration is full, but the United Way is still accepting donations. Jones says the Build-A-Bike program is backed by several corporations, (including energy giant Williams), that have helped to expand the program over the years. She hopes it will continue to grow.