Baby, it was cold outside. But after three days of enforced family togetherness, it was also getting a mite cabin-feverish inside. Heading south for warmer weather wasn't a realistic plan, but, on the tail end of the polar vortex, we did go out for some Southern Hospitality.
The restaurant by that name has been doing business for about five years now in almost as many locations. Downtown denizens may remember the storefront on Wood Street; mall shoppers may have encountered Southern Hospitality at food courts in Monroeville and Pittsburgh Mills.
The restaurant's new digs, in Edgewood Towne Centre, are its most spacious and gracious to date, standing out from other local soul-food places that all too often tend toward barebones interiors. Oak flooring, wainscoting, tables and booths give warmth to the surprisingly large dining room, while flowers and lamps on the unused bar add a homey touch. On Sundays, the after-church crowd fills every table, but on a wintry Thursday night, we almost had the place to ourselves, while take-out customers came and went.
The pork-free menu focuses on fried chicken and fish, punctuated by the appearance of beef ribs, turkey and burgers, plus an extensive selection of appetizers and sides. Some, such as jalapeño poppers, mozzarella sticks and fried zucchini, seemed more like pub grub than soul food, but we tried a few items that were more down-home.
One appetizer that really stood out was hash browns. The potatoes seemed to have been shredded and then deep-fried, creating a miraculously light, crisp mound of potato confetti that occasionally clumped into larger bites. Its deliciousness made us wonder why the preparation isn't more common.
Wings were fried — not buffalo-style, but offered with a half dozen sauces, including Buffalo Wild. We went with Uncle Troy's Mumbo, a slightly sweetened hot sauce with fruity undertones. We ended up dipping more or less everything on the table in it, savoring its balanced fire. The whole wings were excellent, with a light, crisp coating and moist, succulent meat.
Fried okra, a soul-food favorite of ours, was one of the night's few disappointments. Although the thick slices of vegetable within retained their bright green color and fresh flavor, their tough, armor-like coating was difficult to get past.
Angelique wanted to order Uncle Troy's Platter (fried chicken or fish, two sides, cornbread and a drink) with catfish, but it was out. Our server — none other than Uncle Troy himself — recommended the whiting, and Angelique was glad she took him up on it. The three beautifully cooked filets were firm, not fishy-tasting (as whiting sometimes can be) but mild and meaty, and encased in satisfyingly crunchy, lightly seasoned cornmeal batter.
In addition to various bone-in parts, fried chicken was available in nuggets or strips. We were impressed that it was all hand-cut: The nuggets were simply small pieces of white meat, fried golden-brown and juicy. Fried turkey cutlets received the same treatment, the more flavorful meat a nice bonus. We recommend asking for a side of Uncle Troy's excellent turkey gravy.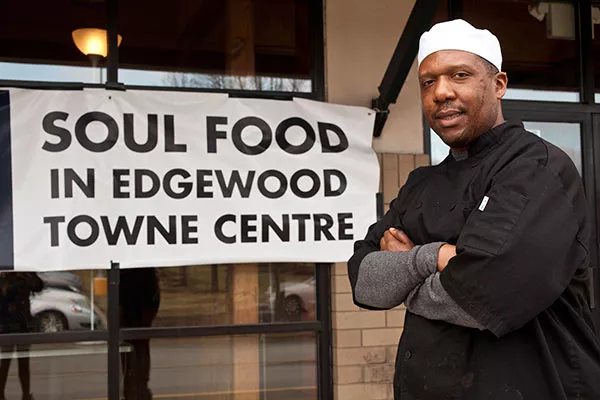 Beef ribs, served by the bone, were good and tender, with robust, beefy flavor and a barbecue sauce that enhanced, rather than swamped, the meat. It was a traditional, sweet, tomato-based sauce, but because it was not at all cloying, it didn't make Jason wish he'd asked for it on the side.
Of more than 15 sides on the menu, we managed to sample seven. Only a couple fell short of our expectations: mac-and-cheese featured overcooked noodles and, though the sauce was stretchy with real cheese, it didn't offer much flavor; the mashed potatoes were sticky and slightly sweet.
But after that, it was hit after hit. Sweet and smoky baked beans. Buttery grits. Deep brown, almost caramelized fries. Extraordinarily savory black-eyed peas (available with or without rice mixed in; we liked the body provided by the rice). Perhaps best of all was greens with smoked turkey. The flavor of the smoky meat pervaded the tender greens, and their plentiful chunks fell apart and integrated into the leaves.
Our only general criticism of Southern Hospitality was that most of our dishes could have used a pinch less salt. In all other respects, this restaurant lived up to its name.