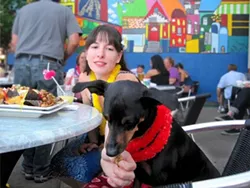 Closing the door on those sad eyes is difficult. Does Fido think you're leaving forever? There's a Pittsburgh restaurant that went to great lengths to cure this separation anxiety for dogs, and their humans alike.
"We went through the procedure to create a separate dog patio," says Ryan Moore, director of events and operations, at Double Wide Grill in the South Side.
That's because the Allegheny County Health Department doesn't allow "live animals" within a restaurant's "operational area" or in any "immediate adjacent areas inside the premise" — with the exception of service animals ... and "edible fish, crustacean, shellfish or fish in aquariums."
"I think we've given a destination for a lot of pet owners who don't want to leave their pet at home," Moore says. "This allows the dogs and their humans to sit and enjoy a relaxed menu."
And, he doesn't just mean a menu for humans. Offerings from a special doggie menu include chicken breast, a beef patty, an organic dog biscuit and tofu "for the vegetarian dogs," he says.
"Generally we're dog people. Mine's lying on the floor of my office right now," says Moore, who owns a 6-year-old boxer/lab rescue named Izzy. "A lot of our customers are [dog people], too."
The restaurant will close 24th Street on June 28 for its third annual Lucky's South Side Dog Festival with activities, fundraisers and games that will include an owner/dog look-alike contest and a contest for the "furriest" human.