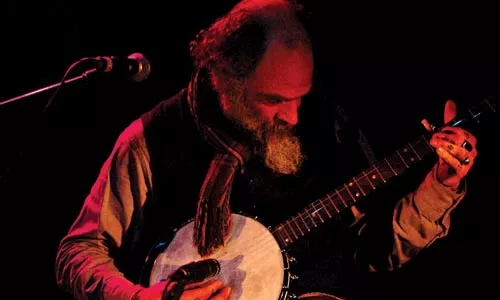 It's difficult to describe Daniel Higgs without tapping into his mythos. The once (and future?) Lungfish singer and lyricist is a punk-rock medicine man, high on tautological contradiction and subject to stories that are difficult to prove or disprove.
He once was known widely as a tattoo artist who didn't take orders: A Higgs tattoo would be what Higgs chose, or rather, what he divined from whatever higher force he was channeling. Other rumors abound: Some of his own tattoos are said to glow in the dark. In his hometown of Baltimore, his beard has received votes for mayor.
Since the 2005 demise of Dischord Records band Lungfish, Higgs has toured with the music of several solo releases. The most recent, 2007's Metempsychotic Melodies, was released by Holy Mountain under the name Daniel A.I.U. Higgs (it stands for "Arcus Incus Ululat," in case you were curious).
Higgs's solo music ranges from noise-scapes (1998's Cone of Light) to mouth harp improv (2003's Magic Alphabet) to fully-formed and lengthy contemplations, set to an oddly tuned banjo (Metempsychotic and 2006's Atomic Yggdrasil Tarot, on Thrill Jockey). The latter are epic pieces, not unlike Lungfish tunes freed from the constrictions of the rock band. "Love Abides," from the most recent disc, spans 14 minutes, matching a simple folk melody that spans Eastern and Western influences with a lyrical investigation of one of Higgs's favorite subjects: the nature of love.
Higgs's lyrics defy Western convention; the closest analogues might be the mysticism of Rumi or Zen koans. His oeuvre, solo and with Lungfish, is full of aphoristic phrasing, such as "the conjunction of everything with everywhere," and "the juncture of two parallel lines."
Love, Higgs tells us, is many things, among them "the sacred seam between waking and dream." "Love shovels puppet-heads into the fires of love," he adds, painting a vivid and surreal picture that wouldn't be out of place in his tattoo art or his paintings (an exhibit of his visual art was staged in London in 2007).
It's a cliché by now to call Higgs shamanistic, but it might be a disservice not to. How else to describe someone whose work comprises symbolism wrought from myth and religion, and holds a creepily apocalyptic air, yet still convinces us that we might "shed the world" rather than shun it?
Higgs appears Thu., April 2, at Morning Glory Coffeehouse in Morningside -- though we can't guarantee exactly what he'll play. Bill Nace and Caethua will also perform.
Daniel Higgs with Bill Nace and Caethua. 7 p.m. Thu., April 2. Morning Glory Coffeehouse, 1806 Chislett St., Morningside. $5 suggested donation. All ages. 412-450-1050 or www.moglocoffee.com