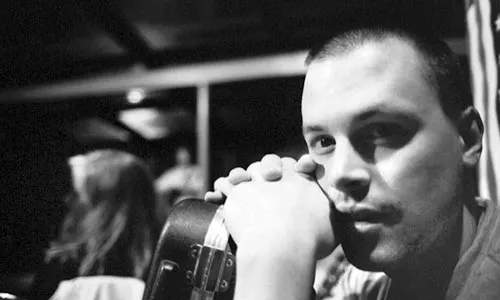 Like the name of the electronic gadget he uses to loop and layer his guitar and vocals, native Pittsburgher Jeff Miller is boomeranging back into town this weekend. His mission: recording a live album in his hometown, armed only with his acoustic guitar, his sweet tenor voice, and his Boomerang pedal ... and the hefty catalog of pop songs he's amassed over the last few years.
Originally from Upper St. Clair, Miller attended the Berklee College of Music, in Boston, where he majored in guitar performance and songwriting. Returning to Pittsburgh, he recorded two albums, the studio disc Trying to Be Cool and the live-in-the-studio Something Different, while gigging sporadically and teaching guitar at Drum World in Castle Shannon.
"I kinda felt like I met the majority of the people in the Pittsburgh scene that I wanted to meet," Miller says from the road, on his way back into town. "I quickly learned that I couldn't make a living staying in one area."
Moving to Nashville, where he recently bought a house with his wife, Miller began booking his own tours -- which initially "went horribly," he notes, though they proved a valuable learning experience. Now he does almost all of his own booking, playing more than 180 shows this year at what he calls "the four c's": colleges, clubs, coffee shops and churches. He handles nearly every aspect of his career himself. (He's recently signed on with a booking agent for college gigs.)
"So far, the story has been, if I want to get something done, I have to do it myself," Miller says.
Lately, that includes his music, as well. "Almost all of my shows are solo shows now, and I use a looping pedal or phrase sampler." But unlike some devotees of the loop, such as Keller Williams, "I keep my setup fairly simple ... I'm able to simulate percussion sounds by hitting the guitar, and do backup vocals live." While the layers may pile up on some songs, the sounds are all created on the fly and captured in the Boomerang. "It's not karaoke," he says.
If you've never plugged a guitar into one of these looping pedals, it's not as simple as you might think -- they can be very unforgiving of mistakes and inconsistencies in tempo, in particular. "It took me about two years on my original one before I got my timing right were I wanted it to be, and wouldn't make noticeable errors," he says. And having tinkered with it for 10 years, he's gotten pretty good at this instrument-unto-itself -- enough that he's snagged an endorsement deal with Boomerang.
"I get offended when people [at a show] think I'm playing tracks in the background" on a CD-player, Miller says. "So kind of to clear that up, after a couple of songs, I'll set up a loop and explain what I'm doing." Realizing he was doing a lot of free advertising, he contacted Jon Finn, his former guitar teacher at Berklee, who helped get him in touch with the company. "I don't get paid for it or anything, but I get deals on their gear," he says (a fairly standard music-gear sponsorship arrangement).
Miller's records, though, have been very different affairs -- his latest, 2006's Seesaw, was recorded in Nashville, and features a slick full-band sound, with various musicians contributing. Miller's tunes -- ahem -- seesaw between light, upbeat pop like the opener, "Can't Take It With You," and the paranoid, distorted guitars of "The World Is Out to Get You." His lyrics, too, range from the emotionally fraught ("I have died a thousand deaths / on this bed where dreams once slept") to the wry, such as in the song "Writing a Book," in which he describes a money-making scheme, "something to make you lay aside / your $14.95."
A few of those Seesaw songs are likely to turn up when he tracks his live album this weekend. "I think it's pretty common when people make a live album, it's a mixture of 'best of' and new material," Miller says.
The recording will take place at 8 p.m. Sat., Dec. 27, at The Church Recording Studio. He initially had another spot in mind, but when that fell through he remembered hearing about this newer studio through his Pittsburgh-based luthier, Mike Pellow. The Church, operated by fellow Berklee grad Dana Cannone and Una de Luna guitarist (and Club Café engineer) Peter Guellard, is housed in -- you guessed it -- a former church, in Overbrook. From the equipment specs on its Web site, it looks like a cool place to track a record; from the photos, it looks like an inspiring place to sit in the audience while it happens.
Jeff Miller Live Album Recording. 8 p.m. Sat., Dec. 27 (doors at 7:30 p.m.). The Church Recording Studio, 2020 Dartmore St., Overbrook. $10 ($15 at the door). 412-216-6219 www.jeffmilleronline.com