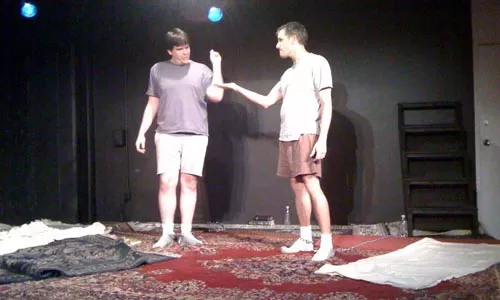 Neither snow nor sleet nor the harshest February in Pittsburgh history will stay Phase 3 Productions from launching its second season, with Frank McGuinness' 1992 drama, Someone Who'll Watch Over Me. Alas, the past 18 years have not dimmed the timeliness of this story of modern Westerners kidnapped and held hostage by more medieval-minded extremists. To be fair, though, the unseen Lebanese of this play seem a lot more human than today's "religious" terrorists.
So let us speak of "timelessness" rather than mere "timeliness" in this almost plotless play about three prisoners trying to retain their sanity, humanity and (when possible) dignity, while chained to the wall in their dirty underwear. The playwright ups the ante on character development by populating the claustrophobic cell with an American, an Irishman and an Englishman. It almost sounds like the set-up for a bad joke. Instead, it provides more ammunition for the play's essential humor, and an irony that doesn't often sink into cynicism.
The hostage/prison genre carries big risks of deadly preachiness, but Someone never falls prey to that. Brooding is dangerously counterproductive to survival, so the existential "why" is to be avoided. Instead, the richly realistic characters gear up imagination, memory, role-play, songs and games to stay alive. The result, as directed by Phase 3 artistic director Melissa Hill Grande, is an examination and celebration of basic humanity, veering well away from both the maudlin and the over-cheery.
The well-balanced cast is led by company managing artistic director Dek Ingraham as a garrulous Irishman (if that's not redundant) who sings and argues (oops, more stereotypes) with as much charm as possible given the inevitable squalor. Not to be outdone as ethnic types are Ricardo Vila-Roger, who allows his English stiff upper lip to subtly tremble, and Rich Venezia, who keeps his character's American guilt and neurosis mostly under control. A round of applause also to sound designer Erik T. Lawson for his scene-setting collages, plus production designer J.R. Shaw, costume designer Rachel S. Parent and assistant director Cory Goddard.
While the play is certainly about character, there is a story -- one that I dare not give away. Someone Who'll Watch Over Me toes, but does not step over, the line of despair.
Someone Who'll Watch Over Me continues through Sun., March 7. Phase 3 Productions at the Viaduct Studio, 622 Second Ave., Downtown. 888-718-4253 or www.phase3productions.org