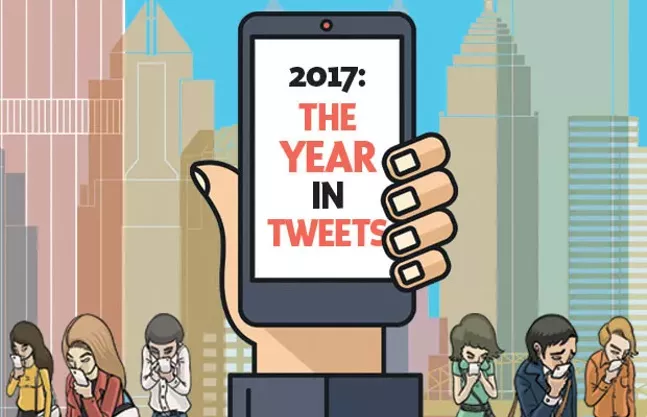 This year, social-media site Twitter announced plans to expand its 140-character limit. The decision is controversial and has been vociferously debated. But whether people will be able to communicate with 140 characters or with more, there's no denying that Twitter has become integral to discussions about news. The social-media site is our president's medium of choice, after all. Some of Pittsburgh's biggest stories in 2017 were well documented on the site. And, in other cases, the tweets themselves became the story. Here's a look at the top local tweets of 2017.
In March, Black Forge Coffee House, in Allentown, released new customer-loyalty punch cards adorned with the faces of 10 notable politicians and pundits, including the president. Outrage ensued.

The new customer loyalty punch cards have arrived! Buy a drink, take out a scumbag & be that much closer to a free coffee. @realDonaldTrump pic.twitter.com/XmBhcr3e5E

— Black Forge Coffee (@BlackForgePGH) March 23, 2017
In May, Pittsburgh restaurateurs caught flack after they announced plans to open a hip-hop-themed fried-chicken restaurant. The backlash spurred a larger conversation about cultural appropriation in the city.
a restauranteur here in Pittsburgh plans to open a "90s hip-hop themed fried chicken restaurant called 'the Coop." https://t.co/PaQU1xhEkq

— huny young (@huny) May 9, 2017

In June, Donald Trump announced the United States would be withdrawing from the Paris Agreement, which seeks to mitigate greenhouse-gas emissions. In a tweet explaining the decision, Trump evoked Pittsburgh's name. Pittsburgh Mayor Bill Peduto was not amused.

As the Mayor of Pittsburgh, I can assure you that we will follow the guidelines of the Paris Agreement for our people, our economy & future. https://t.co/3znXGTcd8C

— bill peduto (@billpeduto) June 1, 2017
Five years after
he was paralyzed by a Pittsburgh police officer, Leon Ford posted a video of himself walking with the assistance of a walker while his son cheered him on.
When you get shot by a police officer 5 times--and docs say that you will ever walk but your son says keep pushing 💪🏾💪🏾💪🏾 Untold 11•11•17 pic.twitter.com/DPuTcp6i3g

— Leon Ford (@LeonFordSpeaks) August 20, 2017
In October, U.S. Rep. Tim Murphy (R-Upper St. Clair) resigned after news broke that he had urged his mistress to have an abortion, despite being vocally pro-life throughout his career. In a monumental display of hypocrisy, the very same day the news broke, Murphy voted to restrict abortion access.

Good tweet. Another so called "Man of God" who recently had to resign was Tim Murphy. A married pro-lifer who told his GF to get an abortion when she thought she was pregnant.https://t.co/jo4L06mNZQ

— Serenity (@serenityatsea) November 19, 2017
Pittsburgh Steelers wide receiver JuJu Smith-Schuster is an avid cyclist, but in October his bike was stolen. Thankfully, it was returned in record time — the very night the tweet was posted.

🤦🏾‍♂️🤦🏾‍♂️ MY BIKE GOT STOLEN 😂😂 WHY PEOPLE GOT TO BE LIKE THAT?? pic.twitter.com/W01q63IY0d

— JuJu Smith-Schuster (@TeamJuJu) October 24, 2017
While there's still a lot of mystery surrounding Pittsburgh's bid to be selected as the new location of one of Amazon's headquarters, that hasn't stopped everyone from speculating and making light of the competition.

Jeff Bezos Just Tossed A Nail-Studded Baseball Bat On The Floor Between The Mayors Of Pittsburgh And Kansas City And Asked Who Really Wants The Second Amazon HQ https://t.co/LBvoGgoasC pic.twitter.com/9Q3AePnooT

— ClickHole (@ClickHole) November 20, 2017
In November, political news site Politico published a story painting nearby Johnstown as a no-hope town, overrun by drugs and blight, and still in love with Trump. Many thought the characterization was unfair.

Johnstown, PA, home of Trump voter caricatures, went to Clinton. Meanwhile Cranberry, full of wealthy white folks, was Trump by a landslide. Can we report stories from the right places please?

If you shared that @politico piece last week, share this now. https://t.co/IGDHh6Qvy7

— Beth Skwarecki (@BethSkw) November 13, 2017
Anthony Bourdain visited Pittsburgh this year for his show Parts Unknown. The episode depicted the city as a place grappling with issues like diversity and how to move forward after de-industrialization. The episode angered many who felt it didn't jibe with the shiny new image the city has been promoting.

Been to Pittsburgh? What would you say are the classic Pittsburgher qualities? @bourdain feels right at home on @CNNOriginals #PartsUnknown. pic.twitter.com/lgRMBsFaYu

— Parts Unknown (@PartsUnknownCNN) October 22, 2017
State Rep. Daryl Metcalfe (R-Cranberry), raging homophobe and all-around jerk, became angry during a state-government committee meeting when a male colleague touched his arm. "I'm a heterosexual," he said, before going into a tirade that emphasized how much he loves his wife.
State Rep. Darryl Metcalfe comes out as heterosexual https://t.co/oZAmTKosGg

— Pittsburgh Post-Gazette (@PittsburghPG) December 5, 2017