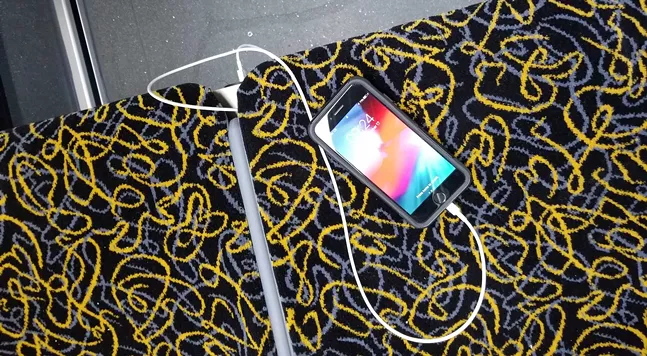 Frequent bus riders know the anxious feeling of waiting for a bus with a dying phone battery. That's all about to get a little easier as Port Authority announced on Tuesday that a new fleet of 59 buses are en route to Pittsburgh, and among the updates are USB charging ports located under the bus seats.
The fleet comes from bus manufacturer GILLIG, based in California. In mid-October, the buses began their journey to Pittsburgh, where they'll go through a series of inspections before hitting the road.
While the buses will have new technology on the inside (and clean seats), they will look "nearly identical" to many of the current Port Authority buses. The 59 new buses will replace 59 current buses that are set for retirement after being on the road for at least 12 years. Spokesperson Adam Brandolph says the old buses will be auctioned off after retirement.
Each of the new buses costs $473,000, with the majority of funding coming from the federal government, with some coming from the state and a small amount from the county. The new buses run on "clean diesel," which is part of "a replacement program to deliver more reliable and environmentally friendly public transit across the region," states a press release. Although,
according to the EPA
, exposure to diesel emissions can cause respiratory illnesses and worsen existing lung and heart diseases. It can also contribute to acid rain and ozone pollution, among other effects on the climate.
The press release also states that Port Authority will bring in its first two battery-electric buses later this year.