It's true they have forever stained humanity with horror, but I'll say this about the Nazis — they certainly spawned an awful lot of theater.
City Theatre presents one of the newest entries in the canon, with the world premiere of Keith Reddin's Some Brighter Distance.
A return visitor to City (which has previously staged his The Missionary Position and Human Error), Reddin's written a docudrama of sorts about Arthur Rudolph. You might not have heard of him, but he was one of the key engineers who created the Saturn V rocket, which took us to the moon and back.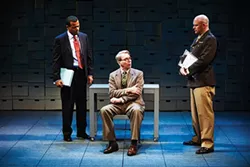 Oh yeah, he was also a member of the Nazi party and an early member of the Sturmabteilung paramilitary group. In 1984, Rudolph was outed for his Nazi past, renounced his American citizenship and went to live in Germany. Good riddance to bad news, right?
It's not that simple. In the 1940s, American military and politicians knew that German engineers where light years ahead in rocket technology. They also knew that, at the end of World War II, those engineers and scientists could very easily end up in the Soviet Union. So we willingly, if not enthusiastically, brought scores of Nazis to America so we could win the outer-space race and show those dirty Ruskies who had the biggest rocket! The U.S. government always knew about Rudolph's past, but only went after him when, in 1982, someone threatened to go to the press.
But this is an issue that's been debated for years (usually centered around Wernher von Braun). And that's the problem with Reddin's play — it's all been covered, numerous times, in numerous plays and movies. Additionally, Reddin's version of Rudolph is of an emotionally frozen man with no passion except for science, and making such a character the center of a play is as problematic as you'd think.
Tracy Brigden directs a jittery production that, though energetic, maybe lacks cohesion. Leroy McClain, Matthew Stocke and David Whalen provide strong support in secondary roles. Elizabeth Rich, as Rudolph's wife, movingly conveys the disparate emotions battling in her head. And Jonathan Tindle, playing the cipher Rudolph, remains marvelously elusive and emotionally hidden throughout.