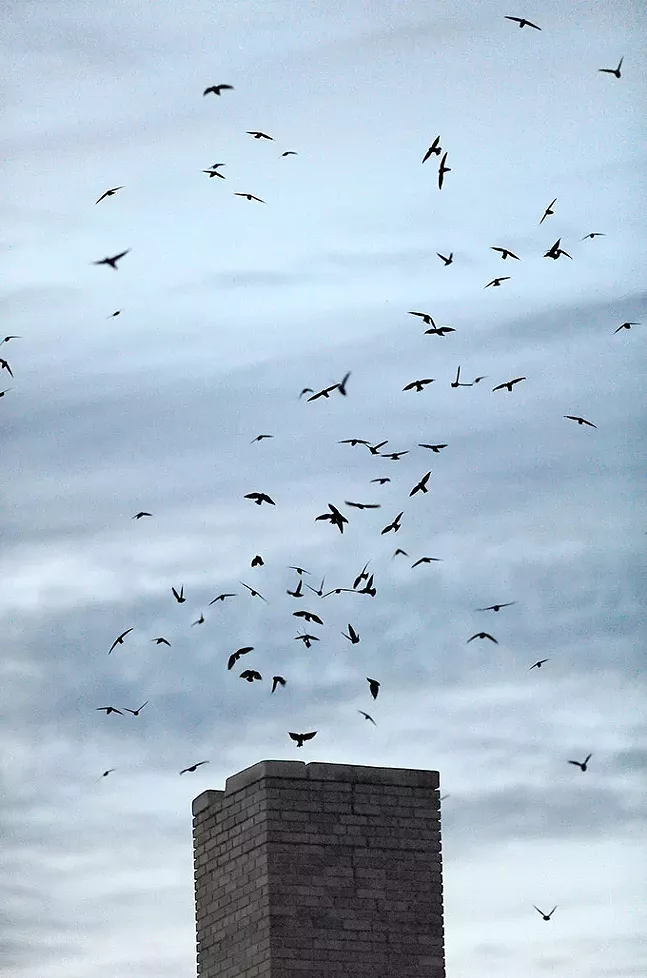 On some summer evenings in Pittsburgh, a swarm of small birds can be seen whipping and zooming over the intersection of the McKees Rocks Bridge and Ohio River Boulevard. Hundreds, if not thousands, of small birds fly around with impressive speed and coordination. It looks like an intricate dance taking place directly above the Allegheny County Sanitary Authority (ALCOSAN) sewage treatment plant in the North Side.
A 2015 YouTube video of the phenomenon claims the birds are barn swallows and are likely feasting on bugs that fly about ALCOSAN in the summer. Online forum posts also say the birds are likely some kind of swallow. But with the birds moving so fast, it's hard for passersby and laypeople to really determine what animal is behind the swarm.
But the bird experts at the Audubon Society of Western Pennsylvania (ASWP) know exactly what type of birds they are and why they are swarming above ALCOSAN.
"First, the birds you saw are not swallows, rather, they are swifts — chimney swifts," says Brian Shema, operations director for ASWP. "Although their behavior can be compared to that of a swallow, they are actually more closely related to hummingbirds."
Shema says chimney swifts are neo-tropical migrants who spend their summers in North America and winters in the upper Amazon basin of South America. The swifts form large roosting flocks during migration, and tend to gather close together in the evenings.
Historically, they have roosted in caves and large hollow trees, but with human development growing, many groups now roost in chimneys. They even build their nests inside chimneys in the mating season, says Shema.
So what brings them to ALCOSAN? Shema says he is aware of a roost in the old post office building near the sewage treatment plant. He says this is most likely the reason the large group of chimney swifts can be viewed on some summer evenings in the North Side.
And they are likely not feasting on bugs, says Shema. Instead it is more likely they are "beginning to stage in that area, in preparation to enter the old chimney for the night," he says. Getting hundreds of birds into one narrow chimney requires a lot of coordination.
Shema says ASWP actually has a big conservation project surrounding the chimney swifts. The group has built small towers throughout the region, so the migrating birds have places to stay in the Pittsburgh area.
Chimney swifts are important to the Pittsburgh ecosystem as they likely eat hundreds of insects each day when they are in the area, according to Shema. Unfortunately, like many wildlife species, the swifts are under threat from human activity, like herbicides that are limiting their food supply and poisoning them. Shema hopes that moving forward, Pittsburghers will join the cause to keep these birds protected.
"They are very beneficial birds to have around — keeping bothersome insects in check," says Shema. "We are working diligently to raise awareness of these issues, and trying to promote responsible stewardship through a number of programs at Audubon."