Last Saturday, Mr. Smalls Theatre hosted the August iteration of the Pittsburgh's Very Own concert series, and while it was typical of the earlier concerts in many respects — an all-local showcase of the city's most exciting and promising talent — the lineup was atypical. For the first time at this series, and generally a rarity for live music in Pittsburgh, all the performers were women of color: Leila Rhodes, INEZ, Sierra Sellers, and Simone Davis. It was an encouraging moment for music fans in Pittsburgh who want to see more diverse lineups, but it also illustrated how low the bar is and how far the scene has to go.
"I talked with Katie O. [for her Scene Unheard podcast]," says Sellers. "And she said 'Why now? Why an all-female lineup now?' My answer was Clara Kent."
Although Kent wasn't on the official lineup for the latest edition of PVO, the local musician has been a continuous advocate for Black female performers in Pittsburgh and the unique problems they face: tokenism, being objectified and sexualized, having assumptions made about their genre based on their identity as women of color, being treated as naive or inexperienced, all in addition to the general challenges of being a working artist trying to build a career.
"Clara isn't going to take credit for it, but we're standing on her shoulders," says INEZ. "A lot of the groundwork that she's put down for the past three to five years, we're starting to reap some of the benefits from. Not only that, when I first met her, it was all love. Her exact words to me were, 'Everything that I'm doing, you're going to do, and you're going to go further than I am.'"
On the Tuesday before the show at Mr. Smalls, Rhodes, INEZ, Kent, Sellers, and Davis gathered at Mixtape in Bloomfield to talk about their frustrations and share their experiences. For a few of the women, it was their first time meeting in person. But thanks to social media, they had been able to connect and support each other online.
That sense of camaraderie and mutual support goes against the grain for the way many Black women performers come up in the scene. When so many bills only have one woman on the show, it instills competition between performers, rather than solidarity to fight for a more equitable scene.
"We all have to compete for one spot," says Rhodes. "That's the idea they give women in the industry. So, a lot of the times women have trouble sticking together because they've been taught to [be competitive]. There can be a hundred male rappers talking about the same shit. And as soon as there are two female rappers talking about the same thing, it's this or that."
In the last year, Kent has most often been the artist who gets that one Black Pittsburgh female spot. "After a while that becomes numbing, and almost like I'm a token," says Kent. "It's like, 'Oh, we'll put Clara on it because she's doing this and this and this.' Instead of, 'Her music, her message, and her sound are really unique and I want more people to hear it and I'll push it because of that.' That's the type of push Black women and Black femmes do not get. It's twice as hard to get that to be the main thing."
According to a 2019 investigative report by the USC Annenberg Inclusion Initiative, women make up 21.7 percent of artists, 12.3 percent of songwriters, and 2.1 percent of producers. For Black females in the music industry, the barriers they must cross to excel in their careers are higher than most others in the business, both on a national and local level.
Rhodes says that many promoters and show-runners don't really make an effort to expand their talent pool and have little reason to do so.
"They don't really go deep to look for other artists. They just know from word of mouth who someone is, and they'll just keep booking the same — like, 'We got one woman, we're good,'" says Rhodes.
"Out of 14 names that represent the entire city, two of them were women," says INEZ. "There wasn't even anybody that was femme, trans, or anything else."
Sellers says she was picked because a local rapper of note suggested her for it. "My name has a little bit of buzz, but you don't even take the time to listen to my music? … When the flyer came out, I hit up Clara and said, 'I'm so happy and proud of us, but I'm excited for the day where we're not the only two women on a lineup.'"
The mostly male lineup also fosters an exclusive environment. On the night of Creatives Drink, both Kent and Sellers felt uncomfortable — Sellers left right after her performance.
"I felt like I wasn't really there," says Kent. "I felt like I was in a constant anxiety space. It was really bro bro bro bro everywhere I went."
The male-dominance extends beyond the performers. Sound technicians, another male-dominated field, often treat female artists as naïve or inexperienced. At a Hartwood Acres performance, INEZ says her engineer messed up her mic. Everyone behind her could hear, but not the audience.
"I was upset about it," says INEZ, a graduate of Berklee College of Music with a degree in music production. "And he comes over to me and was like, 'The reason no one could hear you is because you were cupping the microphone.'"
Kent assured him that INEZ was not and said that the same sound tech asked if she knew how to hold a mic.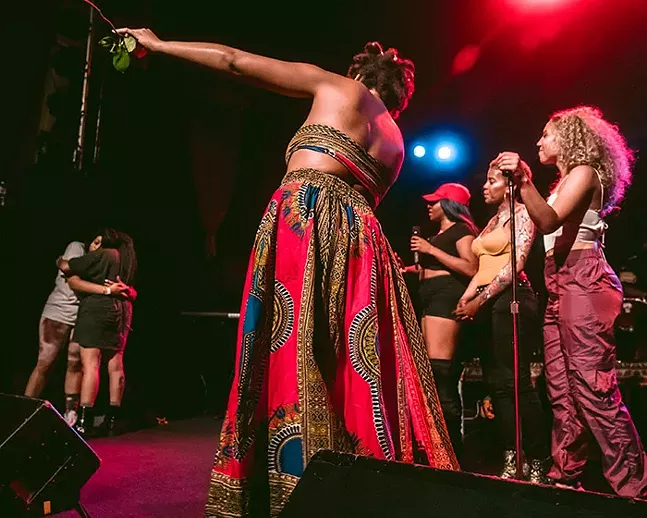 Another time, Sellers told the sound tech that she wanted to walk around and see if there was feedback.
"He said, 'You won't get any feedback,'" says Sellers. "And wouldn't you know it, the first song had feedback."
This sexism isn't just noticed by the female performers. Local rapper livefromthecity has taken note as well.
"People bill shows in order of what they feel is important," says livefromthecity. "And far too often, I'm seeing people like Clara, Sierra, INEZ … people are undermining the work that they're doing. They should get top billing like myself or Benji. or Mars [Jackson], not saying we don't deserve it, but they deserve it just as much as we do, if not more at times."
Right now, when the women speak up for themselves individually, they are called ungrateful.
"They want us to be seen and not heard," says INEZ. "Which is the problem, because we're artists and singers and musicians. We're trying to get people to the point where they [understand where we're coming from] and they don't look at us crazy for speaking up."
Together, the women feel they can use their voices to speak out the issues they face and bust stereotypes, like having to either be boyish in style or oversexualized to market themselves as a female musician.
"I feel like this is a time where a lot of female artists, Black female artists, femmes, are starting to come together and are seeing their worth and starting to put it forward," says Kent. "There's going to be obstacles and things that we deal with, but the binding part, the unity, coming together, just this energy, is what all these women are going to bring and push forward because doing it by yourself doesn't work. It should be riddled with women everywhere, because there are way too many talented women. Period."