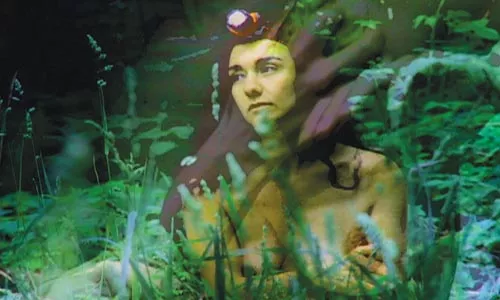 During this year's Three Rivers Arts Festival, pedestrians had but a few hours to view Carolina Loyola-Garcia's "The need to wash the self with milk and honey" in its original location: a street-level window at Two PPG Place. On June 1, not long after the five-minute video started playing, it was covered up, and then shut down entirely by the office building's management: Its depiction of full-frontal nudity was considered inappropriate for the site.
For the next couple days, you couldn't have watched the video at all. Subsequently, it was moved several blocks across town, to the third floor of the festival's gallery.
The highly publicized incident was considered censorship by some -- including the National Coalition Against Censorship, which sent an open letter chiding the festival for allowing removal of the video.
According to Three Rivers Arts Festival director Elizabeth Reiss and curator Katherine Talcott, however, "milk and honey" was pulled not because the wrong people saw it, but because the right people didn't. Loyola-Garcia's video, apparently, was the only artwork that was not subjected to an agreed-upon preview by the building's managers, real-estate firm Grubb & Ellis.
Reiss, who had refused to comment publicly on the episode since the NCAC's July 6 letter, recently told CP that Loyola-Garcia's video was originally slated for exhibition in a different storefront entirely. But that building's owner withdrew its offer of space (for reasons unrelated to the artwork itself), forcing organizers to find a new home for the work.
It didn't help that festival staff were already struggling with logistical challenges wrought by the loss of longtime venue Point State Park, which has been closed for construction. A decline in revenue also led to the layoffs of two staffers, including Talcott, who worked for the festival as a contract employee instead.
Reiss says that, partly due to poor communication between her and Talcott, she didn't even know that Loyola-Garcia's video contained nudity until after Grubb & Ellis pulled the plug. The artist herself tried to reactivate it, only to have the exhibit shut down again.
"It was a bad procedural moment," says Reiss. "Things slipped between the cracks."
Talcott, who curated the work as part of The Best of Pittsburgh 2007, gives a slightly different account. Talcott says she always intended "milk and honey" for Two PPG. It was grouped with two other videos and another display, collectively titled Peeping Toms because they were viewable from the sidewalk through apertures cut in black cardboard. (The holes were about 5 feet off the sidewalk -- above small-child height.)
Talcott also says that she made all 40 or so Best of Pittsburgh works available to Grubb & Ellis, and that she assumed they all had the firm's approval. "If we have to find an error [in the episode], I'm willing to take it," says Talcott.
Grubb & Ellis's Pittsburgh office has repeatedly declined requests for comment. But would things have been better if the company had simply rejected Loyola-Garcia's video before the festival began? That might have avoided controversy -- but what else might have been lost?
"The need to wash the self with milk and honey" depicts a naked woman, wearing a sort of jeweled headpiece in her long, dark hair, walking through a lush forest and carrying a pail in each hand. Accompanied by a lyrical voiceover, she sits down to bathe. The woman is portrayed by Loyola-Garcia herself, an internationally exhibited artist and instructor in the Robert Morris University media-arts program. She has described the dreamily paced work as "a ritualistic performance of spirituality" and an "act of healing and validation."
But the artist's unselfconsciously revealed nipples and pubic hair apparently trumped any artistic value.
TRAF's Reiss, who calls Loyola-Garcia's video "really quite lovely," rejects charges of censorship. Nude art has been shut down at the festival before, says Reiss, who has been festival director since 2001: During the 1980s, an African-styled performance troupe with bare-breasted dancers was similarly banished from PPG property.
Reiss contends that the story is different when artwork is on public property. In 2004, a young painter contributing to a Point State Park graffiti wall crafted an image of President George W. Bush with a bullet wound in his temple. Although "The funder of that project was not happy," Reiss recalls, "Three Rivers left it there."
But the festival depends heavily on donated, privately owned spaces -- especially with Point State Park being closed. TRAF also hoped to use the PPG site because it was closer to the rest of the festival. Last year's Best of Pittsburgh show was held at the TRAF's gallery at 937 Liberty Ave., several blocks away from the festival proper. This year, the show was relocated to the Two PPG window and PPG's nearby Wintergarden, where three times as many people viewed it. But the festival paid a price for the added visibility.
"Every space that's not your own comes with someone else's criteria," Reiss says. "We never viewed it as a censorship issue, because we've had so many properties" as alternate venues.
The National Coalition Against Censorship disagreed. Svetlana Mintcheva, director of the New York-based organization's arts program, wrote in a July 6 letter that "Corporate sponsors -- who derive much gain from their association with your prestigious festival -- should be aware that their contribution is not buying them veto power over the content."
Mintcheva also wrote that "TRAF exceeded constitutional boundaries in allowing PPG to ... restrict the content of the festival"; the festival accepts public funding, she notes, and nudity is not legally sufficient grounds for excluding artworks from public exhibition.
Still, say experts, it's unlikely that there's a constitutional case here. According to Sara Rose, a staff attorney with the ACLU of Western Pennsylvania, this would most likely be a First Amendment case only if speech were being limited by the government itself. In cases of private property, such a decision would be legally actionable only if it violated a written contract.
That wasn't the case here, Reiss says. From the outset, Grubb & Ellis made its restrictions clear: "Representational nudity is part of what they don't want to see," says Reiss. "Nudity is their main concern."
Meanwhile, Loyola-Garcia remains upset that TRAF didn't fight to keep her video where it was: "I personally think the whole situation is quite ridiculous," she says. But Reiss says she is "kind of glad" the episode happened. Not only did it provoke discussion, but the publicity got Loyola-Garcia exhibition offers from galleries in Eastern Pennsylvania.
"Milk and honey" will get more exposure locally as well. It will screen Sept. 9, at Pittsburgh Filmmakers, as part of a show titled Raw Tactics of the Subversive Body. Talcott also plans to show it in a store window in Shadyside, during the Ellsworth Festival in late September.
"I guess I feel like I need to show the piece again in Pittsburgh, and show it in an environment where the community and the storefront owner are supportive of the artist," says Talcott.
The Two PPG window that housed "milk and honey," meanwhile, has recently featured a display apparently more to Grubb & Ellis' liking: a polar-bear-themed exhibit featuring three mechanical bears sculpted from wire, sparkling with tiny lights and slowly shaking their heads "no."
A larger question is why -- half a millennium after Michelangelo's "David" -- nudity in art still upsets people. One issue is the medium in question.
Bare bodies in sculptures and paintings abound. (In fact, the Best of Pittsburgh show that included "milk and honey" also featured at least one other nude. "Red Alert," Paul Bowden's anatomically correct sculpture of a porcelain-white male figure crouching in a pool of red liquid, remained on display in the Wintergarden throughout the festival.) Yet, the immediacy and "realness" of moving pictures of naked bodies seem to upset people.
"[Video] doesn't have that mediation-of-the-artist thing. That seems to be what hangs people up," says Bill Judson, former head of the Carnegie Museum of Art's film and video department.
The problem, says NCAC's Mintcheva and others, is that although video is decades old, it still isn't accepted as art the way paintings, statues and even photographs are. "It's a matter of how much we're used to a specific medium," she says.
"I think it's just definitely our puritanical culture, just working its way through," says Talcott.
Renee Piechocki, who heads Pittsburgh's Office of Public Art, agrees that for many people, nude + video = porn.
But Piechocki says such misunderstandings can be remedied. In the 1990s, she was working for New York City's Department of Cultural Affairs when some teachers became "incredibly upset" that a commissioned artist depicted nudity on some of his ceramic tiles in their public school. But the trouble cleared up after a community discussion with the artist. The tiles stayed.
Asked about the removal of "milk and honey," Piechocki says, "It would have been cool to have a discussion instead of just a knee-jerk reaction."