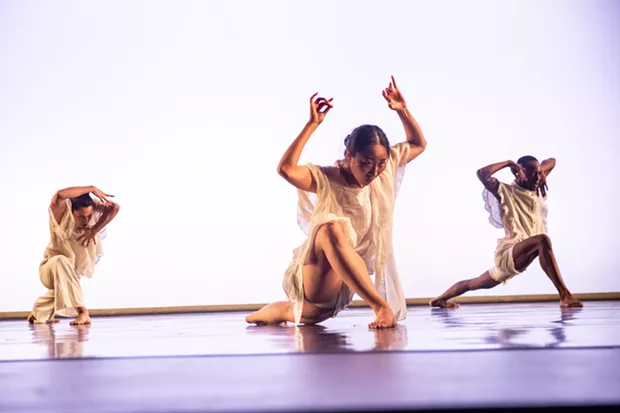 As part of Pittsburgh Dance Week, STAYCEE PEARL dance project & Soy Sos premiere their latest dance work sym, commissioned by and presented at East Liberty's Kelly Strayhorn Theater, April 12 and 13.
Choreographed by company co-executive director Staycee Pearl, sym is a dance work by her and husband Herman Pearl (Soy Sos) inspired by the writings of award-winning African-American science fiction author, Octavia Butler.
"We're sci-fi and fantasy fans," says Herman Pearl, company co-executive director and sound designer. "Her perspective as a Black woman and a humanist is very appealing to us."
Staycee agrees: "She mirrors real-life situations in culture, community, and politics through stories of otherworldly beings."
If you're unfamiliar with Butler's work, don't worry, so was STAYCEE PEARL dance project (SPdp) dancer LaTrea Rembert. The Cincinnati native says he didn't know Butler existed before starting work on sym two years ago. But since then, he's become a fan.
One of seven children, Rembert grew up dancing in church. A love of theater guided his career in the arts and eventually sent him to Pittsburgh and Point Park University in 2012. It was there he met Staycee and rekindled a passion for dance. In addition to his work with SPdp, he has worked with several theater companies in town, including Pittsburgh Playwrights and Pittsburgh Musical Theater.
Rembert's theatrical acumen has proved an advantage in playing his sym character, a man coming to accept that he is a being not of this world. Inspired by Butler's 2005 novel Fledgling, about the symbiotic relationship between humans and vampires, sym, says Rembert, is a non-linear abstract interpretation of the book's storyline and characters.
Rembert describes the Pearls' creative process as another form of symbiosis. Conversations between dance and sound are being developed simultaneously. As for Staycee's choreography, which mixes club and street-style movement with contemporary dance, he says, "… Her movement can feel good on the body and other times not. It is an endurance builder, and for him, a learning experience."
The soundscape for the 50-minute work takes an unusual turn in that Herman, bassist Sadie Powers, and sound artist Bonnie Jones will perform a live, improvised score alongside the five dancers. The work will also include projections by visual artist and Guggenheim Fellowship recipient Barbara Weissberger.
For those new to SPdp and to Butler's writings, Rembert says, "While you will see traditional dance styles in this work, it is not a traditional dance piece. You will get a full theatrical experience and new ideas to think about."