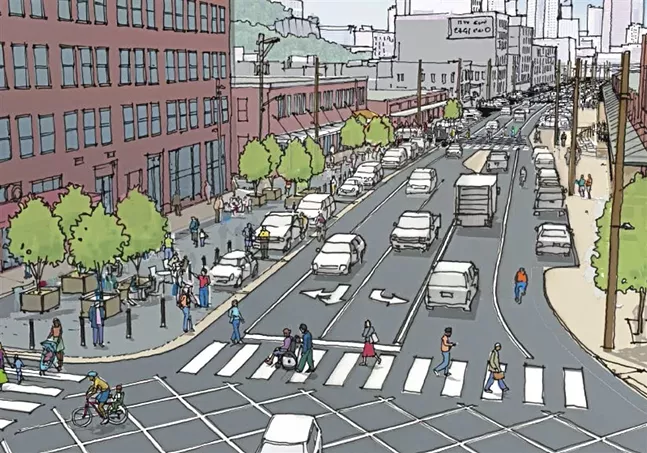 The Strip District is going to be a little less bare in just over a year.
The city unveiled designs earlier this month detailing a complete renovation of a five-block area of Smallman Street. Design plans for the 16th to 21st streets include adding sidewalks, angled back-in parking, "high-visibility" crosswalks, bike lanes and a public plaza. Traffic lanes and paving will also be reduced in the area.
The concept addresses concerns of Strip District business owners and commuters from initial drafts released in early August 2018. The early draft was criticized by business owners for its overall
reduction of parking spaces
, while cycling and pedestrian advocates were upset by a complete lack of cycling infrastructure and pedestrian space.
Emily Gaspich, project coordinator for the city's Department of Mobility and Infrastructure, told the
Pittsburgh Post-Gazette
that the new street layout is designed to slow traffic, provide sidewalks for pedestrians and accommodate bike lanes. The city is working with business owners in the Strip to decide how best to use the space overall.
"Right now, we have a blank canvas to work with," she says. "We'll see what businesses want."
Scott Bricker, executive director of Bike Pittsburgh, told the
P-G
his organization approves of the design, though they hope it ties into the larger effort to connect that area of the city with Downtown and Lawrenceville.
The
P-G
reported the project is in the final design stage now. A contract should be awarded by the end of the summer, with work done by the end of the year.
The street project is happening in conjunction with a long-awaited plan to redevelop the neighborhood's iconic Produce Terminal, a blocks-long building that runs the stretch on Smallman Street set for redesign.
The Urban Development Authority's board of directors unanimously approved a lease agreement last week with commercial real estate company McCaffery Inc. The Chicago-based company plans to turn the terminal into an economic center with indoor and outdoor markets, restaurants, and pubs. Development highlights include restoration of the building's century-old facade and building cut-throughs at 17th, 18th, and 20th Streets for easier pedestrian access to the area and the Allegheny riverfront a few blocks away.
McCaffery will begin reconstructing the terminal following a final review, approval of drawings, evidence of financing and a minority- and women-owned business enterprise plan. According to Pamela Austin, senior project manager of development, McCaffery Inc. is hoping to start redeveloping the building in March and finish the project in the summer of 2020.
As per the company's agreement with the URA, at least 40,000 square feet of the space will be allocated for locally-owned businesses. Tenants have yet to be contracted. The redevelopment is estimated to cost about $50 million.