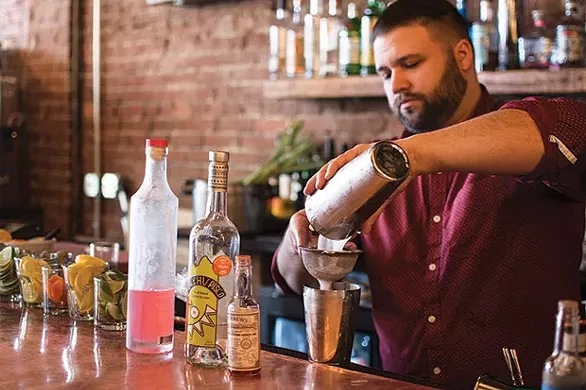 March is National Women's History Month. Last week, on International Women's Day, women across the country participated in A Day Without Women protests to demonstrate how vital women are to our society and our economic growth. Bros at the bar reading this probably be like, "Ugh, but what about men? Where's our special day?" Well, guess what, fellas? We've been making your booze, too. IS NOTHING SACRED?! Better get used to it because, as the saying goes, "the future is female." And Smallman Galley's bar program is running a March menu to demonstrate it.
Each month since December, the bar has featured a charity drink. One dollar from each cocktail purchased goes to a selected organization. In keeping with National Women's History Month, this iteration of the menu features the Ace of Spades, a take on a pisco sour. The pisco is distilled by Macchu Pisco, a much-celebrated company run by Peruvian sisters Melanie and Elizabeth "Lizzie" Asher. Melanie also serves as the distiller. Proceeds will benefit Pittsburgh's Strong Women, Strong Girls, an organization that seeks to empower young women and girls from under-resourced communities through mentorship. Both Macchu Pisco and Pittsburgh's Dreadnought Wines have promised to match the donations.
Moreover, all 13 wines on this month's list come from women-owned vineyards or women winemakers. Bar manager Tim Garso compiled the list with help from some enthusiastic wine reps. One featured winemaker is Italy's Arianna Occhipinti, who runs two separate labels and specializes in bio-dynamic and organic winemaking. She released her first wine at age 21. "There are really beautiful stories behind a lot of these wines," says Garso.
The bar at Smallman Galley intends to continue the donation program. "Very shortly after the election, we [bar staff] started talking about a way to incorporate the bar and use it as a vehicle for raising funds for groups that were either going to see a cut in funding, or an increased need for their services," says Garso.
Since December, through charity cocktails and an inauguration-week fundraiser, as well as personal tip donations from bartenders, Garso says the bar has raised "$4,293.87, give or take, based on staff's recollection of cash tips." Donations have gone to Planned Parenthood, International Rescue Committee, Bill Nunn Theater Outreach Program, ACLU, Sierra Club, Anti-Defamation League, and Strong Women, Strong Girls. Plans include sponsoring a youth baseball team and benefiting foster care. For Women's History Month, Garso emphasizes that the menu is built first on excellent spirits and wines. "I hate when people use the word 'female' as some sort of qualifying adjective. 'Oh, she's a great female chef,' or 'You know, for having a female singer, that punk band still really rips!' No, she's just a great chef and they're just a great band, no weird qualifier needed," he says. "The last thing I or anyone else wants is to make anyone a gimmick."