Fairlane opened with almost no warning. The Mount Lebanon restaurant, taking over the building once occupied by Block 292, announced its opening day with an Instagram post.
Before landing in Pittsburgh, owners Graham Foster and Lauren Zanardelli operated a Southern-inspired food truck. The two decided to ditch the road and found homes in the kitchens of Dinette, Bar Marco, and Block 292. When Block 292 closed, husband-and-wife team bought the building and a little over a year later, the space was transformed into Fairlane.
Fairlane is stylish but not overly hip. Every part of the restaurant is tastefully designed, down to the paper towel dispenser in the bathroom. Parts of the building's past are revealed through garage doors that line the front and industrial, metal pipes that snake around the ceiling. Fairlane is poised for mechanics to roll out and lift a car, which is fitting since its namesake is a vintage Ford.
The restaurant's bottle shop sits adjacent to the dining room, flaunting an eclectic range of beer, wine, and cider. The selection is curated into a smaller list for dinner service, along with an exceptional selection of cocktails.
For its food menu, Fairlane bounces around cuisines. The list keeps taste buds guessing: A Thai dish is executed as cleanly as Southern-style biscuits and East coast mussels.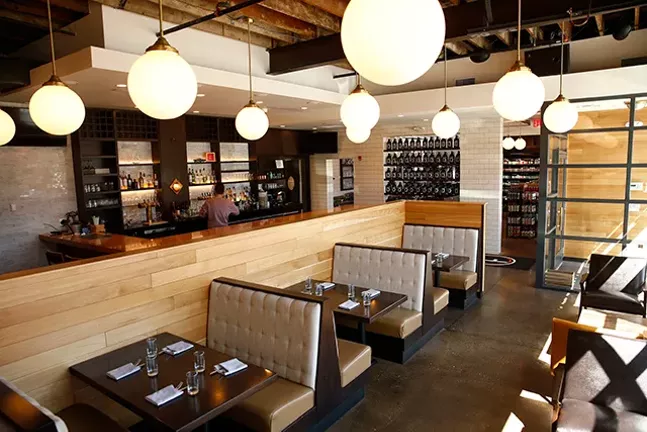 Snacks and small plates steal the show. I began my meal with buttermilk biscuits, paired with a scoop of miso honey butter. No butter went unused on these biscuits, which were dense and almost toppled off the plate because of the uneven, small-batch bake. The miso butter was salty and savory, a nice punch for the thick pastry.
The mussels, sourced from Maine, were absurdly good, paired with a superb white wine sauce and garlic broth piercing the massive mollusks.
Following the first course triumph came a Northern Thai dish, khao soi, ornately topped with the trademark crunchy noodles. The foundation was all there — a rich, creamy curry, touch of cilantro, and fresh lime — but I longed for a bit of salt or splash of fish sauce, something to cut through the thick coconut milk.
Mount Lebanon is lucky to have Fairlane. Foster and Zanardelli are dreaming up a menu full of top-notch, unpredictable surprises.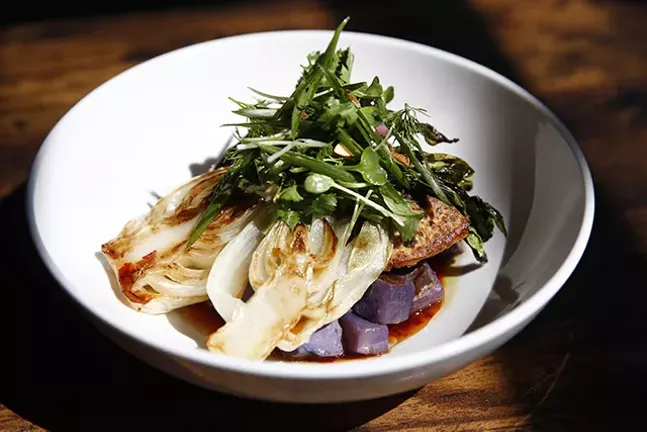 Favorite Features

1. Gluten-Free Beer

Finding a Gluten-free beer on a drink list is rare, but GF diners will be happy to know they can drink a beer with dinner at Fairlane.

2. Fried Chicken

Fairlane serves up its take on Southern fried chicken a few days a week. Snag this coveted treat on Saturday and Monday nights (Mondays also feature $7 negronis).

3. Tattoo Art

A collage of tattoo art adorns a wall at Fairlane. It's a small touch of personality in the otherwise minimalist restaurant.