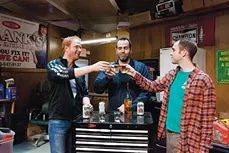 Just when you think you know what's going on in Small Engine Repair, playwright John Pollono pulls the rug out, metaphorically speaking, and the situation is turned on its head. barebones productions' version of the 2013 comic thriller, directed by Richard Keitel, is tight — and not just because the audience needs to cross the stage to get to the seats.
The play is named for Frank's crowded shop, where the single father hangs out with his old school buddies Packie and Swaino. They reminisce about good times, re-fight old arguments, and mainly rip the scabs off some 30 years of "friendship" while getting drunk. Deception, like the booze, is poured early, liberally and often. Into this working-class trio of middle-aged New Hampshirites comes a smooth, fresh-faced, real-honest-to-gosh preppie from Massachusetts. Think of the class hostility in Good Will Hunting, with generational tensions tossed in.
So much for the plot, which has just enough — and just credible enough — twists for a satisfactory drama in real (and really short) time. Toss in some themes about the isolation of "social" networking, the obsolescence of no-college-education men, many facets of sexism, family and bonding, with a little bondage. No spoilers.
Both the affable Frank and his realistically, obsessively stocked repair shop are courtesy of barebones artistic director Patrick Jordan, actor and designer. Gabe King combines paranoia and vulnerability as the sensitive, somewhat sympathetic Packie. Brendan Griffith oozes ego and swagger, among other things, as the assoholic Swaino. And yep, by 21st-century standards, they're all losers. So what is a clean-cut kid like Chad, wide-eyed and wonder-filled Casey Cott, doing with these old guys?
Keitel gets some help from Randy Kovitz, fight director emeritus, and his team of Andrew Ostrowski, lighting design; C.J. McDermott, technical director; and Brittany Spinelli, stage manager.
As the usual warning has it, Small Engine Repair is for mature audiences only: grownups who can appreciate character growth and nuances, while not getting freaked out by the naughty bits.