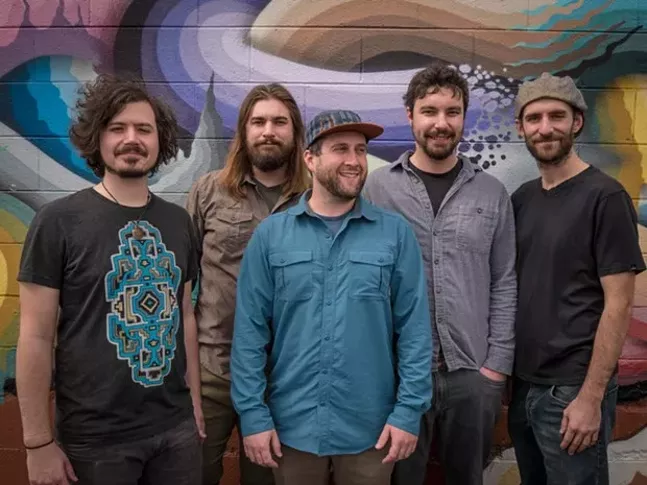 This year's lineup for Resonance, a music and arts festival taking place in Slippery Rock from Sept. 19-22, was already set to be a righteous one. Stacked with jam-band and EDM power players like Tipper, Tycho, Keller Williams, Black Moth Super Rainbow, CharlesTheFirst, Chon, and more, Resonance has been the talk of the summer, with many buying their tickets as soon as they were available. Yesterday, more acts were announced, and fans can expect the new wave of lineup additions to stay true to the EDM-centered focus, complete with festival favorites in the jam, rock, and funk genres.
Progressive rock band Umphrey's McGee, Vermont jam-rockers Twiddle, high-energy psychedelic funk group Pigeons Playing Ping Pong, dynamic improvisational outfit Dopapod, and instrumental rock-fusion quartet TAUK were all gradually leaked online in anticipation of the full lineup announcement. Now, the sixth annual event will also welcome EOTO (two sets), Desert Dwellers, Andy Frasco & The U.N., Big Something, Sunsquabi (two sets), Chris Karns, and many more.
Progressive-rock and electro-synth quintet
Papadosio
presents the festival, along with Mammoth Music Group and Essential Productions. Best known for their energetic live performances filled with mesmerizing instrumentation, improvisational skills, and intricate visual production, Papadosio have had a special place for Resonance in their hearts since it's origination in their home state of Ohio in 2014.
"The excitement is palpable for what will be the best Resonance festival yet!" says Anthony Thogmartin of Papadosio (guitar, synth, vocals). "We've got a whopping four sets of sound and sight for you, including a bunch of new music, and even a Gorillaz tribute set! This is the one 'must not miss' Papadosio event of the year."
Festival-goers will also get to enjoy Papadosio's two other side projects at Resonance - Brether, consisting of Sam Brouse (keys, vocals) and
Billy Brouse
(keys, vocals), and EarthCry, a musical undertaking from Anthony (guitar, synth, vocals) that uses live instruments, mixing, slicing, and looping, to create unique electronic arrangements.
For tickets and more information visit
resonancemusicfest.com