With Stanley Cup fever having taken hold in Pittsburgh, even folks who've never watched a game in their lives -- or at least, not since last year's playoffs -- are getting into the action.
(Take a look at the hoary, and hairy, tradition of playoff beards here. Meet the band behind that "Mighty Guins" song here. And see our virtual-reality Stanley Cup run here.)
But nobody wants to out themselves as a newbie and annoy the diehards by making a gaffe at your local sports bar. So we've asked a few rabid Penguins fans -- Caulen Kress, David Good and Matt Hanzes -- for tips on how to behave yourself while watching the game.
Contempt for bandwagon-jumpers is legion among diehard fans. So why are Kress, Good and Hanzes willing to help out?
Although some fans "act like they listened to Nirvana before Kurt Cobain died," says Good, "I just think the more Penguin fans there are, the better."
Kress agrees, noting that he's all for new fans -- "no matter how wet behind the ears."
"Just don't sit behind me and yell at the players or refs the whole game," he adds. "It's obvious you're either a loudmouth noob or totally wasted on $8 beer."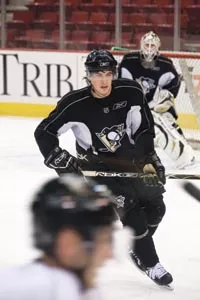 DON'T
Don't wear a powder-blue Penguins jersey. "Get an old Mario Lemeiux jersey, it'll make you seem like you've been around for awhile," says Hanzes.
"If you buy one of those new powder-blue jerseys, you might as well scratch out 'Crosby' and write 'Newbie' on it," agrees Good. "Go to your local thrift store and look for an old Penguins jersey that says 'Patrick Division Champs' on it. Bonus points if you find one with the sleeves cut off."
Don't complain about the officiating. Kress says the NHL officials -- two refs who call penalties and two linesmen who call off-sides and icing -- are very reliable. "Complaining about their work seems to come from a football-centric mentality," Kress says, and "is best left for Heinz Field."
Don't say the Detroit Red Wings buy championships. "They've had the best European scouting and development for years now, which allows them to build from within," Kress says. "Whereas 'can't miss' talent has fallen into the Penguins lap ... the Wings have found similar talent in the rounds when the Pens were taking fliers on the likes of Mikhail Kazakevich, Jan Fadrny and Doug Meyer."
Don't focus just on the star players. "Honestly, if it wasn't for people like [defensemen] Hal Gill and Rob Scuderi shutting down the Capitals' offense in the second round, the Penguins wouldn't be here right now," says Hanzes. "They're people whose names you're never gonna see on the score sheet, [but] they're just as important to this team as someone like Sidney Crosby."

DO
Talk about the Penguins' first two Cup victories. "Know who played on those teams, know who the Penguins defeated for both victories," says Hanzes.
Exaggerate your own hockey career. "You could tell people you played for one of Mark Madden's deck-hockey teams," says Good, tongue-in-cheek. "Tell 'em you were on the 'Razor Ramones.' That would be an inside joke that people who like the Penguins would laugh at."
Namedrop obscure Penguins from the last decade. "People like Konstantin Koltsov, or Milan Kraft -- mention players like that to make it seem you've been following the team even through the Dark Ages," says Good.
Know what "The Save" is. A newbie would probably think 'The Save' was some feat of current Pens goaltender Marc-Andre Fleury, says Good. But the phrase dates back to a key save by back-up goalie Frank Pietrangelo in the Penguins' 1991 playoff run. Pietrangelo's save in game 6 against the New Jersey Devils "was a really key save that kept them in the game and ended up winning them the series."
"Mention that you've worn out two or three VHS copies of One From the Heart," suggests Good. "Everybody who's a fan has watched" the short documentary that chronicles the Penguins first Cup victory, he says. For a true fan, he adds, the question "is not if you've seen it, it's how many times."
PHRASES TO AVOID
"When's halftime?" or "What quarter is it?" News flash: Hockey has three 20-minute periods with two breaks, called intermissions.
"The Pens scored -- let's do a shot!" Hanzes recalls some newbie co-workers calling this out at a bar, and "everybody else looked at them in bewilderment."
"Shoot the puck!" "I've thought it to myself plenty of times," Kress admits, "but to yell it constantly is a sign of ignorance." He notes that "for the most part, the players have a better view than you and I of what lies between them and the goal. ... Just relax and save your breath, because I doubt Kris Letang or Sergei Gonchar will be listening to you anyway."
TIPS FOR ENJOYING THE GAME
The high speed and constant action of professional hockey can make it hard for newbies to follow -- and for diehards to explain. "It can be difficult explaining the game to a noob, simply because it's tough to talk it out and follow it at the same time," says Kress. But here are a few things to watch for:
Watch which players are on the ice. "Match-ups are key in hockey, so it's good to know how the coaches are managing the game," says Kress. "The home team always gets last change, so at Mellon Arena [coach Dan] Bylsma gets to see who is on the ice for the opponent before sending out his players. Our third line [Tyler Kennedy-Jordan Staal-Matt Cooke] is matched up against the opponent's top scoring line whenever possible."
Watch for players getting trapped up-ice. "This happened a lot with Mike Green of the Capitals," says Kress. "He is an offensive-minded defenseman, and too often in that series he was caught behind the play. When that happens, the Pens were able to create odd-man rushes, which means they had one more player skating into the offensive zone. The chances of scoring are much greater on an odd-man rush."
Watch the players who don't have the puck. "Try to watch the plays develop -- I watch it so I anticipate what's probably going to end up happening," says Hanzes.
Says Good, "If they don't have the puck and they're on offense, they're probably trying to get open and create space. And defensively, are they trying to take the puck off the other team, or positioning themselves to block a pass or block a shot?"
Watch how teams carry the puck through the neutral zone. For the most part, "A team that is carrying the puck well through the neutral zone" -- the central part of the rink between the two blue lines -- "is executing their game-plan well," says Good. "When you have the puck, they're not getting any shots on goal, obviously, and you're imposing your game plan on them," he says. "That's something the Penguins have been doing consistently through the three rounds of the playoffs."
Observe a few of these simple guidelines, and you should feel no guilt about being a conscientious, informed bandwagoner -- and you'll avoid the ire of hardcore fans. But Hanzes has a bit of advice for newbies who want to "stay ahead of the curve" in the future: "They should start to watch the Pirates now, and get a jump on that bandwagon."