On April 26, the Stephen Foster statue was removed from its post in Oakland. The statue depicts an elegantly dressed Foster sitting above Uncle Ned, a black man sitting barefoot and holding a banjo at Foster's feet.
Calls to remove the statue have been around for years and the city's art commission voted to remove it in October following two public hearings. Most in the city believed the depiction of Uncle Ned was offensive, racist and needed to be removed. However, some folks began yelling that removing the statue dishonored a native son and tarnished Foster's image. In light of that, Pittsburgh City Paper compiled a list of some other places where you can celebrate Pittsburgh's most famous songwriter without being explicitly complicit in racism.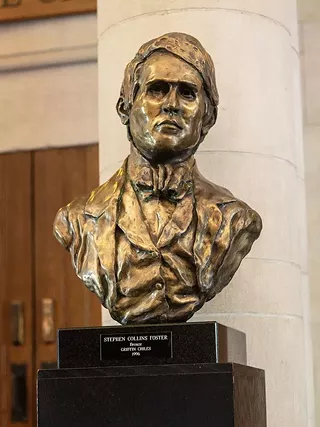 Oakland
The Stephen Foster Memorial theater on the University of Pittsburgh campus is literally right across the street from where the Foster statue was removed. There is a historical marker outside the building. Inside, there is a bronze bust of Foster and a shrine to Foster in the left wing of the building, complete with a portrait and other historical memorabilia.
Lawrenceville
Foster's homestead, where he was born, is still historically preserved at the corner of Penn Avenue and Denny Street (the house there was built after his death). There is a plaque on Penn Avenue that honors Foster's contributions to music. Also, a Stephen Foster festival called Doo Dah Days is held in Lawrenceville every year.
Bradford County, Pa.
Three different historical markers stand in the Northeastern Pennsylvania county, where Foster lived and attended school. Stop by Athens, Towanda, or the village of Camptown, the inspiration for "Camptown Races."
Cincinnati
In Cincinnati's Alms Park, a copper statue of Foster stands in an open field, but the statue skips the degradation of a black man and is just of Foster, so no cropping necessary for photos. Also, a plaque honoring Foster and his songs sits at the edge of Downtown Cincinnati.
Kentucky
My Old Kentucky Home State Park in Central Kentucky was named for Foster's abolitionist-inspired song, "My Old Kentucky Home." A historic plantation, the park has a complicated history, since Foster's song is inspired by the plantation, but it was also home to dozens of slaves.
Florida
Stephen Foster Folk Culture Center State Park in White Springs, Fla. is about an hour west of Jacksonville. The park straddling the Suwannee River honors the memory of Foster. A tower at the park was built to honor Foster and houses a statue of Foster sitting cross-legged. Even in the deep south they knew not to include "Uncle Ned."