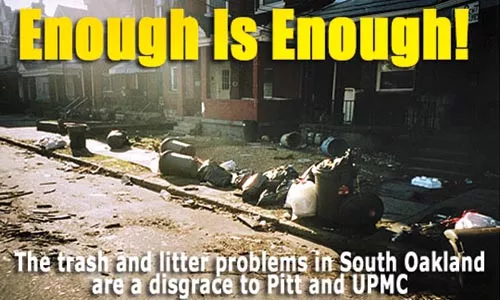 With Mayor Luke Ravenstahl's controversial tuition tax making headlines daily, there's no shortage of talk about Pittsburgh's college students -- and both the good and bad they bring.
Perhaps more than most Pittsburghers, Carlino Giampolo is familiar with the latter. As founder of the South Oakland Urban Litter program, or SOUL, the Oakland native is working to clean up a neighborhood he says is perpetually trashed by students from the University of Pittsburgh.
"[South Oakland] looks like a war-torn area," says Giampolo, sifting through photos he's taken of streets like Meyran Avenue and Semple Street over the past couple of years. A picture from 2007, for instance, shows six overturned trash cans surrounded by garbage and debris, in front of two houses on Meyran. "I just want to live in a clean and healthy environment."
Giampolo, who was raised in Panther Hollow, splits his time these days between his parents' Oakland residence and his home in Honolulu, where he owns a printing company. Since founding SOUL in 2007, he has been pleading with officials from Pitt and the University of Pittsburgh Medical Center to help fund a neighborhood cleanup program.
"They bring these students into our community," says Giampolo, who earlier this year started a Web site, www.pitttrash.com. "They need to take responsibility for [the students'] actions."
You might assume Giampolo would be a fan of a 1 percent levy against the city's college students. But the 63-year-old doesn't like the proposal, either. Like some members of city council, Giampolo says universities and other nonprofits should contribute directly to the city's meager pension fund ... and help clean up Oakland's streets.
Large nonprofits like Pitt and UPMC "should do more for the community," he says. "The city was forced to go after the students because it was being stonewalled [by the nonprofits] -- just like the community has been stonewalled."
Giampolo, who says SOUL consists of a core group of roughly 25 community members, is seeking a 10-year, $1.2 million joint commitment from Pitt and UPMC. He plans to give all of the money to YouthPlaces. The local program for at-risk teen-agers would receive $100,000 a year toward hiring 10 youths at $10 an hour, while the remaining $20,000 would be used for neighborhood beautification projects.
To date, SOUL has received a half-dozen letters of support from local city and state politicians. Some public officials -- like city councilors Bill Peduto and Bruce Kraus, who represent Oakland -- have pledged their support for the program without explicitly calling on Pitt and UPMC to contribute. "[We] fully support your efforts," reads an Oct. 9 letter signed by the two city councilors, "and urge all stakeholders to lend their financial support to the SOUL program."
Others, however, have singled out Oakland's largest institutions. "I wholeheartedly encourage Pitt and UPMC to lend their financial support to the SOUL program," state Sen. Wayne Fontana wrote in a Nov. 6 letter to Giampolo.
But getting nonprofits to sign off on the idea isn't easy.
"Litter is a community issue," says Pitt Vice Chancellor Reynolds Clark. "It's everybody's problem."
Besides, Clark says, the university is already addressing it. For example, he says, Pitt organizes a monthly neighborhood cleanup that covers roughly 30 blocks in Oakland.
UPMC officials say they're already invested in neighborhood cleanup, too. For the past five years, spokesman Frank Raczkiewicz wrote in an e-mailed statement, UPMC has been contributing cleaning supplies to the Oakland Planning and Development Corp. (OPDC) for its "Keep It Clean Oakland" campaign. In addition, he writes, the hospital financially supports, and sits on the boards of, numerous Oakland community groups.
"UPMC is deeply engaged in the Oakland community," Raczkiewicz states. "Keeping Oakland beautiful is a community effort and one in which we are actively engaged."
Wanda Wilson, executive director of the OPDC, says UPMC has helped support her organization's efforts (though no UPMC officials sit on the group's board), but the medical giant could expand its efforts. "It isn't fair to say they don't contribute [to the community]," she says, "but there is an opportunity to do more."
Still, "I don't necessarily condone [Giampolo's] aggressive approach" to get Pitt and UPMC to fund community cleanups, she says. "The best way to move forward is to work in a collaborative manner."
Giampolo says the nonprofits' efforts are far from enough. "[Oakland] needs daily maintenance," he says. "But the neighborhood has been stonewalled, ignored and denied" by Pitt and UPMC.
"The vast majority of students are not causing problems," adds Giampolo. "But you have enough of them who don't care about the community, and the university doesn't want to take responsibility for them."