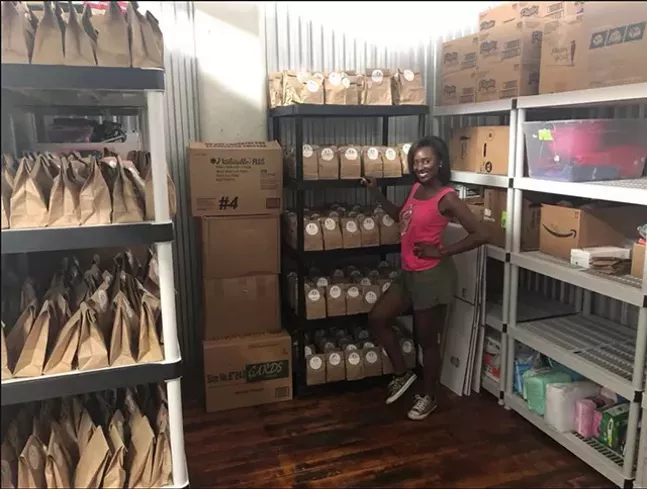 People have a difficult time talking about periods. This is obvious from the language used to describe it publicly, like a bathroom sign indicating where to dispose of "feminine hygiene products" or a drug store aisle indicating the location of "feminine care products." It's most often seen as a women's problem that should be dealt with discreetly.
Nonprofit organization SisterFriend formed in 2015 with the goal of centering menstruation as a healthcare issue and providing menstrual hygiene products like pads and tampons to low-income and homeless people who otherwise might not be able to afford them.
"It's a really simple thing that we can tackle," says SisterFriend founder, Tamara Abney. "But it's so important because it plays on someone's physical health, but it also plays on their mental health—the dignity that you have for yourself."
Last year, SisterFriend began a partnership with Pittsburgh Public Schools to provide menstrual hygiene products to four schools. Tight budgets limit the supply of products available to schools, and Abney notes that teachers and nurses sometimes buy them out of their own pockets. The SisterFriend kits include 10 pads, giving students enough supply to last several days (tampons are not given out at schools as they can be more difficult to use). Abney also says students can take as many kits as they want since they could be for a family member or friend in need.
"A lot of students may not have the resources at home to buy menstrual hygiene products, so they're really relying on the school to provide those for them," says Abney. "It's embarrassing to have to go back on a daily basis to ask for more and more."
In addition to schools, SisterFriend also partners with several local homeless shelters and have a goal of expanding to correctional facilities.
Menstrual hygiene products are not covered under federal assistance programs, like SNAP or WIC. The products are also not eligible for purchase with HSA (Health Savings Account) or FSA (Flexible Savings Account) dollars. Pennsylvania does not tax menstrual products, but 36 states do.
"Maybe they're not high on the priority list for a family on public assistance that has to think about, 'Am I feeding my kids or keeping the lights on, or am I buying these pads and tampons?'" says Abney.
The idea that menstrual hygiene products are not seen as a necessity and a vital healthcare tool also creates a gap in access for homeless and incarcerated people who menstruate.
"There's no reason why pads and tampons shouldn't be one of the number one things that are donated to a homeless shelter," says Abney. "They get food, they get toiletries. They probably have a ton of hotel shampoos."
Abney hopes that with the increasing number of women elected into office and the heightened cultural awareness around menstrual health, laws and policies will begin to change. She notes that women in the field refer to 2015, the year of SisterFriend's founding, as "the year of the period." It was the year Instagram caught heat for removing a photo on poet Rupi Kaur's account of a woman bleeding through her pants. It was the year musician Kiran Gandhi made headlines for running a marathon while free-bleeding. It was the year Donald Trump referred to Megyn Kelly as having "blood coming out of her wherever."
Four years later, there's been progress, but more needs to change. At the 2019 Academy Awards, the Best Documentary Short award went to Period. End of Sentence, which highlights the lack of menstrual hygiene access in India. It was an exuberant win, but Abney hopes the focus on the need for menstrual health access internationally doesn't take away from the situation in the U.S.
"I think [the movie] was really cool, but I would also like more attention to the plight of menstrual hygiene in the U.S," she says. "I think that's why sometimes we don't think about it here in the United States because we always think it's some other country's issue."