Freddy Jones says he has been the victim of racial profiling his whole life.
"The police are extremely aggressive to African Americans. They approach us or pull us over, and when we ask why, we have to worry if it will get us beat up."
Jones, 33, of the North Side, says that he has been pulled over while driving on the South Side because police said he fit the description of a shooting suspect, and that they searched his car. He says he has also been approached by undercover police officers in unmarked cars as he walked down the street, and been forced to answer questions about what he was doing there. 
"I'm always let go. That shows that I am doing nothing wrong," he says. "But it is a hassle.
"The police treat me like I'm scum. But I am not that."
Jones says these experiences are what motivated him to attend the "Rally Seeking Justice for Trayvon Martin and All Victims of Profiling" in front of the William S. Moorhead Federal Building, Downtown, on Sat., July 20. He was joined by about 300 others at the event organized by the Alliance for Police Accountability (APA).
The rally was one of about 100 held in cities across the country one week after George Zimmerman was acquitted of all charges for the killing of the unarmed teenager Trayvon Martin, in Sanford, Fla., last year.
Jones was one of many people at the rally who recounted their experiences of racial profiling, and the fear of what it could mean for themselves, their children and their grandchildren, unless something is changed in Pittsburgh and around the country. 
 "Don't let people tell you that it can't change," Brandi Fisher, president of the APA, told the crowd. "It has changed from the '50s to now, and it will change from now to tomorrow. Rallies work. Protesting works."
Before Trayvon Martin was killed in Florida, the Pittsburgh region had its own recent high-profile case of alleged racial profiling. On Jan. 12, 2010, a 17-year-old CAPA High School student named Jordan Miles was stopped by three white undercover police officers who, he says, failed to identify themselves. 
Miles was badly beaten by the officers, who put the blame on the teen, saying that he was acting suspiciously, ran from them and had a "bulge" in his jacket. 
The officers did not face criminal charges. A civil trial last year ended with a hung jury, and partial exoneration for the officers for alleged malicious prosecution. A new civil trial is scheduled for November on the more serious allegations of false arrest and excessive force. 
Miles' name was brought up frequently at Saturday's rally. His civil attorney, Joel Sansone, even called Miles "Pittsburgh's Trayvon Martin." But those in attendance say profiling in the city is happening far more often than a few high-profile cases.
Rapper and activist Che Smith, who performs under the name Rhymefest, says "everyone has been the victim of profiling. Black people are profiled as criminals, as the cases of George Zimmerman and Trayvon Martin show. But, there is also profiling of white people, gay people and women."
Fisher echoed that point, saying that white people have been stopped by police while driving through neighborhoods like Homewood, because it is assumed they must be buying drugs. 
Still, Terence Campbell, 24, of the Hill District, believes that profiling of African Americans is the major problem. He says that officers are "aggressive towards us. I don't feel like it is fair to be stopped and searched when I am doing nothing wrong."
Campbell, who works at South Side Steaks and will attend CCAC in the fall, says he has been stopped and searched while walking because his hands were in his pocket, and police said that made him look suspicious. 
"You don't see that happening to white men," Campbell says.
Smith says controversial laws like "Stand Your Ground," which was cited in the Zimmerman trial, must be changed because they are "open to interpretation ... [and] end up being interpreted against people of color."
University of Pittsburgh law professor David Harris, who studies racial profiling and wrote a book on the subject, says the encounters Jones and Campbell say they've had with police are not unique.
"It is almost impossible to meet an African-American person in this country who has not experienced racial profiling."
"African Americans' reality with police is simply different than the majority community," Harris explains. "They've experienced profiling firsthand and heard about it for years. This cannot help but to create a different attitude toward police."
Harris says this experience can lead to a less-safe society. 
"It is not a matter of bruised feelings," he continues. "It is a matter of public safety. Good police work is built on trust-based relationships between the police and the community they serve."
Pittsburgh Police Chief Regina McDonald did not return requests for comment.
Many who attended the July 20 rally said they were concerned about the situation worsening.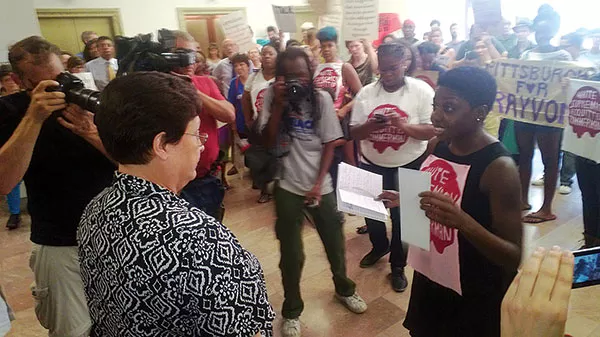 Barbara Beckham, of the North Side, says she fears for the safety of her 17- and 19-year-old sons, and often worries whether they'll make it home.
 "I talk to them [about these issues]. I fear for them, but I can't make them stay in the house," Beckham says. "You see these cases, here and around the country, and you hope that the reason for them is not race. But in some circumstances, you cannot ignore it. How are we supposed feel when there are no other reasons given that make sense?"
Harris says that for things to change, society as a whole will have to examine underlying racial attitudes.
"Not all police officers [racially profile]," he says. "For the most part, it is not conscious. It is not overt prejudice, hatred or racism like it may have been in the past. Rather, it comes from implicit beliefs."
And the only way to stop it from happening, Harris says, is to "drag these issues into the light."
That's why Freddy Jones, who has a master's degree in social work from the University of Pittsburgh, was sweating in 90-degree heat at Saturday's rally.
"I'm here hoping something can get better," Jones says. "Through hope and action, I think things can improve."