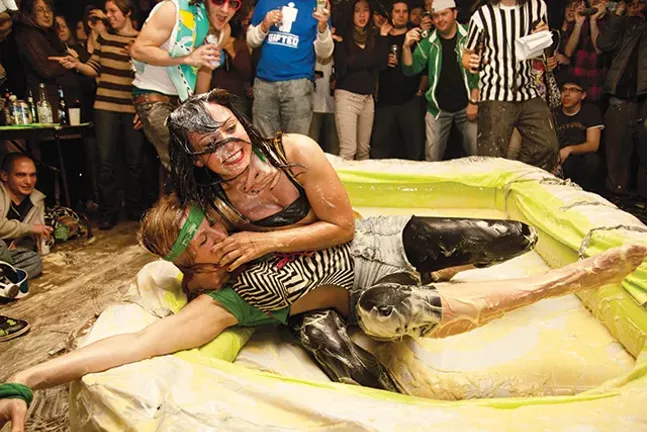 Candlelit dinners are always a lovely choice, but they're not the only option for celebrating Valentine's Day this year. If you're looking for something a little off the beaten path, check out our list of fun events around town for both couples and singles. Looking for love? Don't lose yourself in the apps — the carpal tunnel isn't worth it. Check out one of our single-friendly events instead. Who knows? Maybe you'll even find a Valentine!
Moonlight Yoga
6 p.m. Wed., Feb 13. Heinz History Center, 1212 Smallman St., Strip District. $25. heinzhistorycenter.org
Thanks to Leslie Knope, everyone knows that Galentine's Day is better than Valentine's Day. This Galentine's, grab your closest ladies and hit moonlight yoga for a heart-centric vinyasa flow. Afterward, enjoy a moon-inspired cocktail and special access to the History Center's exhibit Destination Moon: The Apollo 11 Mission.

Valentine's Day with Cats
3 p.m. Thu., Feb 14. Colony Café, 1125 Penn Ave., Downtown. $13-50. colonycafepgh.com
Celebrate love with cats. Choose the Sip & Purr event for an hour of cat-time and boozy accompaniment, finished with a legendary frosted brownie. Or, opt for Wine, Cheese, and Cats: grab a partner and your favorite bottle of wine to pair with Colony Cafe's cheese board and a cat-filled hour.

Valentine's Day Dance Party
6:30 p.m. Thu., Feb 14. Studio 101, 5877 Commerce St., Shadyside. $15. studio101pgh.com
Anyone, and Studio 101 means anyone, can be your Valentine for this party. Dust off your best dance moves and prepare to sweat love away with a hip-hop combination from two resident teachers. After tearin' up the dance floor, treat yourself to wine and cupcakes. Positive vibes only!
MAKEnight
6:30 p.m. Thu., Feb 14. Children's Museum of Pittsburgh, 10 Children's Way, North Side. $15-20. 21+. pittsburghkids.org
Put some sass in V-day with the MAKEnight: My Snarky Valentine at the Children's Museum (though this event is not for kids). Ditch the classic Valentine for some valen-slime. Explore the museum's two-story climbing structure made from packing tape. Or, up your Tinder game with a professional photographer to spice up your profile.

Valentine's Day at the Drive-In
6:30 p.m. Thu., Feb. 14. Dependable Drive-In, 549 Moon Clinton Road, Moon Township. dependabledrivein.com
Some love candy and roses. Others love watching people get slaughtered in thrasher movies. It's the best of both worlds at Dependable Drive-In for its Valentine's Day screening of Happy Death Day 2U and Glass. The $25.50 admittance for couples includes popcorn, candy, fountain drinks, and a rose. The best part? You can surprise your date with a message on the big screen during intermission. Reserve your spot ASAP: tickets must be purchased online by 5 p.m. on Wed., Feb. 13.
Match Made in Hollywood
7 p.m. Thu., Feb. 14. Spork, 5430 Penn Ave., Garfield. $75. sporkpittsburgh.com
Spork is tossing out the traditional prix-fixe Valentine's dinner for a fun singles party. The restaurant is pairing with local dating company, The Green Band, for a Hollywood-themed dating game. Participating singles are given a popular character name and spend the night finding their romantic counterpart. Not a speed-dater? Sip on Spork's movie-magic cocktail list instead.

Valentine's Clay Date
7 p.m. Thu., Feb. 14. Union Project, 801 N. Negley Ave., Highland Park. $75/pair. 21+. Search Facebook for "Valentine's Clay Date"
Ever fantasize about recreating that sexy scene from Ghost in which Patrick Swayze is straddling Demi Moore in front of a pottery wheel? Make the magic happen at the Union Project for a fun evening drinking wine and creating clay pieces of art to take home with you. Have "Unchained Melody" stuck in your head yet?
Trap N Paint
7 p.m. Thu., Feb. 14. Jeron X Grayson Community Center, 1852 Enoch St., Hill District. $40 per person. trapnpaint.com
Bring your boo, and your booty, for a night of trap dancing and painting. Picture a bunch of easels dropped into your favorite hip-hop club. This isn't your mom's painting night, unless your momma likes her paint mixed with a generous side of pop and locks.
Valentines on Ice
7 p.m. Thu., Feb. 14. Schenley Park Skating Rink, 10341 Overlook Drive, Oakland. 18+. Search Facebook for "Valentines On Ice"

It's a two-for-one night at the Schenley Park Skating Rink this Valentine's Day. For only $5, couples can ice skate, salsa dance, and get free caricatures and temporary tattoos. There will also be raffle prizes, and the first 200 couples will get a rose and chocolate.
Valentine's Day Bacon Bingo
7 p.m. Thu., Feb. 14. Strange Roots Experimental Ale, 501 E. Ohio St., Millvale. Free. strangerootsbeer.com
After you win your partner's heart, win them some bacon. Millvale brewery Strange Roots Experimental Ale is teaming up with Pittsburgh Smokehouse to bring a meaty theme to its weekly bingo night. Win a B-I-N-G-O, get some B-A-C-O-N.
Trashed Thursday: Anti-Valentine's Day
11:45 p.m. There Ultra Lounge, Thu., Feb 14. 931 Liberty Ave., Downtown
There Ultra Lounge wants you to embrace love. Or, show Valentine's Day your dark side. The choice is up to you. Either way, Trashed Thursday is bound to be a blowout. Gather your besties and party like a lovebird.

Love, Sex, and Science
6 p.m. Fri., Feb 15. Carnegie Science Center, 1 Allegheny Ave., North Shore. $15. carnegiesciencecenter.org
Learn about all forms of love at the Carnegie Science Center. Explore the science of attraction, sensory speed dating, learn about polyamory, talk with experts from the Pittsburgh kink community, and study the anatomy of love organs. End the night by grabbing a collector's endangered species condom.

Valentine's Pudding Wrestling Massacre: 10th Anniversary
9 p.m. Fri., Feb 15. Spirit, 242 51st St., Lawrenceville. $10-20. spiritpgh.com
Who needs love when there is lots and lots of vanilla pudding? Spirit, for the tenth year in a row, is throwing down with their Valentine's Pudding Wrestling Massacre. Twelve women compete to win a cash prize and bragging rights. Celebrity judges — keep an eye out for Bill Peduto — make the final call.

Cupid's Undie Run
12 p.m. Sat., Feb 16. McFadden's Restaurant and Saloon, 211 North Shore Dr., North Shore. $45-50. Cupids.org
Dress your underwear-best for Cupid's Undie Run! Join in this cheese-fest with ranks of scantilly-clad runners. Mingle and drink, then after the short 15-minute run, spend the rest of the weekend dancing on the North Shore. Profits from the run benefit research for neurofibromatosis, a genetic tumor disorder.

Anti-Valentine's Hafla
6:30 p.m. Sat., Feb 16. Bodiography Center for Movement, 5824 Forbes Ave., Squirrel Hill. $15 at the door. steelshimmybellydance.com
Shimmy out of the Valentine's Day slump with an anti-love belly-dancing hafla. Watch performers dance to heavy-metal covers of love songs. As the event page says, "If you've always wanted to dance to the metal version of 'I Will Always Love You,' this is the show for you!"