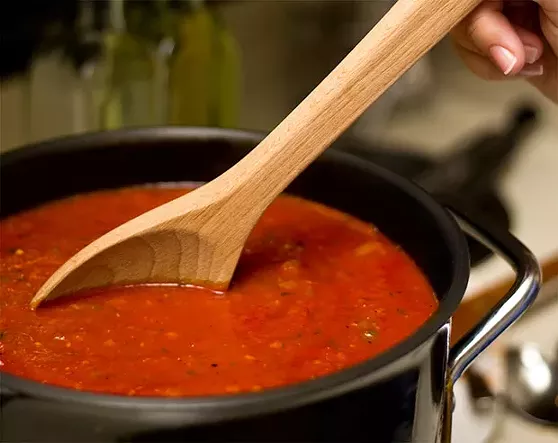 I remember being vaguely disappointed after inviting him over for dinner. It was early in our relationship, and Josh is a champion of memorable dates; he'd already taken me to Kennywood, a bar full of taxidermied polar bears, and for my first taste of Gus & YiaYia's ice balls. Feelings of inadequacy weren't helped by the thinly veiled looks of alarm he was tossing at the pot on the stove. I held out hope. When I offered him a tasting spoon, he interrupted his robotic autoreply of "It's good," with "Whoa, that's actually REALLY good." And he was right.
I told you that story so that I could tell you this one: Marcella Hazan's simple recipe for tomato sauce reads like a lazy effort toward nothing special, but is proof that, like our fourth date, less is sometimes truly more. Her original recipe is outstanding as is, and everyone should give it a shot at least once. This variation, while a little different, is just as good as the original — and as taxidermied polar bears.
Ingredients
:
2 28-oz. Cento cans San Marzano tomatoes (one whole, one crushed ) with their juices (or a brand of similar quality)
12 tablespoons salted butter. That is not a typo.
1 scant teaspoon of ghee (or a flavorless cooking oil with a high smoke point)
1½ cups white or Spanish onion, finely diced
1 cup of diced fennel, with core and stem, fronds removed
Instructions
:
Heat ghee in large skillet over high heat. Quickly sauté onions until they begin to brown at the edges, taking care not to burn them. Add fennel and continue to cook. Add the butter and, once melted, both cans of tomatoes with juices. Lower heat and bring to a simmer. Allow to cook for about 45 minutes until the juices have reduced and the fennel is meltingly tender. Use a wooden spoon to break up the tomato chunks as you cook; you can also choose to leave them intact, or briefly hit the sauce with an immersion blender if you prefer a smoother final product. Salt to taste.
I like to poach Chilean sea bass in this sauce, but it's also excellent with the addition of lemon for lamb meatballs, or with olives and spooned over grilled chicken. It's really best, though, as Marcella intended: atop a very fresh pile of pasta.