Pittsburgh's third annual Silk Screen Film festival continues through Sun., May 18. The program offers mostly recent features from North America, Europe, the Far East, Southeast Asia and the Middle East, representing the diversity of Asian and Asian-American experiences. New this year: a four-part mini-series of 1960s Japanese films from the low-budget Nikkatsu studios, noted for youth and exploitation features.
Films screen at the Harris (809 Liberty Ave., Downtown); the Regent Square (1035 S. Braddock Ave., Regent Square); the Melwood Screening Room (477 Melwood Ave., N. Oakland); and The Andy Warhol Museum (117 Sandusky St., North Side).
Tickets for regular screenings are $8; an eight-film pass is available for $50. For more information and to purchase tickets online, see www.silkscreenfestival.org.
The second week's films are as follows:
AMAL. The titular character is a simple-living auto rickshaw driver in New Dehli. His kindness to all -- and especially a cranky old man -- is about to be rewarded with a huge bequeathed fortune, but in Mehta Ritchie's wistful dramedy, this rags-to-riches scenario is not so simple. Rupinder Nagra is wonderful as the lanky, sweetly soulful Amal, and the film is best when it relaxes and lets the everyday scenes sketch out the lives of the city's working class. The film's secondary plot focusing on the undeserving rich falls too easily into soap opera, both in tone and performance. In English, and Hindi, with subtitles. 8 p.m. Wed., May 14. Regent Square (Al Hoff)
CHOP SHOP. The struggles of urban poverty are illuminated through Alejandro, an orphaned street kid who works at a dubious auto repair in Queens, New York. Ramin Bahrani (Man Push Cart) directs. 7:30 p.m. Wed., May 14. Harris
A COLT IS MY PASSPORT. A hitman is on the run in Takashi Nomura's 1967 crime thriller. Screens as part of the festival's Nikkatsu action series. In Japanese, with live English subtitles. 7:30 p.m. Fri., May 16. Warhol.
DARK MATTER. In Shi-Zheng Chen's film, a Chinese college student at a U.S. university reacts violently when politics interfere with his academic goals. Ye Liu and Meryl Streep star in this drama based on real events. 7:30 p.m. Thu., May 15. Harris
THE EDGE OF HEAVEN. Fatih Akin, the German filmmaker of Turkish heritage, has carved a niche making provocative films that navigate the experience of other German Turks, caught between two cultures. In this drama, Akin intertwines two narratives set in both northern Germany and Istanbul, and featuring troubled adult children reacting to the "sins" of their parents, to examine the uneasy, but not irreconcilable, conflicts between countries and generations. Much of the plot relies on contrivance, but earnest intentions, fine performances and a non-linear style add up to an affecting feature. In English, and German and Turkish, with subtitles. 8 p.m. Fri., May 16. Melwood (AH)
GLASS JOHNNY: LOOKS LIKE A BEAST. Jo Shishido stars in Koreyoshi Kurahara's 1962 melodrama about marginalized characters trying to survive. Screens as part of the festival's Nikkatsu action series. In Japanese, with live English subtitles. 9 p.m. Thu., May 15. Warhol
HALF MOON. As usual, Iranian Kurd filmmaker Bahman Ghobadi's (Turtles Can Fly) latest concerns borders: Elderly Kurdish singing legend Mamo (whom we meet lying in a fresh grave) gathers his musician sons for a concert in their ancestral Iraqi homeland. The trek out of Iran is at first a matter of earthy comedy, but soon shades into mystical lyricism, near-myth (a town of exiled women singers) and, ultimately, tragedy. The vivid characters, wonderful music and mountain scenery can't belie all those scenes of figures scurrying in the wide-shot distance: Half Moon depicts passionate people helpless to go home again. In Kurdish and Persian, with subtitles. 6:30 p.m. Sat., May 17. Melwood (Bill O'Driscoll)
THE HOME SONG STORIES. In this drama adapted from director Tony Ayre's own life, a Hong Kong nightclub singer named Rose (Joan Chen) impulsively relocates to Australia in the early 1970s. Dutifully in tow are her two children -- teen-age May (Irene Chen) and 10-year-old Tom (Joel Lok). The story of their peripatetic existence -- a succession of "uncles" and homes, as well as the frustration and disappointments common to immigrants -- is seen primarily through young Tom's eyes. The unavoidable, mysterious center of the struggling family's life is Rose's erratic behavior and growing mental illness. Chen gives a fine performance, particularly in the later scenes in which Rose sketches out her own past, revealing the emotional scars that she will surely, if unintentionally, pass on to her own children. In English, and Cantonese and Mandarin, with subtitles. 9:30 p.m. Fri., May 16, and 6:30 p.m. Sat., May 17. Harris (AH)
NEVER FOREVER. An American woman (Vera Farmiga) married to a Korean-American begins an affair with a Korean immigrant, in order to sustain her marriage. Gina Kim directs this melodrama set in New York City. In English, and Korean, with subtitles. 7:30 p.m. Fri., May 16. Regent Square
OPTION 3. Lost love is a little bit scary in this unconventional thriller from Richard Wong and set in San Francisco. 9:30 p.m. Fri., May 16. Regent Square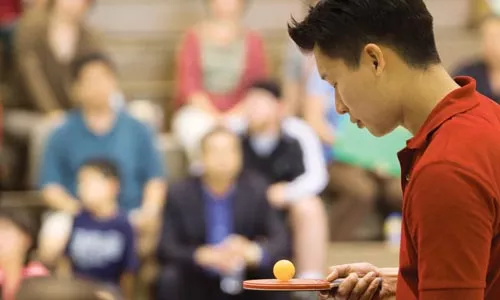 PING PONG PLAYA. This comedy throws a lot of darts -- at the over-achieving prized by Asian-American parents; at the bizarre adoption of "gangsta" style by suburban kids; at aimless slackers; and yes, at the competitive world of Ping Pong, dominated by Chinese players. Shuffling through is C-Dub, né Chris (Jimmy Tsai), a basketball-obsessed loafer, whom we root for in spite of his self-absorbed childishness. Even though Jessica Wu's film relies on stock characters and situations, the film is good-natured, affectionate and consistently funny. And sure, there's a big Ping-Pong tournament to settle all plot threads, but that it's hilariously small-time is just part of the charm. 7 p.m. Sat., May 17. Regent Square (AH)
PLAINS WANDERER. In this Eastern Western, a drifting cowboy (Akira Kobayashi) wonders through rural Japan, sorting out justice and hopefully, winning the girl. This 1960 genre-jumper is directed by Buichi Saito and screens as part of the festival's Nikkatsu action series. In Japanese, with live English subtitles. 9 p.m. Fri., May 16. Warhol
PLOY. In this vaguely dreamlike drama from Pen-Ek Ratanaruang (Invisible Waves), a jet-lagged couple checking into at a Bangkok hotel finds their relationship ruffled by the presence of a stray teen-ager. Ratanaruang's film is part melodrama, part psychological thriller and part erotic fantasy. Despite the work's languid pace -- the director favors long static takes with lots of deep space -- Ploy slyly shifts in tone and plot development in unexpected jumps. In some respects, Ploy traverses familiar ground -- the minefields of an imperfect but decent enough marriage -- but its route is fairly original. In Thai, with subtitles. 8 p.m. Thu., May 15 (Melwood), and 9 p.m. Sat., May 17 (Harris).
SANTA MESA. In Ron Morales' debut feature, an American teen moves to the Philippines to live with his granny, but finds the culture disconnect breeds trouble. In English, and Tagalog, with subtitles. 7:30 p.m. Thu., May 15. Regent Square
TAKVA: A MAN'S FEAR OF GOD. This provocative psychological study set in contemporary Istanbul tracks the spiritual crisis of Muharram (Erkan Can), a devout, solitary middle-age man who accepts an administrative position at the Islamic seminary where he worships. Your work will glorify God, the elder clerics counsel, but the introduction of the worldly into Muharram's simple, almost monastic life undoes him. Director Ozer Kiziltan makes fantastic use of real locations; and the scenes of ecstatic dervishes at worship are exhilarating. The final reel could have used less stylized visual techniques, but this is an intriguing drama about one man's inability to safely internalize a religious institution's contradictions. In Turkish, with subtitles. 8:30 p.m. Sat., May 17. Melwood (AH)
TIE A YELLOW RIBBON. A young woman, a former Korean adoptee, struggles to reconcile her heritage and her estranged adoptive American family in Joy Dietrich's drama. 9:30 p.m. Thu., May 15, and 5 p.m. Sat., May 17. Regent Square
TUYA'S MARRIAGE. In Quanan Wang's drama, set in the vast expanse of Inner Mongolia, a recently divorced young mother and shepherdess embarks on a search for a new husband, one who will contribute financially and help tend to her handicapped former husband. In Mandarin, with subtitles. 4 p.m. Sat., May 17. Harris
VALU. Umesh Vinayak Kulkarni directs this comedy from India about a small village and a wild bull. In Marathi, with subtitles. 7:30 pm. Fri., May 16. Harris
THE WARPED ONES. Japanese teen misfits go wilding -- and to a kicky jazz score -- in Koreyoshi Kurahara's 1960 exploitation feature. Screens as part of the festival's Nikkatsu action series. In Japanese, with live English subtitles. 7:30 p.m. Thu., May 15. Warhol