Pittsburgh's Silk Screen Film festival returns for its third year. Beginning Fri, May 9, and running for 10 days, the festival presents 25 films, mostly recent features from North America, Europe, the Far East, Southeast Asia and the Middle East, representing the diversity of Asian and Asian-American experiences. Also this year: a four-part mini-series of 1960s Japanese films from the low-budget Nikkatsu studios, noted for youth and exploitation features.
The event kicks off with a Red Carpet Gala (8 p.m.-midnight, Fri. May 9; 121 Seventh St., sixth floor, Downtown) with live dance and music performances, and food from local Asian restaurants; tickets are $75.
Films screen at the Harris (809 Liberty Ave., Downtown); the Regent Square (1035 S. Braddock Ave., Regent Square); the Melwood Screening Room (477 Melwood Ave., N. Oakland); and The Andy Warhol Museum (117 Sandusky St., North Side).
Tickets for regular screenings are $8; an eight-film pass is available for $50. For more information and to purchase tickets online, see www.silkscreenfestival.org.
The first week's films are as follows:
AMAL. The titular character is a simple-living auto-rickshaw driver in New Dehli. His kindness to all -- and especially a cranky old man -- is about to be rewarded with a huge bequeathed fortune, but in Ritchie Mehta's wistful dramedy, this rags-to-riches scenario is not so simple. Rupinder Nagra is wonderful as the lanky, sweetly soulful Amal, and the film is best when it relaxes and lets the everyday scenes sketch the lives of the city's working class. The film's secondary plot focusing on the undeserving rich falls too easily into soap opera, both in tone and performance. In English, and Hindi, with subtitles. 8 p.m. Sat., May 10, and 8 p.m. Wed., May 14. Regent Square (Al Hoff)
BEFORE THE RAINS. This steamy melodrama set in 1937 India details an affair between a British spice merchant and a local village woman. Santosh Sivan directs this Merchant-Ivory production. In English and Malayalam, with subtitles. 7 p.m. Fri., May 9. Harris
CHOP SHOP. The struggles of urban poverty are illuminated through Alejandro, an orphaned street kid who works at a dubious auto repair in Queens, New York. Ramin Bahrani (Man Push Cart) directs. 4:30 p.m. Sun., May 11, and 7:30 p.m. Wed., May 14. Harris
DARK MATTER. In Shi-Zheng Chen's film, a Chinese college student at a U.S. university reacts violently when politics interfere with his academic goals. Ye Liu and Meryl Streep star in this drama based on real events. 7 p.m. Sat., May 10, and 7:30 p.m. Thu., May 15. Harris
THE EDGE OF HEAVEN. Fatih Akin, the German filmmaker of Turkish heritage, has carved a niche making provocative films that navigate the experience of other German Turks. In this drama, Akin intertwines two narratives, each set in both northern Germany and Istanbul, and featuring the troubled adult children reacting to the "sins" of their parents, to examine the uneasy, but not irreconcilable conflicts between countries and generations. Much of the plot relies on contrivance, but earnest intentions, fine performances and a nonlinear style add up to an affecting feature. In English, and German and Turkish, with subtitles. 8 p.m. Sun., May 11 (Regent Square), and 8 p.m. Fri., May 16 (Melwood) (AH)
5 CENTIMETERS PER SECOND. In Makoto Shinkai's anime feature, the relationships between three friends are sketched in three vignettes that emphasize how time can be distancing. In Japanese, with subtitles. 5:30 p.m. Sun., May 11. Melwood
A GENTLE BREEZE IN THE VILLAGE. Adapted from a popular manga title, Nobuhiro Yamashita's tale tells of a teen-age girl from a rural village who becomes enamored by a new arrival in town. In Japanese, with subtitles. 8 p.m. Sun., May 11, and 7:30 p.m. Wed., May 13. Melwood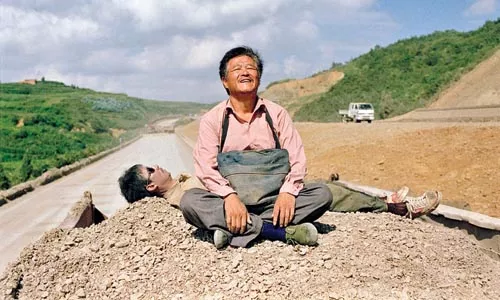 GETTING HOME. In this road comedy from Yang Zhang (Shower), a construction worker (the marvelous Benshan Zhao) struggles to get his dead work buddy back to his home in the provinces for a proper burial. There are a number of comic episodes involving such disparate events as a failed robbery, a funeral without a corpse and a detention center (to say nothing of the travails of discreetly transporting a dead man). However, the film also is shot through with bittersweet regret for the loss of traditions and community in modern China. On that count, Getting Home's final scenes are the cruelest joke of all. In Mandarin, with subtitles. 6:30 p.m. Sun., May 11, and 7:30 p.m. Tue., May 13. Harris (AH)
GLASS JOHNNY: LOOKS LIKE A BEAST. Jo Shishido stars in Koreyoshi Kurahara's 1962 melodrama about marginalized characters trying to survive. Screens as part of the festival's Nikkatsu action series. In Japanese, with subtitles. 9 p.m. Thu., May 15. Warhol
HALF MOON. Iranian Kurd filmmaker Bahman Ghobadi's latest, like his earlier Turtles Can Fly, concerns borders: Elderly Kurdish singing legend Mamo (whom we meet lying in a fresh grave) gathers his musician sons for a concert in their ancestral Iraqi homeland. The trek out of Iran is at first a matter of earthy comedy, but soon shades into mystical lyricism, near-myth (a town of exiled women singers) and, ultimately, tragedy. The vivid characters, wonderful music and mountain scenery can't belie all those scenes of fugures scurrying in the wide-shot distance: Half Moon depicts passionate people helpless to go home again. In Kurdish and Persian, with subtitles. 8:30 p.m. Sun., May 11 (Harris), and 6:30 p.m. Sat., May 17 (Melwood). (Bill O'Driscoll)
MITHYA. An aspiring actor moves to Mumbai hoping to make it big in Bollywood films, but instead gets mixed up in the criminal underworld. Rajat Kapoor directs this darkly comic thriller. In Hindi, with subtitles. 5:30 p.m. Sun., May 11, and 8 p.m. Tue., May 13. Regent Square
OWL AND THE SPARROW. A little girl plays matchmaker to a flight attendant and a zookeeper in Stephane Gauger's drama set in Saigon. In Vietnamese, with subtitles. 3 p.m. Sun., May 11. Regent Square
PLOY. A successful married couple and a young female backpacker come together in one Bangkok hotel room, with revealing consequences. Pen-Ek Ratanaruang (Invisible Waves) directs this psychological drama. In Thai, with subtitles. 8 p.m. Thu., May 15 (Melwood), and 9 p.m. Sat., May 17 (Harris).
SANTA MESA. In Ron Morales' debut feature, an American teen moves to the Philippines to live with his granny, but finds the cultural disconnect breeds trouble. In English, and Tagalog, with subtitles. 7:30 p.m. Thu., May 15. Regent Square
TAKVA: A MAN'S FEAR OF GOD. This provocative psychological study set in contemporary Istanbul tracks the spiritual crisis of Muharram (Erkan Can), a devout, solitary middle-age man who accepts an administrative position at the Islamic seminary where he worships. Your work will glorify God, the elder clerics counsel, but the introduction of the worldly into Muharram's simple, almost monastic life undoes him. Director Ozer Kiziltan makes fantastic use of real locations; and the scenes of ecstatic dervishes at worship are exhilarating. The final reel could have used less stylized visual techniques, but this is an intriguing drama about one man's inability to safely internalize a religious institution's contradictions. In Turkish, with subtitles. 6 p.m. Sat., May 10 (Regent Square), and 8:30 p.m. Sat., May 17 (Melwood). (AH)
TIE A YELLOW RIBBON. A young woman, a former Korean adoptee, struggles to reconcile her heritage and her estranged adoptive American family in Joy Dietrich's drama. 9:30 p.m. Thu., May 15, and 5 p.m. Sat., May 17. Regent Square
TUYA'S MARRIAGE. In Quanan Wang's drama, set in the vast expanse of Inner Mongolia, a recently divorced woman, young mother and shepherdess embarks on a search for a new husband, one who will both contribute financially and help tend to her handicapped former husband. In Mandarin, with subtitles. 9 p.m. Sat., May 10, and 4 p.m. Sat., May 17. Harris
THE WARPED ONES. Japanese teen misfits go wilding -- and to a kicky jazz score -- in Koreyoshi Kurahara's 1960 exploitation feature. Screens as part of the festival's Nikkatsu action series. In Japanese, with subtitles. 7:30 p.m. Thu., May 15. Warhol