The Silk Screen Film Festival, exploring the diversity of Asian and Asian-American experiences, continues through Sun., May 20.
Films screen at the Harris (809 Liberty Ave., Downtown); the Regent Square (1035 S. Braddock Ave., Regent Square); the Melwood Screening Room (477 Melwood Ave., N. Oakland); The Andy Warhol Museum (117 Sandusky St., North Side); and the Penn State Greater Allegheny campus (Ostermayer Room, Student Community Center, McKeesport).
Tickets for regular screenings are $8; an eight-film pass is available for $50. For more information and to purchase tickets online, see www.silkscreenfestival.org.
The second week's films are as follows:
BARBED WIRE. A young female immigrant worker struggles against a backdrop of social and political tension between India and Bangladesh in this drama from Bappaditya Bandopadhyay. In Bengali, with subtitles. 7:30 p.m. Thu., May 17, and 5 p.m. Sun., May 20. Harris
THE COMPANION. In Rituparno Ghosh's drama, shot in wide-screen black and white, a wife is forced to confront her husband's infidelity after he is gravely injured in a car crash that kills his mistress. In Bengali, with subtitles. 7:30 p.m. Sun., May 20. Harris
GOODBYE BOYS. A group of teen-age Malaysian scouts embark on an unchaperoned five-day hike in this coming-of-age story from writer-director Bernard Chauly. Among the usual archetypes -- the blubbery kid, the nerd, the rule-abider who chafes at the flagrant shortcutting (hitchhiking, riding the bus, catching a porno) -- is a core of head-butting alpha males fretting over girls. Some of the banter feels wonderfully naturalistic, as does the rather dissolute way these lads on the cusp of promise carry themselves. But flashbacks, cutaways and too many boys in identical outfits make the finer parts of the drama hard to sort out. Suffice to say, at the end of the road, some lessons have been learned. In English, and Cantonese and Malay with subtitles. To be screened via video projection. 7:30 p.m. Thu., May 17, and 9:30 p.m. Fri., May 18. Melwood (Al Hoff)

GOODBYE LIFE. An apple rolling across a truck bed; an IV flapping in the breeze at an abandoned field hospital; ants swarming sand displaced by an unexploded shell: A singular strength of Ensieh Shah Hosseini's film based on her experiences as an Iranian war correspondent during the Iran-Iraq War is the eloquent realism of its visuals. Memorable images erupt as the frightened young protagonist -- clinging to the video camera she never uses -- wanders a devastated countryside populated by the rotting dead and the displaced living. Goodbye Life is sorrowfully beautiful, moving but unsentimental, as a city woman goes among rural folk to find she's a stranger in her own land during a pitiless episode in her nation's history. In Farsi, with subtitles. 7 p.m. Sat., May 19. Harris (Bill O'Driscoll)

click to enlarge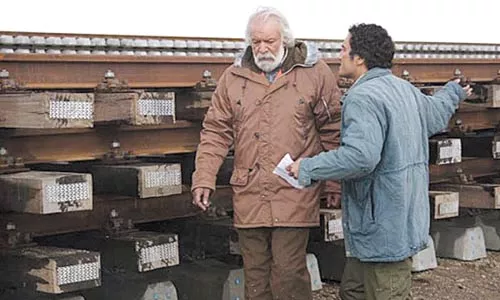 GRADUALLY. Maziar Miri's low-key naturalistic drama depicts a young marriage in crisis, and the role that contemporary Iran's rigid religious mandates, ruling patriarchy and judgmental communities play in the personal. Mahmoud, a railway welder, is called back to Tehran, where his mentally ill wife has gone missing. Sorting through the obfuscations of his neighbors, the state bureaucracy (identifying an unclaimed woman at morgue is especially problematic) and the shame that his wife's untoward behavior has placed on him, Mahmoud eventually discovers the truth about the disappearance. The bittersweet ending is somewhat enigmatic, but it suggests that the episode may have granted Mahmoud a new sensitivity toward his country's restrictive social edicts. In Farsi, with subtitles. 8 p.m. Wed., May 16. Melwood (AH)

I DON'T WANT TO SLEEP ALONE. A young man in a coma; an abandoned building serving as a makeshift home for a street hustler; a lonely waitress; the battered victim of a mugging; and a grubby mattress. These are the disparate pieces that director Tsai Ming-Liang (Goodbye, Dragon Inn) re-arranges in his virtually dialogue-free film illustrating a sub-strata of bruised lives in contemporary Kuala Lumpur. His characters are immigrants, poor, marginalized, lost and even literally senseless. Occasionally they crash into each other, hungry for contact -- even as radio talk shows in the background prattle on about the city's increasing lack of livability: A couple fumbles for intimacy from behind face masks, worn against the region's deadly smog. Those looking for traditional narrative will be frustrated, but more adventurous viewers who surrender to Miang-Ling's style -- light on plot, but dense in visual and aural detail -- will process a dark-humored snapshot of an ailing humanity. In various languages, with subtitles. 7 and 9:30 p.m. Fri., May 18. Warhol (AH)

KHADAK. Two Western filmmakers, Peter Brosens and Jessica Woodworth, tell a fictional story of contemporary nomadic Mongolians displaced from their beloved ancestral steppes, and the result is a film of empathetic romanticism. In a remote and dusty but clangorous industrial town, a young horseman who suffers seizures becomes a mailman, then a labor-camp prisoner, and then apparently (or at least dream-sequentially) a rebel leader. Shamanism, performance art, a livestock plague, novel headgear and environmental installations all figure in. Khadak grows increasingly surreal, and it's often as aestheticized as a Matthew Barney film. Ultimately, it's more experience than narrative. You'll have to connect the dots yourself, but it's generally worth the effort. In Mongolian, with subtitles. 8 p.m. Fri., May 18, and 3 p.m. Sun., May 20. Regent Square (BO)

LINDA LINDA LINDA. Three Japanese schoolgirls and a Korean exchange student form a cover band to perform at their school's talent show in Nobuhiro Yamashita's film. That's basically it. For the hour-and-a-half between the band's formation and the film's inevitable conclusion, the band's rehearsals are punctuated with various struggles, setbacks and sidebars -- boys, personal pride, school administrators, boys, peer pressure, language barriers, musical barriers, boys. Whether the film's passage of time is stately or just boring depends on your attention span. But the ending isn't oversold or too triumphant; it's really about friendships between four girls with different personalities; and no one loses an arm -- all things that differentiate it from The Def Leppard Story. But like "Pour Some Sugar On Me," you will hear the song "Linda Linda Linda" roughly a billion times. In Japanese, with subtitles. 7:30 p.m. Fri., May 18. Harris (Aaron Jentzen)

MONDAY MORNING GLORY. Filmmaker James Lee adopts a documentary style to depict events before and after a terrorist bombing in an unidentified Southeast Asian country. (The fictional event bears some resemblance to the 2002 nightclub bombing in Bali.) In the present, we watch as a police commander presents the captured bombers, who are Islamic jihadists, to journalists and demands the men recount their actions. Flashbacks show the men choosing targets and preparing the bomb, but not the catastrophic act. Despite the incendiary subject matter and location shooting, Lee's film feels flat and theatrical in a re-constructed, stage-bound way. Clearly we're meant to see the bombers as more than one-dimensional boogeymen, but emotional connections are few in this exercise. In Malay, with subtitles. To be screened via video projection. 7:30 p.m. Fri., May 18, and 7 p.m. Sun., May 20. Melwood (AH)

SUMMER PALACE. In 1987, a pair of Beijing University students finds their tumultuous love life mirrored in ongoing political upheaval, including the demonstrations at Tiananmen Square. Lou Ye's drama generated controversy in China, not just for depicting the Tiananmen riots, but also for his inclusion of full frontal nudity. In Mandarin, with subtitles. 8 p.m. Thu., May 17. Regent Square
TRAIN MAN. In Shosuke Murakam's sweet romantic comedy, a painfully shy nerd woos a girl he met on the commuter train, with the help of some online pals (the modern-day equivalent of the whispered advice from behind the curtain). As valuable as e-communities may be in today's new-rules social dynamics, and as much as they deserve to be represented, frequent shots of people squinting at computers, fingers typing madly and close-ups of screen text (with or without voiceover) make for terribly dull cinema. Murakam makes a few attempts to break out of the e-mail box (posing one trio of texters as warriors), but the romance is much better served the old-fashioned way: when the engaging lead actors fumble through a series of awkward dates. In Japanese, with subtitles. 7 p.m. Sat., May 19. Regent Square (AH)

click to enlarge
VANAJA. The effervescent 15-year-old fisherman's daughter Vanaja (Mamatha) dreams of dancing, and considers it a lucky break to have secured a servant's position with wealthy landlady Rama Devi (Urmila Dammannagari). Rama Devi agrees to teach Vanaja classical dancing, and the girl's virtuosity offers hope for a better future than her prescribed lower-caste life. But class barriers don't fall easily, and impetuous teen-agers make poor decisions. Rajnesh Domalpalli's drama affirms that there are few surprises in a life such as Vanaya's. The actors, many of them unprofessional, give strong performances, and Vanya's dance sequences are truly transporting. A Q&A session will follow the 6 p.m. Sat., May 12, screening. In Telugu, with subtitles. 7:30 p.m. Thu., May 17. Penn State McKeesport. (AH)