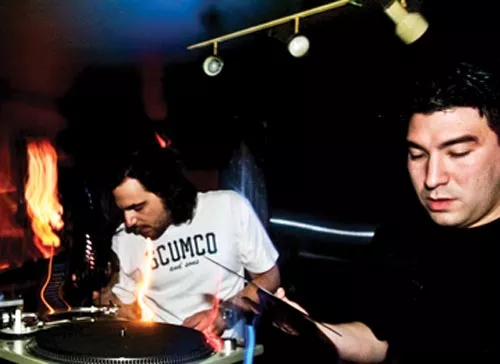 Colangelo's in the Strip District is an appropriate place to sit down with Preslav Lefterov and Adam Ratana of Sight Unseen. Much like the Strip sees vibrant everyday life amid architectural reminders of the city's past, Sight Unseen's beautiful breakbeats represent an evolution of Pittsburgh drum and bass from the vinyl-only rave days of yore to the contemporary climate of digital production tools.
The duo, who've played together for four years, take the classic breakbeats of drum and bass and blend them with languid orchestral layers. Sight Unseen's sound is clearly influenced by the '90s rave scene, but takes the form of a reinvention, never a derivative.
With its music, Sight Unseen shows it recognizes, and want to give back to, the musical landscape that brought the duo to its current place. It's a landscape unique to Pittsburgh, one built on pirate radio, the old Hyper Vinyl record store, CMU's WRCT-FM, and the FUZZ 412 drum-and-bass night.
"Pittsburgh has a deep history with drum and bass, deeper than most cities," Ratana says. "There's probably been a drum-and-bass weekly, in some form or another, over the past 14 or 15 years -- pretty unique for a city this small."
The pair often starts producing its tracks at Machine Age Studios, the analog synth-making wonderland co-founded by Lefterov.
"It's sort of a hybrid between the best of hardware and the best of software," Ratana says. "I can't envision doing things without hardware."
"Or software," Lefterov chimes in.
They then send the tracks to and fro between their respective studios, combining hardware sounds with software mix-downs until finally the tracks are pressed to vinyl.
"We pretty much try to stick to releasing on vinyl because it's something we'd like to support," Lefterov explains. "Especially with drum and bass, it's the music that led to everything else that we do, so we'd kind of like to keep that."
Sight Unseen's formula thus far has been fruitful. The duo's passion-driven tracks are getting pressed and played, with both MJAZZ and Good Looking Records having released its music.
Sight Unseen's tracks can be streamed at www.soundcloud.com/sightunseen.