Sienna Mercato, the triple-decker restaurant on Penn Avenue in the Cultural District, has generated a ton of buzz. But we weren't impressed by the ground floor meatball concept when we tried it last year, nor, on another occasion, did the rooftop small-plates menu blow us away. Mezzo, the middle floor of the vertical trio, is the closest Sienna Mercato comes to traditional Italian dining. Would the third time be the charm?
Like the ground floor, the second-story dining room is big and spacious, framed in raw brick and big, exposed wood beams, with a high ceiling and stylish touches like chalkboard walls and big glass doors that raise to create a wide open front. White tablecloths, expensive wine and fairly formal service convey an air of serious dining.
This might be an odd contrast with the menu's emphasis on finger foods — charcuterie, panini and pizza — except that these, too, are rendered with gravitas. Sophisticated combinations like bacon and clam or pistachio and porchetta elevate Mezzo's pizza far above that of a pizzeria and a notch above even a gastropub. The latter pizza includes fennel pollen, an ancient ingredient that's having a moment right now; even classic quattro formaggi pizza is updated with pickled tomato. A few carefully curated salads, entrees and pasta dishes round out the menu.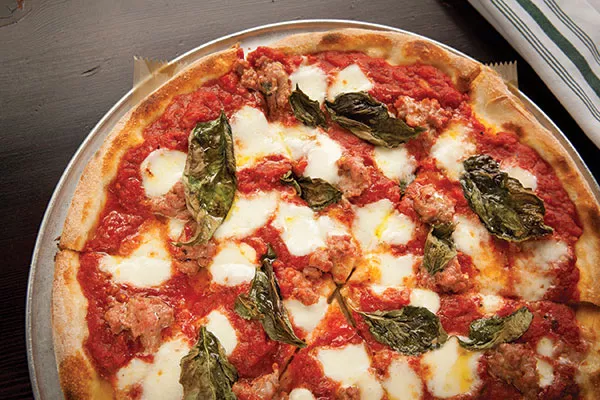 Naturally, Mezzo's cured meats are housemade. We tried them in two contexts: panini (porchetta) and pizza (picante salami). Both showed off the meat well. On the pizza, the pepperoni-like salami was cut into dice for a texture chewier yet less tough than common slices. Pickled banana peppers turned up the heat on every slice of this 11-inch pie (sized for sharing), while the kitchen wisely stuck to tradition for the not-too-sweet tomato sauce, melted mozzarella and strongly structured, full-flavored crust.
If the pizza was good, the panini was superlative, the porchetta rich, tender and porky. Even sliced thin, it was reminiscent of a succulent roast. The rest of the sandwich also honored its star ingredient: Braised escarole and garlic provided lively flavor companions. Most remarkably, the sandwich was served with a sausage aioli made with drippings from pan-roasted sausages to create a bold, hearty sauce for dipping. Jason is a sandwich man, and this one is on his list of the best in town.
He's also a pork man, and Mezzo's pork of the day — a shoulder steak — embodied the best qualities of this meat: It was succulent, richly flavored and supple, yet crisped, at the edges. A creamy bed of puréed chickpeas plus more braised escarole evoked that perennial Italian favorite, beans and greens, with a touch of brightness from chopped and lightly cooked tomatoes.
We also ordered a half-portion (an option we appreciated) of lamb sugo, essentially a Bolognese-like ragu served over paccheri: large, smooth, tubular pasta. Unfortunately, the dish also seemed to contain a full portion's worth of salt, and the noodles were on the raw side of al dente. The underlying dish had a lot going for it — tender shreds of lamb, astringent tomato mellowed by a bit of dairy — but excessive salt and the toughness of the noodles dominated this dish.
Salt was also all too evident in the big crystals atop a small crock of honey butter that came with a bread basket. In the correct proportion, it was a nice counterpoint to the sweet-cream butter, but this could only be attained by mixing in the salt oneself. 
There was no learning curve required for the bread's other accompaniment, a delicious sweet-pepper relish that worked pretty well with all three breads offered: a pecorino bread, red-pepper loaf and focaccia. All were pretty good on their own, but we really ordered them for mopping up the sausage and peppers appetizer — a couple of pieces of housemade sweet sausage in a thick tomato and onion gravy, stringy from melted mozzarella. Satisfying as all that was, it was the peppers that made this dish great. They were not ordinary sweet bells, but instead shishito, a Japanese pepper reminiscent, in size and texture, of okra. The flavor started off mild, then brought some cumulative kick, with a profile not unlike a poblano. It was a clever substitution that transformed a good dish into something truly memorable.
Despite once or twice breaking the salt barrier, Mezzo's kitchen delivered well-conceived versions of Italian classics, tweaked in ways that made them extra-special.