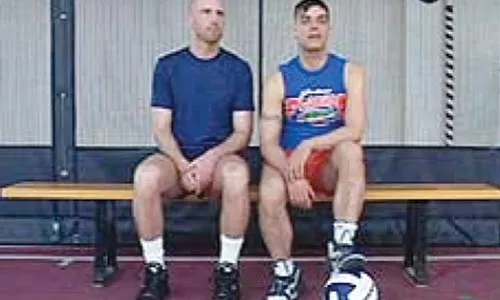 The fourth annual Steel City Classic brings 19 gay volleyball teams to the city this weekend, to compete for glory and the chance at the national championship in Chicago this Memorial Day weekend. While they're here, players, spectators and anyone else can get an education in the role volleyball has played in helping to form the gay community, from Pittsburgh to Thailand, at "Gay Sports Meets Gay Art," a film screening and party.
The event will debut a short documentary, "More Than Volleyball," about the Steel City Volleyball League, its history and impact. Two other films will also screen. Another short, "Gay Volleyball Saved My Life," chronicles Pittsburgh native David Thorpe (who's scheduled to attend) finding himself through volleyball. The Iron Ladies, meanwhile, is a feature film about a Thai volleyball team made up of gay and transgender players, and their bid for a 1996 championship.
"More Than Volleyball" is the work of league member Keilan Rickard, who's doing dissertation research on Pittsburgh's gay volleyball scene and decided to turn his work into a film.
"As we started to interview people we realized there was this whole underlying story -- it gave members community and friendship at a time when gays were meeting in bars," says Shawn Bronson, who shot and edited the movie. "It's nice to have this instant kind of way to bond around sports."
Rickard says the league, which is mostly men, began to coalesce in the early '80s in informal and unadvertised ways.
"They were playing at Schenley Park in the 'Fruit Loop,'" he says, referring to an Oakland circle in Schenley Park which has doubled as a gay cruising spot for decades. "Groups of gay gays would string up a net between two trees and just play. Some summers there would be as many as 200 gay guys." Impromptu groups like that, says Rickard, are "where the gay community started to form."
Over time the group became more official, moving first to the campus of Chatham College in 1991 as the Pittsburgh Indoor Gay Volleyball League, which was advertised through word of mouth and the occasional notice in Out magazine about "PIG Volleyball."
The league includes players with skill levels ranging from the occasional weekend picnic player to former college varsity-squad members. "We try to divide teams evenly so no one feels like 'I got picked last,'" says Rickard.
Now, says tournament director Dave Bork, the league is quite established. Two seasons every year are played at the Greentree Sports Complex, and play follows North American Gay Volleyball Association rules. "There's a lot of work and planning and organization that goes into it," Bork says. Of the 19 teams in this year's tournament, four are from Pittsburgh while others come from locales across the country, such as New York, Cleveland and Idaho.
Proceeds from the screening will go to local gay charities. Bronson says he hopes the film will make its way onto the festival circuit, because it's about much more than a bunch of gay guys in Pittsburgh:
"We realized there was this whole other story, and that's where we swayed the film into going," Bronson says. "It came to be at a time when gays would only meet in the bars or in the park. That's what we realized that this story is."
"A lot of us don't really want to go to bars," says Rickard. "For a lot of people, this is their gay community."
The fourth annual Steel City Classic will be held Sat., March 28, from 8 a.m.-5 p.m., at the Monroeville Sports Complex. Double elimination play begins Sunday at 8 a.m. until there is a winner. The tournament is free. Film screenings: 9:30 p.m. Sat., March 28. Harris Theater. $8. www.steelcityvolleyball.org.